In honor of the season and the slew of wild mushrooms beginning to hit markets now, how about a little recipe from my Wild Mushrooms
ebook in my Northwest Cookbooks series? I've long loved marinated mushrooms, even those pretty basic types that come in little jars from the grocery store. Though like so many favorite snacks like that, it gets only better when you make it yourself at home. Not only are the flavors that much fresher, brighter, less shelf-stable"but you can very easily customize the concoction to reflect your preferences. Tons of garlic, skip the rosemary, more spice, whatever form that might take. The marinated mushrooms and vegetables make a great snack for cocktail hour or can be served as an appetizer in individual dishes, with crusty bread alongside. This dish is also an ideal picnic element, with cold roasted chicken, hearty cheeses and a bright chilled bottle of rosé wine. The gorgeous photos in the ebook series (which includes seven titles in all) were taken by the very talented Clare Barboza, it was great fun to have that opportunity to work on a project together.
Marinated Wild Mushrooms with Fennel and Pearl Onions
Firmer mushrooms will retain toothsome texture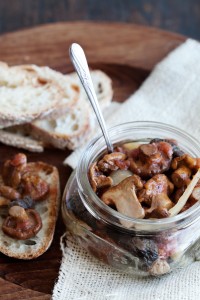 after marinating"porcini, lobster, cauliflower and such; chanterelles and other tender mushrooms become a bit soft in this preparation though they're still tasty. The flavor of this dish will be best if made at least a few hours in advance so the flavors have a chance to meld.
2 tablespoons coriander seeds
2 bay leaves, preferably fresh
1 tablespoon fennel seeds
1 tablespoon black peppercorns
3 sprigs thyme
2 sprigs flat-leaf parsley
2 cloves garlic, crushed
1 to 1 1/2 pounds mixed wild mushrooms, brushed clean and trimmed
2 tablespoons olive oil
15 pearl onions, peeled whole
1 medium fennel bulb, trimmed, cored and thinly sliced
3 medium tomatoes, peeled, seeded and finely chopped
1 cup chicken or vegetable stock
1/2 cup white wine vinegar
Kosher salt or flaky sea salt and freshly ground black pepper
Cut a double-thickness piece of cheesecloth about 6 inches square and set it on the work surface. In the center of the cheesecloth, put the coriander seeds, bay leaves, fennel seeds, peppercorns, thyme, parsley and garlic. Draw up the cloth around the spices and tie the packet securely with kitchen string.
Small mushrooms can be cooked whole or just halved. Larger mushrooms should be cut into smaller pieces, about 1/2 inch thick, to cook evenly with other mushrooms.
In a medium sauté pan or deep skillet, heat the olive oil over medium heat. Add the onions and cook until they are lightly browned and just beginning to soften, about 5 minutes, stirring occasionally. Add the mushrooms, fennel and tomatoes and stir to mix, then add the spice bag with the stock, vinegar and a good pinch each of salt and pepper. Bring the mixture just to a boil over medium-high heat, then reduce the heat to medium-low and simmer gently until the vegetables are tender and the cooking liquids have reduced by at least half, about 30 minutes.
Take the pan from the heat and let cool, then transfer the mixture (spice bag included) to a glass or ceramic bowl and refrigerate, covered, for at least 4 hours or overnight. Before serving, allow the marinated mushroom mixture to come to room temperature, discard the spice bag and check for seasoning, adding more salt or pepper to taste.
Makes 6 to 8 servings