It was a natural assumption to make, one I heard from a number of people after my last cookbook was released. Crab came out late in 2016, following the release of Oysters in January of that year. So what was the third title in the series going to be? There wasn't one in store at the time. But here it is: Shellfish. Release date is a month from today, available for order now at Book Larder, or your favorite local bookshop. I'm thrilled that Jim Henkens was able to photograph this book too, having created such fabulous photos for the previous two as well.
Rather than another title focused on a single type of shellfish, here I cover a range of seven types. As I wrote this book, it felt more reminiscent of my time at Simply Seafood magazine than had the process for the previous two. Those had seemed more geared at longtime devotees and people who I'd presume to already have at least a bit of experience with oysters or crab. Which is not to say that Shellfish is geared to newbies. But because it covers a breadth of shellfish territory, I imagine most folks will have more experience with some types than with others. So each of the seven chapters–clams, mussels, scallops, oysters, crab, shrimp and lobster–has the opportunity to entice someone who would not have picked up a cookbook devoted entirely to that one type of shellfish.
Working to strike a balance with content that appeals to the already-devoted seafood cook as well as those maybe dipping their toe in for the first time, it took me back to my editing days at Simply Seafood. What a great job that was, encouraging home cooks to be more comfortable cooking seafood at home–something I've continued to do with various projects over the years.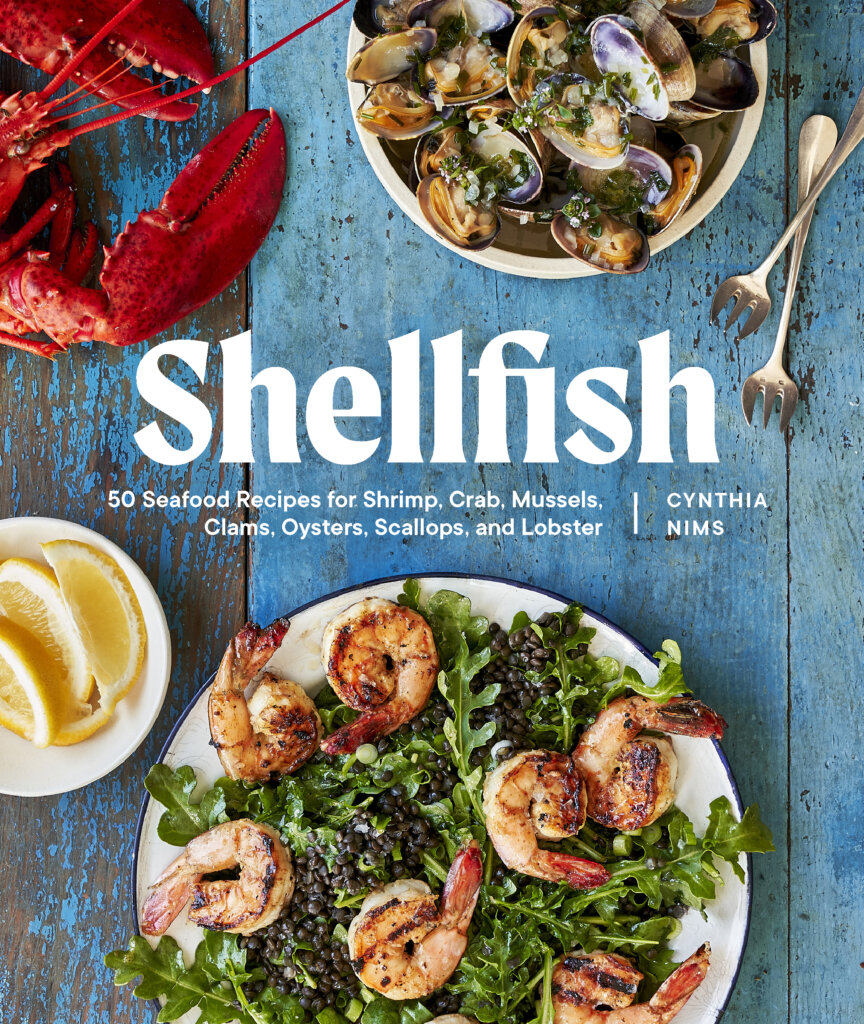 I hope the book inspires readers to cook a shellfish they haven't played around with much before, and to explore different options for preparing shellfish they already enjoy. The seven recipes in each chapter can only scratch the surface of possible ways to cook each shellfish type, but I tried to cover enough territory to exemplify a diversity of options. I absolutely understand how easy it can be to fall back on the most familiar or favorite techniques–clams and mussels steamed, oysters raw or pan-fried, scallops seared. They're all more versatile than might seem obvious at first and I had fun exploring new ideas myself. Mussels roasted with potatoes and jalapeños, shrimp stuffed in eggplant, crab in a gratin, clams lightly pickled. Plus many classic favorites: chowder, fried shrimp, pan-fried oysters, seared scallops. Classics for good reason.
Events with the book begin next month, including an author talk at Book Larder and cooking classes at a few PCC stores in the Seattle area. You'll find them and more on my Events page, more to come as others are confirmed.