I'm pretty sure the first time the concept of cooked radishes crossed my radar was in a soup at Le Gourmand restaurant some unknown number of years ago. (The restaurant sadly closed a decade ago, so probably 15 years ago or more?) In that context, puréed with other ingredients, the radishes' character was subtle, adding the slightest pepperiness and hint of pink blush. I remember though, despite the glory of the beautiful soup, thinking to myself "Radishes cooked?? Really??"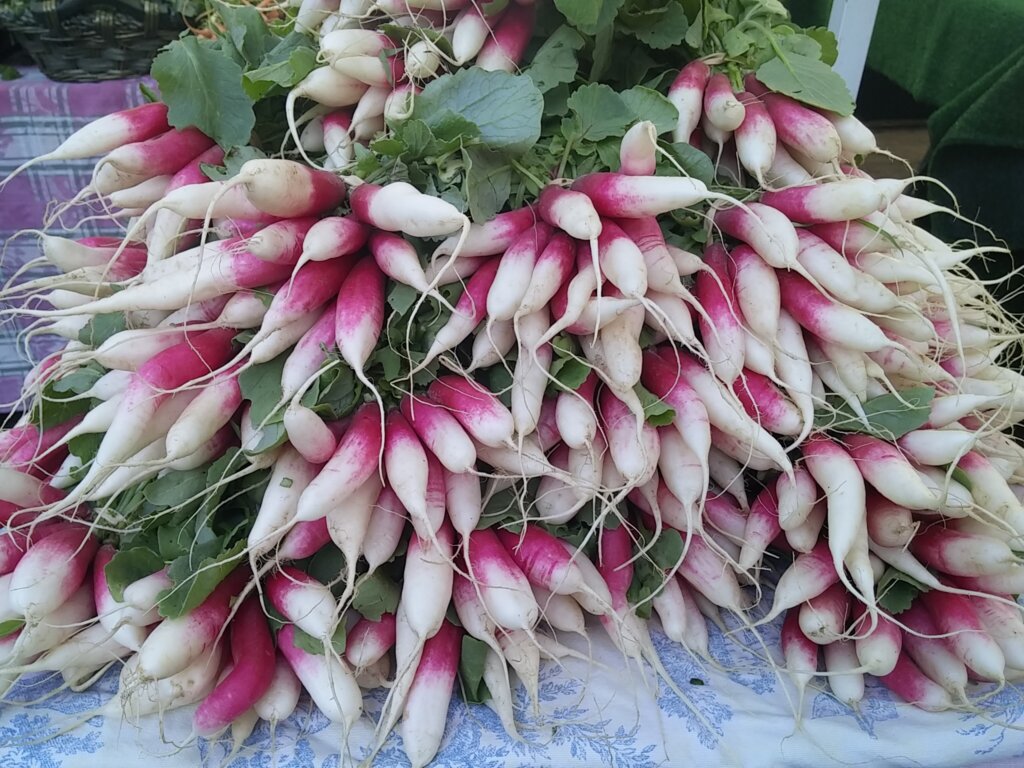 I suppose we all have our personal idiosyncrasies relative to ingredients and techniques. Among mine are loving mushrooms cooked but hating them raw. And a long-held belief that radishes were meant only for enjoying raw.  I could try to justify my stance that radishes are for salads and snacking, not cooking, but it wouldn't necessarily be logical. Especially given my opposite opinion about mushrooms, I won't even bother.
That soup didn't flip a switch, though. I kept those raw-only blinders on in my own kitchen for a while.
Where and when I first crossed paths with a roasted radish, though more recent, still a bit fuzzy.  Maybe at Renee Erickson's Boat Street Cafe or The Whale Wins? I just found a recipe of hers in the Wall Street Journal from 2013 that included sautéed radishes and sorrel sauce with roasted salmon. As divine as that recipe sounds, ideal for this late-spring season, I might have wrinkled my nose a bit, seeing that recipe when it was first in print.
But I've come around. Particularly with roasted radishes. The flavor going from bright, crisp and (at their best) peppery, to somehow both mellower in bite and more complex in flavor overall—I just love it. While certainly not as crisp, they maintain a pleasant firm texture, playing well in a number of types of recipes.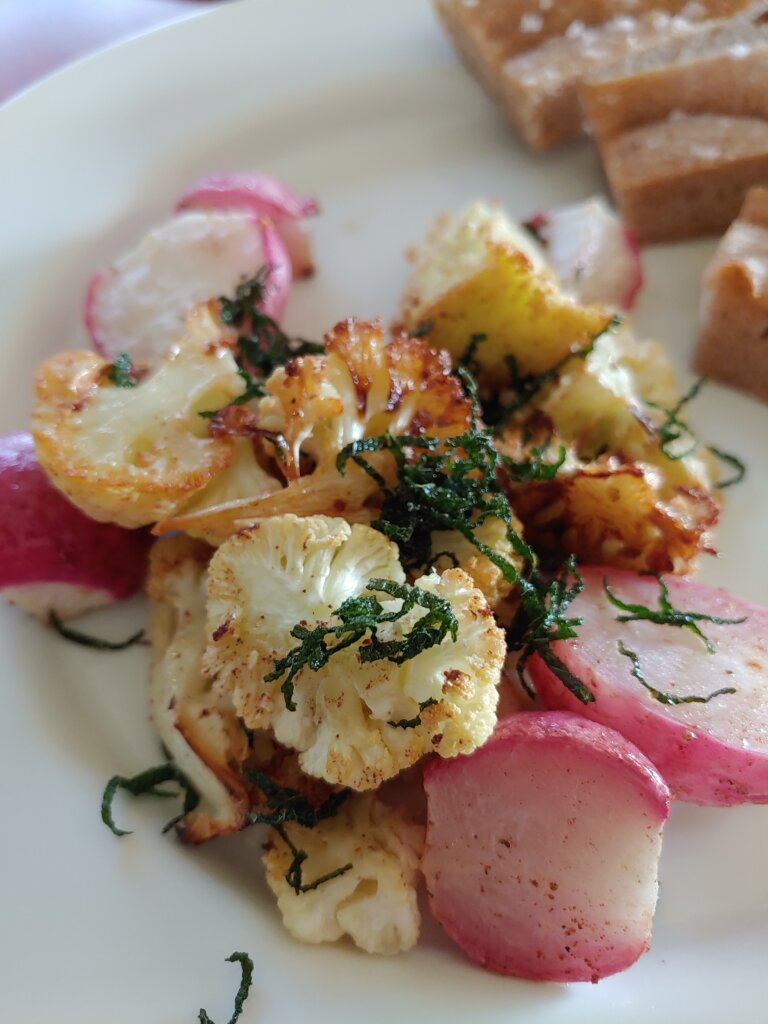 Last month I added radishes to a sheet pan with asparagus and early-season halibut—a generous scattering of garden chives over the top—for an easy, full-on-celebration-of-spring dinner.
Earlier this week I roasted radishes with cauliflower for a side dish, with a sage-buttery embellishment. I first cooked some butter to the early stages of brown butter, then added a generous dose of slivered sage leaves to cook for a minute or two longer, in which time the butter got more nutty-brown and the sage was crisp.
I lifted out the slivered sage to set on a plate for later. The sage-infused butter I then drizzled over the vegetables and popped the baking sheet in the oven to roast until tender. The delicious buttery-crisp sage slivers were scattered over, as a delicious finish when served.
Radishes roasted in some form or another are now in pretty regular rotation. I included them in one of the recipes in my new book Shellfish. Tossed with slender pieces of carrot in a harissa-cumin coating, they roast alongside shrimp in another easy sheet-pan preparation.
Maybe it's time I expand my newly-embraced cooked-radish repertoire and go back to that original introduction. Next up will be playing around with radishes in soup. If you've got a favorite recipe for cooked radishes, I'd love to hear it.