Heading into month twenty bajillion of cooking at home, I'm sure many of us are forging into new areas of creativity, whether by desire or simply forced into it by the realities of our pantry circumstances. If not a bit of both. I'd say the latter's true for me. I'm starting to get tired of my own cooking and—lacking the comfort of just popping out to the store to grab a few things for dinner any given night—am stuck with what I thought to buy last time and whatever's tucked away in the freezer or cupboards.
BUT, there are some simple and easy things to add pizzazz to menu items that are starting to feel mundane. When asked to make a virtual return trip to the studios of KATU in Portland for Afternoon Live last week, for whatever reason it's pesto that popped into my mind as a possible subject. We may not have frequent trips to the grocery store, but many of use have home gardens and/or CSA boxes showing up with potential ingredients. And it's something I'd turned to a couple times recently for a flavor boost at dinner time.
For grilled flank steak, I had whirred up parsley leaves, garlic, toasted almonds and olive oil for a flavorful accompaniment for the steak. And when one of those CSA deliveries included a fennel bulb with gobs of lush, tender fronds, I made my first-for-me fennel frond pesto to spoon over some gorgeous halibut after pulling it from the oven.
Classic pesto uses highly aromatic basil leaves, pine nuts, freshly grated Parmesan cheese, a bit of garlic, and olive oil. Exquisite and delicious, no doubt, though it's a version I don't often make, instead opting for favorite ingredients I more often have on hand.
I'm not a great gardener, but have had a productive patch of sorrel for years, its tender leaves an ideal alternative, especially delicious with salmon and other seafoods. I can't get enough of pesto made with peppery arugula, and included that recipe (which is with this link to the recent KATU spot I did) in my Oysters cookbook as a topping for grilled oysters.
How about garlic scapes (in the center of that photo at the top)? They're not something I've cooked much at all, but getting some these last couple CSA deliveries, you bet I put them to good pesto use. I took a nibble of one of the crisp, green stalks and was surprised how strong their flavor—not as hot as biting into a garlic clove, but bold nonetheless! So I opted to make that pesto with half scapes and half parsley. Oh so very delicious…I used it as a base on pizza that night, with some cooked chorizo and slivers of kale. I will definitely recreate that combo again.
As I said on-air last week, I rarely turn to a recipe when making pesto. It's a matter of handfuls, rough proportions, how it will be used and ultimately your own taste. Here's a basic starting point based on my own personal approach.
Herbs & Co.: tender herbs like basil, flat-leaf parsley, arugula, sorrel are great. I haven't tried spinach but it should be good too. I have shiso in the garden, I need to give that a shot as well. Fennel fronds was a decent experiment, on the mild side for flavor. I would avoid strongly flavored herbs like tarragon or dill, but if you're a mega-fan, feel free to try it out, maybe mixed with parsley for balance.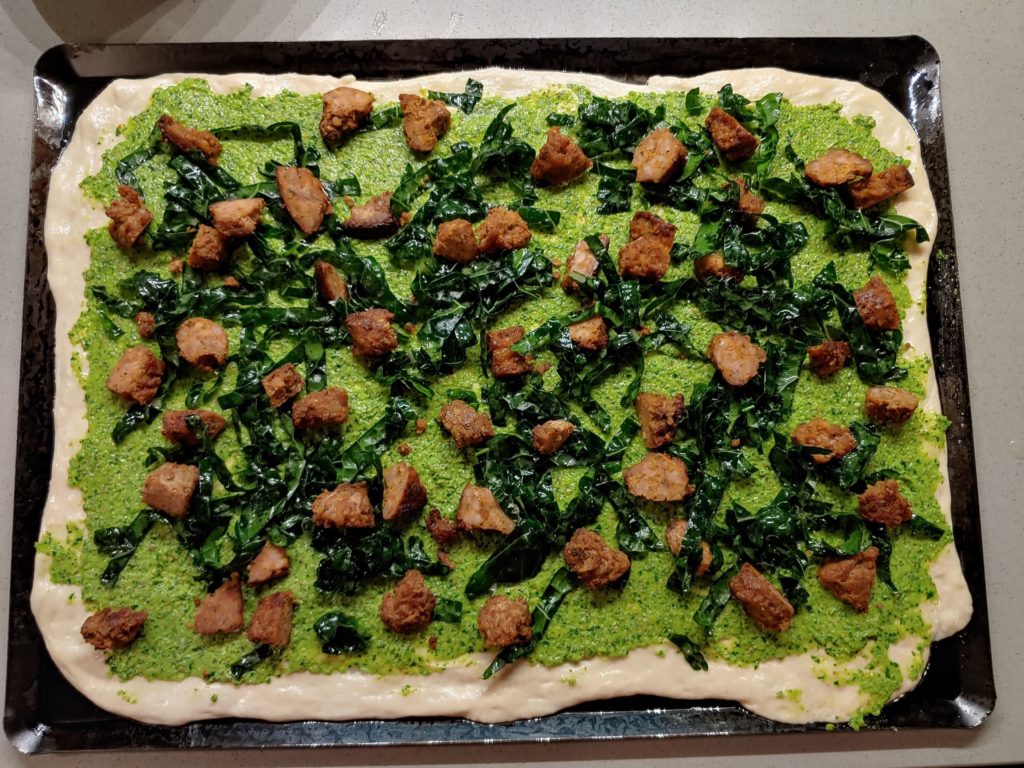 Nuts: I've got a Costco bag of almonds I'm working through, so all pestos are almond pestos for the time being. I also love using hazelnuts and pistachios. Walnuts are a good option. Pecans? Hmmm, sure, why not? Whatever the choice, always best to toast them in advance for flavor and texture.
Cheese: I often skip the cheese, though might add some if I happen to have Parmesan on hand. Other firm, dry cheese like Pecorino can work. Honestly, I find so much flavor from the herbs, nuts, garlic and oil that cheese-less pesto works just great for me.
Garlic: Use some. To your taste, a half to whole clove.
Olive oil: As much as needed, maybe 1/4 cup for starters, more as needed until you get the texture you like.
I use my mini chopper unless I'm making a particularly large batch. Start by pulsing a handful of nuts with the garlic until both are more or less finely chopped; don't overdo it and risk making nut butter.
Add a couple generous handfuls of herbs, coarsely chopped first if the leaves are large. Add a good pinch of salt (maybe 2 if not using cheese). Pulse a few times to chop and blend a bit with the nuts, then add that first dose of 1/4 cup of olive oil. Puree, scraping down the sides as needed. Add more oil as needed, a glug or two at a time. I sometimes finish with a bit of water, to get to the ideal texture. Up to you. If you're using cheese, add a small handful and pulse to incorporate. Taste for seasoning, adding more salt if needed. And with that, you're done!
Oh the uses!! So very many, worthy of a whole other post. Pasta, of course. Sauce for most any grilled meat/fish, even oysters! Stir into yogurt or sour cream for a vegetable dip, whisk into vinaigrette for a dressing. A dash on your scrambled eggs, tossed with tuna for a better-than-average sandwich, mixed with fresh goat cheese for a happy-hour spread on crackers or crostini. Endless, delicious possibilities.
Have fun playing around.