Excuse a brief departure from my usual topics. But it's not often I see a New York Times news item that includes an obituary for someone I had the good fortune to spend a bit of time with, albeit many years ago. It was such a pleasure to read [paywall, I believe] how the paper honored the career of Claude Bolling, who died on December 29.
I didn't hear the news of his death until a week or so later, and it spooked me a bit. Mid-December, I had been on a bit of a nostalgia trip recalling Mr. Bolling, checking in with his web site, happy to see that—at that moment—he was alive and seemingly well. I'd even contemplated sending a brief note to him. Not with the slightest expectation he would recall the couple times we met up, but as one among a great many who appreciate his music and the joy it brings us. I failed to do so, and then days later I saw a friend's post about his passing, and it was eerie.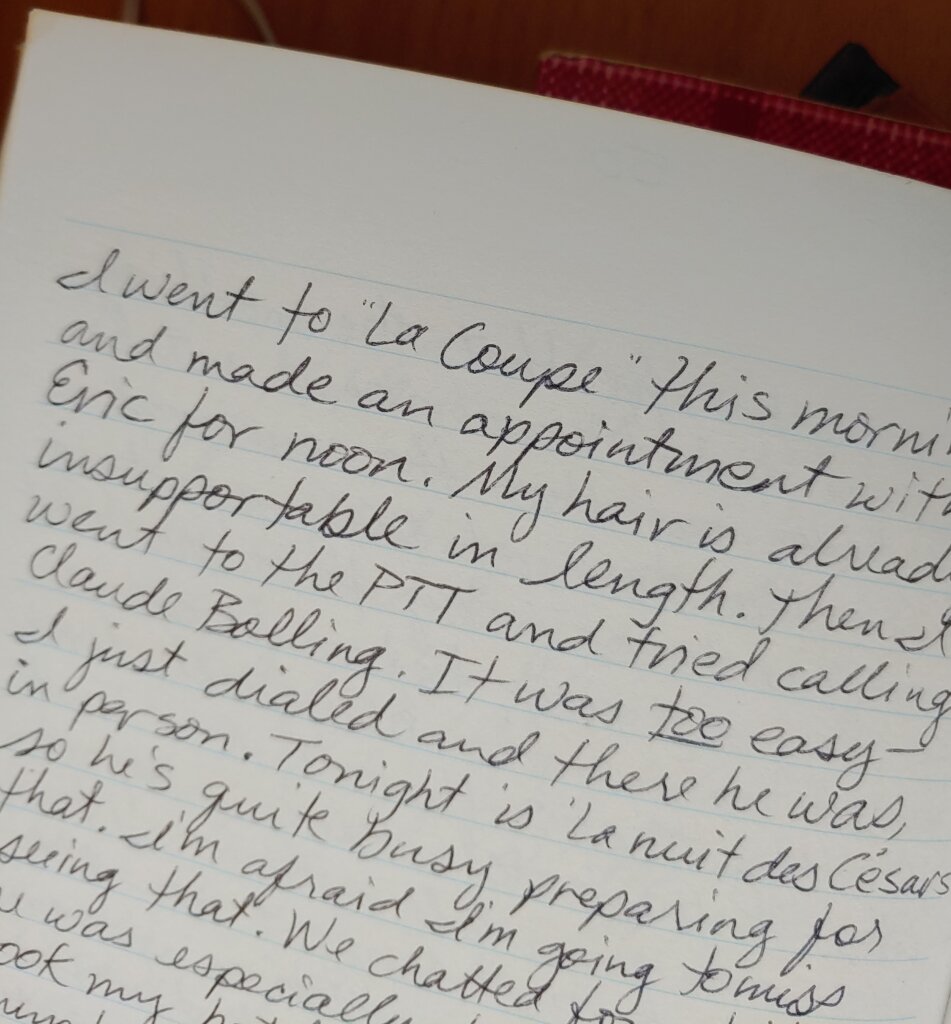 The reason he'd come to mind was coming across a passage mentioning him while flipping through a journal dating to my college years. I am not a regular journal-keeper, in fact that era—focused mostly on my study-abroad semester in France, travel that summer and first few months of my senior year at college—are really the only journals I have. I'd flipped through some of those pages recently hoping jog my memory about a particular meal: the time I and my fellow University of Puget Sound classmates made a valiant effort to cook some of the Mexican food we longed for from home (and about which our French friends were wholly unimpressed). I didn't find it.
What I did come across, though, was this little snippet about a day for which happenings of note were getting a haircut and calling Claude Bolling. The very fact that I went to the PTT to do so is a whole time warp as it is. The Poste Téléphone et Télégraphe (!!) was the national postal service in France, now called La Poste and surely no longer administering telegraphs, possibly still phone cabinets? Back then it was the way a college student like me could easily make a phone call, whether across town or calling home.
There I was in France, early February, mid 1980s starting my program in Dijon. The fall prior, I met Claude Bolling in Tacoma, Washington, of all places. He performed at UPS as part of the Cultural Events programming, a committee on which I served. We helped manage most aspects of the event, which included his transport to and from campus. Post-performance, some of us accompanied him for a bite to eat. I don't recall the restaurant (downtown Tacoma-ish), but I do remember that we hung around long enough that we closed the place. It was the autumn equinox, we'd be "falling back" within a couple hours. I recall Claude Bolling arguing with the manager that, really, it was an hour earlier than his clocks showed and that we should be allowed to stay. The French can be very persuasive, but that was not a debate Mr. Bolling won.
A few months later, the PTT, a few francs and a what-the-hell call to the renowned composer and musician. "I just dialed, and there he was," as I noted then. It's particularly surprising realizing, now, what he was preparing to do that night. The reference about the "Césars," France's version of the Oscars, had me checking out his connection. I hadn't recalled that he had conducted the orchestra for La Nuit des Césars for apparently a decade. Based on IMDB his tenure began in 1985, the year I called, March 2 to be exact.
Within a couple of months it was spring break and my sister came over to spend those couple weeks with me. Claude Bolling invited us to visit his studio to sit in on a rehearsal with his band. Do I remember the circumstances, what we heard, what they were rehearsing for? No, of course not. THAT I failed to note in the journals. But it was an enormous pleasure to be able to spend some time with him in his element, making music, continuing his creative legacy that, in the long run, would span, what, six or more decades? For some time, he kept up regular appearances at a small jazz club on the Boulevard Saint-Michel in Paris, I think I only managed to see him there once or twice. But I DO have a framed poster from the club in the basement. Ah, memories!
It's been a long time since I sat down to the piano with his music, perhaps tonight's the night. It'll be a rough and rugged representation of his craft. But the jazzy, lilting refrains will bring back such a fond memory of the kind, generous and oh-so-talented Claude Bolling.