My first stab at making tarte tatin came back in high school and was a terrible flop. I'd never had tarte ta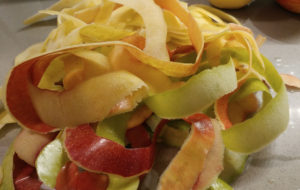 tin before, and even without an existing point of reference I knew something wasn't right. Having just pulled that recipe out of my decades-old collection of recipe cards, clippings and other early recipe notes (a collection more nostalgic than anything), I now see it was doomed on so many points. A glass pie dish. Layering sugar and butter with no attempt at caramelization before baking. Using sliced apples. (The recipe's in my handwriting, copied from some unknown source….)
It's a good thing I ended up going to cooking school in France. Not only did it give me a chance to become educated on the elegance and simplicity of the perfect tarte tatin, I had frequent occasion practice the craft of making the elevated apple tarte–more than a few times at the elbow of the inimitable Chef Chambrette. It has become a favorite dish to make for special occasions, one that is by no means complex (a handful of ingredients and just a few pieces of kitchen equipment needed) but does require some time and attention to a few details.
Use the right pan: one with a heavy base to ensure even heat distribution, and sides deep enough (1 1/2 to 2 inches) to contain full halves of apples and the bubbling, juice-infused caramel. The apples are pretty much fully cooked on top of the stove, a leisurely process that ensures a deep caramel flavor that penetrates the apple pieces as they cook. The juices given off from the apples contribute to the uniquely delicious melding of fruit and caramel. To accomplish this, a heavy pan that will provide evenly distributed heat is critical. I've only ever used my treasured tarte tatin pan bought at Dehilleran in Paris years ago, others swear by beloved cast iron skillets. It may be possible to make a passable tarte tatin in another type of solid, reliable skillet but I've not yet ventured to try.
Use the right apples: ones that are firm and will hold their shape during the long cooking. Chambrette always swore by "les Goldens," in my memory of his tatin lessons. For the retest I did to take pictures for this post, I used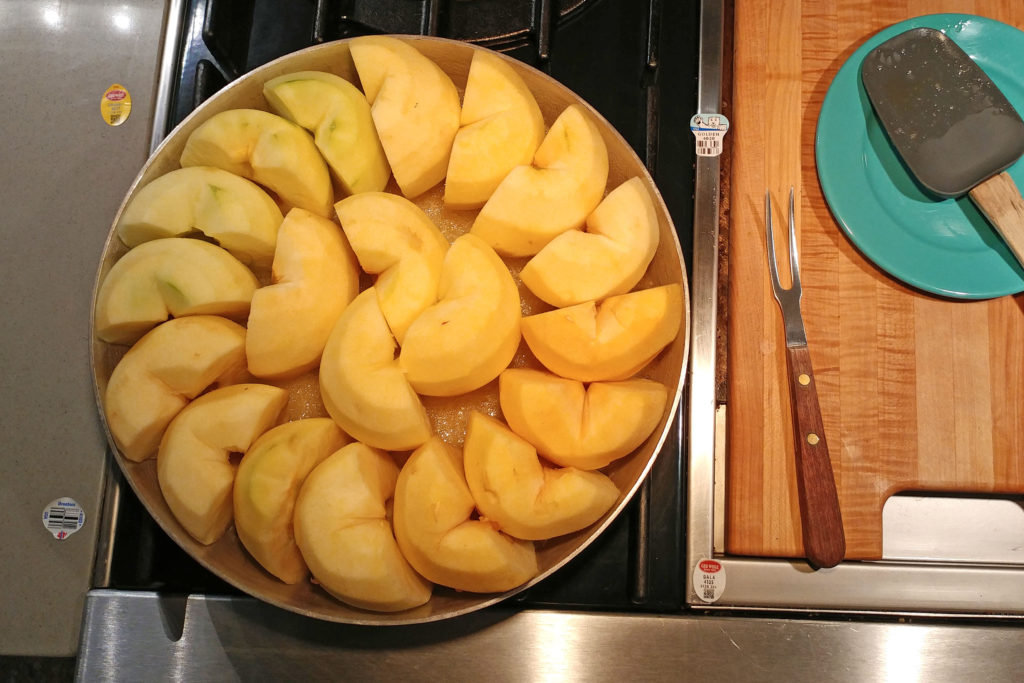 four different types of apples: Golden Delicious, Gala, Braeburn and Granny Smith, doing my best to contain them to their particular quarter of the pan and analyze how they each held up in this iconic dessert. In the long run, by the time they got topped with pastry and upturned for  serving, I was no longer 100 percent sure which quarter held which variety. An interesting outcome in its own right, as the whole thing was delicious and looked great, so all good candidates. The size and shape of specific apples you have for the recipe will determine ultimately how many are needed to fill the pan to capacity. I prefer to have an extra apple to save for a later snack, than to have too few to fill the pan.
Be patient!!!! Time is the most important thing here, taking the time to cook those apples slowly over moderate heat. Listen to a favorite podcast, brainstorm a million dollar idea, do some kitchen tai chi, practice standing meditation while you stare at the bubbly goodness in the pan. Just DON'T rush things! Be patient and be present (for necessary occasional turning of the apples). The zen of tarte tatin. Cooking time for this version was about 1 hour 5 minutes and I wished I'd gone a bit longer for deeper caramel character; notes from a previous test counted 1 hour 25 minutes.
Serve simply: As much of an ice cream hound as I am, and as perfect as a scoop of vanilla ice cream may be with any other variation of apple pie or tart, I feel its sweetness is overbearing here. Crème fraîche, with its tangy richness, is really the way to go – though au natural may be my favorite way to enjoy tarte tatin.
Tarte Tatin
(adapted from the recipe we used in classes at La Varenne)
1 stick (4 ounces) unsalted butter, cut into pieces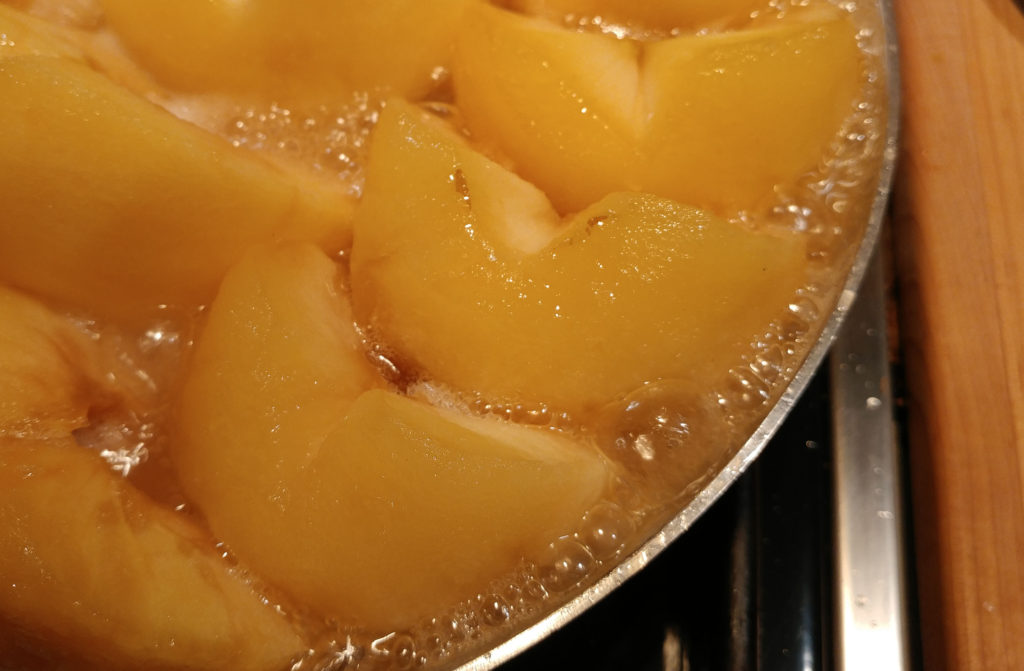 1 1/2 cups sugar (vanilla sugar, if you have it)
About 10 medium apples, roughly 6 pounds
Crème fraîche, for serving (optional)
Pastry
1 3/4 cups unbleached all-purpose flour
1/2 cup (4 ounces) unsalted butter, cut into pieces
3/4 teaspoon kosher salt
About 6 tablespoons ice-cold water
For the pastry, combine the flour, butter pieces, and salt in the bowl of a food processor and pulse until the mixture has a texture of coarse sand. Transfer the flour mixture to a large bowl, drizzle 5 tablespoons of the water over and toss with a large fork or wooden spoon until well blended. If the dough is still rather dry when pinched between your fingers, drizzle over some or all (based on how dry) of the remaining water and mix to form a cohesive dough that is soft but not sticky. Form the dough into a disc about 5 inches across, wrap in plastic or waxed paper and refrigerate for at least 30 minutes and up to overnight.
Preheat the oven to 400 F. Peel, halve and core the apples.
Put the butter pieces in a tarte tatin pan or other deep, heavy pan about 10 inches in diameter and melt over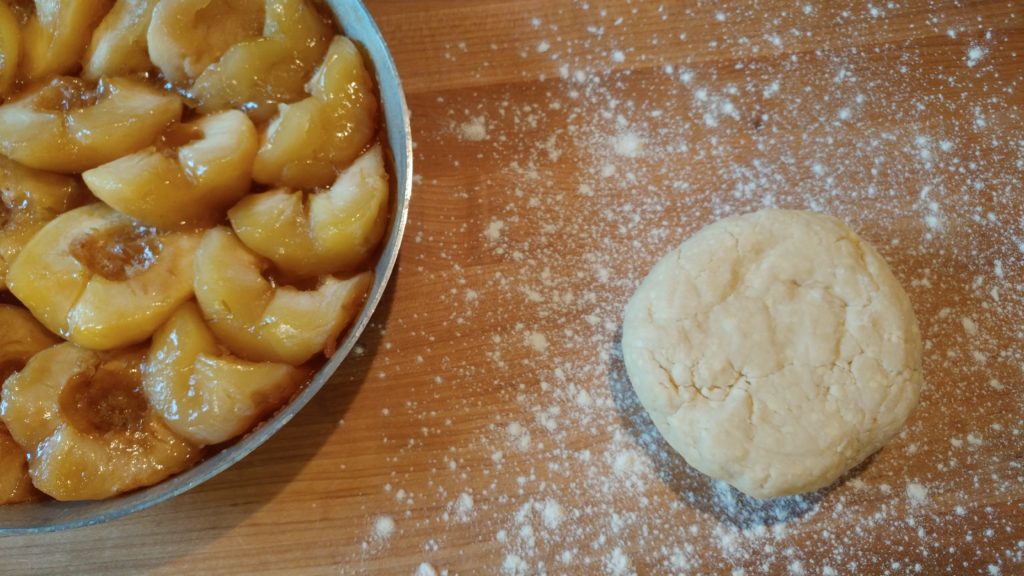 medium heat. Stir in the sugar and cook, stirring, until lightly bubbling, 3 to 5 minutes. Reduce the heat to low while you add the apples. Starting from the outer edge of the pan, arrange the apple halves upright, cupping the cored side of one half against the rounded side of the next, until this outer circle is complete. Do the same with enough apple halves to fill the center of the pan. The apples should be snug enough to remain upright but not so tight you can't turn them; note that they will shrink as they cook, so I opt for a bit too snug rather than too loose.
Increase the heat to medium and cook until the sugary, buttery juices have attained a deep mahogany caramel color and the apples are tender throughout, which will likely take an hour or more depending on the size and type of apple used. But don't walk away. Every 5 minutes or so (longer spans toward the beginning, shorter near the end), use a kitchen fork with 2 or 3 slender tines, to turn the apples to ensure even cooking. The apples should gain an even caramely color and become translucent as they cook; if they begin browning in spots, reduce the heat to medium-low. As the apple shrink and settle a bit, guide the halves to be in a rounded-side down position, thinking ahead to when the tart will be inverted and that more attractive side visible. When the caramel cooking liquid is gorgeous and reduced, and the apple halves offer no resistance when pierced, take the pan from the heat and set aside.
Take the pastry dough from the refrigerator, unwrap and let sit on a lightly floured surface for 5 to 10 minutes. Roll the dough out to a circle of about 12 inches diameter. Fold the dough loosely into quarters, or roll over the rolling pin, and unfold/unroll over the apples. Trim any overhang that is more than about 3/4 inch. Tuck the edge of the dough down around the outer edge of the apples, forming a bit of a rim for enclosing the apples.
Bake the tarte tatin (on a baking sheet for insurance against drips, if you like) until the pastry is nicely browned, 20 to 25 minutes. Let cool 20 to 30 minutes before serving (I know, this is the hardest part".) The tart should be unmolded while warm, but not hot. If made further in advance and it cools completely, gently rewarm in a 300 F oven to soften the caramel a bit for best results.
To serve, run a slender knife blade around the outer edge of the pastry. Choose a serving plate that has a bit of a rimmed or slanted edge to contain any drizzle of caramel, and of course large enough to hold the tart. Set the plate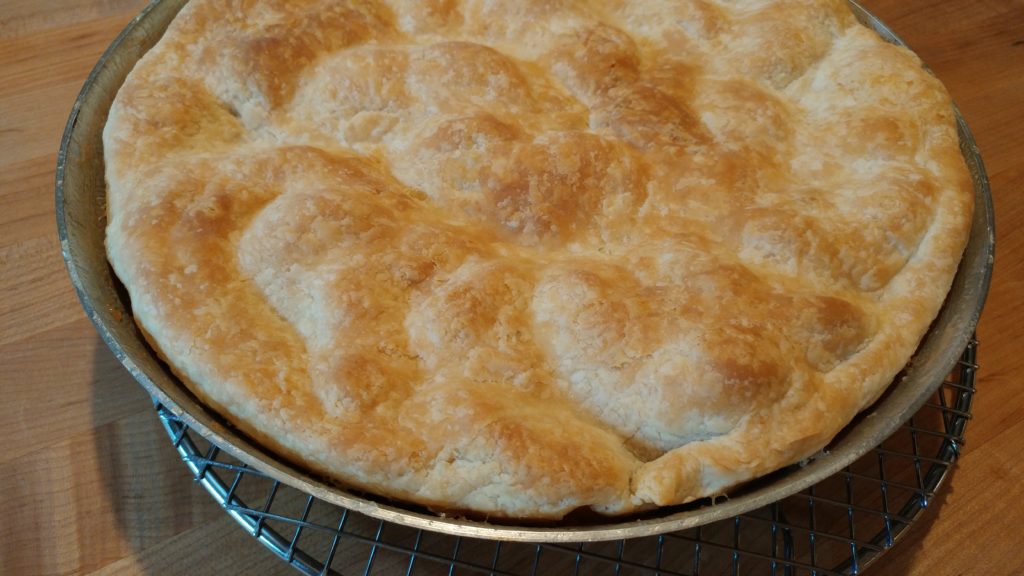 upside down over the tart pan, grab the edges securely and using what Julia Child called "the courage of your conviction" [2:30] quickly but carefully turn them both upside down (over the sink, if it makes you feel a bit less worried about drips). If the tart doesn't drop down immediately on its own, let things sit for a few moments, and employ a little downward shake on the duo if needed. Lift off the pan and check for any caramel lingering in it, to either sneak for yourself, or scoop out onto the tart. Cut the tarte tatin into pieces, spoon a dab of crème fraîche over each piece and serve (surely to ooohs and aaaah from your guests).
Makes 8 to 12 servings