The book has been on who-knows-how-many different bookshelves of mine over the course of many years. I glance quickly past its spine now and then when scanning for a different title on my current office shelves. But it took a recent potluck to make me take down my copy of The Silver Palate Cookbook and thumb through it for the first time in ages. A friend brought Chunky Apple Walnut Cake as her contribution to the meal, and when she told me what book the recipe was from, my mind immediately drifted back to my teenage self standing in a kitchen in Edmonds, where I grew up.
Not my kitchen, mind you, but our next-door neighbor's. My mom was an outstanding cook, I absolutely credit her with my early love of cooking and comfort in the kitchen. I spent countless hours cooking by her side, or simply sitting in one of those avocado-green stools along the kitchen counter, watching her breeze around her domain making dinner while I finished homework. Silver Palate wouldn't have been in her cookbook collection, though. She didn't cook from books much at all, as I recall, instead pulling down her beloved, cram-packed accordion file of recipes clipped from magazines, those given by friends, recipes jotted down herself on the back an envelope, church newsletter or whatever other random piece of paper was handy at the time. (Held together with tape, reinforced with cardboard and woven through with a lifetime of memories, that file's in my kitchen today.) Cookbooks? If anything, Mom turned occasionally to the ring-bound 1953 Better Homes & Gardens New Cookbook and a well-worn 1946 edition of Joy of Cooking. In which she not only made notes on various recipes, but also tucked or taped other recipes from packages or articles. Those cherished treasures are also in my collection now.
No, those Silver Palate memories take me back to Mrs. Peckol's house next door. A fabulous cook, she was younger than my mom, her young girls provided my first (and almost only) babysitting experience. On occasion I'd find myself over there after school, or before a babysitting session, and picking up some different perspectives on cooking from Mrs. Peckol's vantage. And that included having a look at her Silver Palate Cookbook, originally released in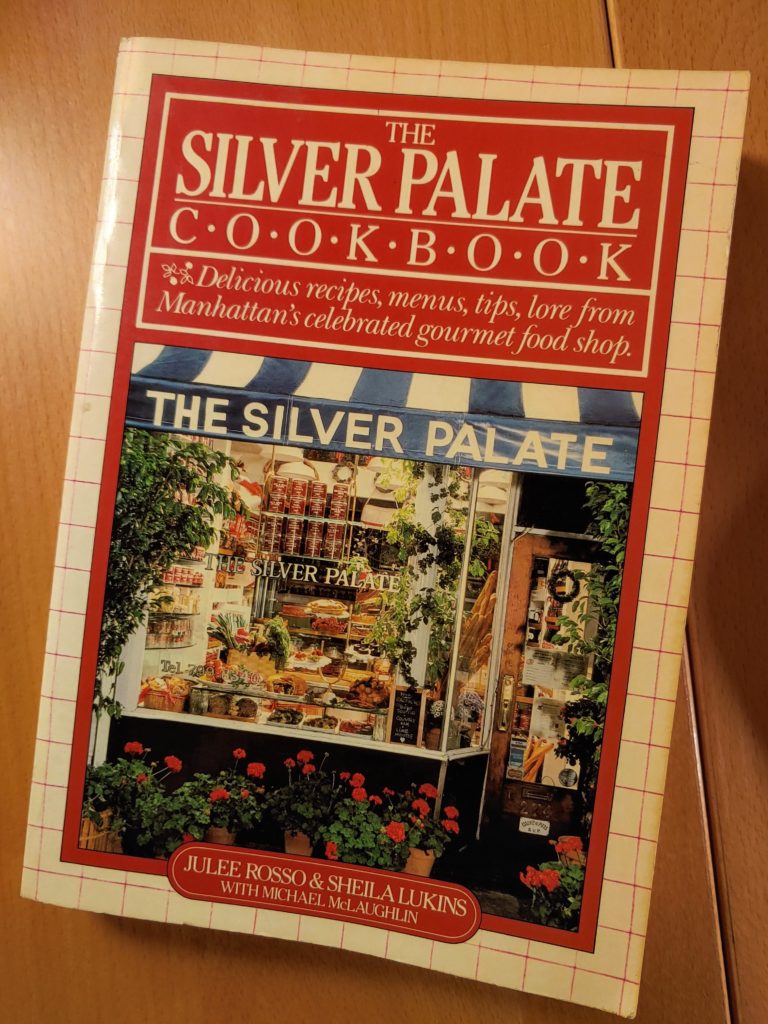 1982 and in her kitchen not too long after that.
I will never forget how fascinated by that book I was. We ate well, no doubt about it, my mom had a broad repertoire from her own lifelong love of cooking, with some exotica mixed in following travels as a Navy family. But we weren't trying out hummus, or oxtail stew, or profiteroles. The recipe in Silver Palate that I remember really blew my mind was Raspberry Chicken. Imagine! Raspberries. And chicken. I'd never heard of such a thing, sounded fantastical. Chicken breasts, a touch of butter, a bit of shallot, some raspberry vinegar (asterisked to explain one should look for it in specialty food stores, so novel was it back then). Stock, cream, a smidge of tomato, and fresh raspberries.
Other recipes that stir up memories of early cooking adventures include phyllo triangles, chicken liver pâté, gazpacho, tortellini with gorgonzola cream sauce, prosciutto-wrapped asparagus, tarragon chicken salad. There is a timelessness and sweetness about the book, looking through it with fresh eyes after so long. It's packed with recipes that, while less innovative in today's kitchen than they were at first, still touch on benchmarks we look for in recipes: extolling great ingredients simply prepared, emphasizing flavor and visual appeal. Poking around just now, I see the book has garnered attention on Eat Your Books as first among books that have stood the test of time. And sites like Food52 have many and varied references to recipes from the book, which is clearly still getting a lot of play in kitchens today.
This collection dates to pre-quinoa (the only Q in the index is quiche!), pre-Keto, pre-InstaPot, pre- countless developments, trends and camps of eating styles that have become part of the recipe landscape in more recent years. It goes back to an era that had a big influence on my foundation in cooking, based on where I was in my own evolution of experiences. And it also reflects a time when American palates and pantries were expanding, becoming more familiar with things like antipasto and fancy cheeses, phyllo dough and lots of types of oils and vinegars. It's nice to be reminded of how much we have at hand today–ingredients, techniques, and inspirations from countess sources–that makes cooking a never-ending joy. And to be reminded of how influential books like The Silver Palate Cookbook were in getting us here. I have Mrs. Peckol to thank for my copy, which she gave me as a graduation present.