Though it wasn't exactly part of the agenda, I shared a little tip with folks at a cooking class I taught a couple of days ago. On the menu was Herb-Marinated Shrimp from Gourmet Game Night, a simple and flavorful recipe I'll share with you here just for fun. All those shells left from peeling the shrimp — they still have flavor to offer before going into the compost bin. Perfect time to make a little shrimp stock.
You can short-cut that recipe, and any other that has you peel shrimp before cooking, by buying shrimp that are pre-shelled. But I prefer buying shell-on. The shells offer a protective covering through transit that also maintains maximum flavor and moisture until they land in your kitchen. In fact, cooking shrimp in their shells takes that benefit to another level, the shells further contributing flavor as the shrimp cook. Not always a practical option, though, given the later job of peeling away the shells for eating. Soups, stews, generously sauced dishes — not to mention game night — are not ideal times to have your guests plucking away shrimp shells at the dinner table.
So, when you have the step of peeling shrimp for a recipe, don't toss out all that flavor still lingering in the shells. Whether you do so right away or tuck them in a bag to freeze for future use — it's easy to make the most of that lingering flavor with a simple stock.
Could it get any easier than this? Put the shells in a saucepan, add water, simmer for about 15 minutes. You don't even need to add aromatics, the simple, clean flavor of the shrimp comes through well without embellishment. I usually toss in a fresh bay leaf, because I have a ready supply out the back door and love bay in almost everything. If you have green onions on hand, a handful of the green tops will be good, and/or a handful of stems from a bunch of parsley. A couple sprigs of thyme, maybe a slice or two of ginger if that flavor complements what you have planned for the stock. I avoid garlic, yellow onion, flavors that can overpower the shrimp essence. Though again, if it's in line with how you'll be using the finished product, go for it.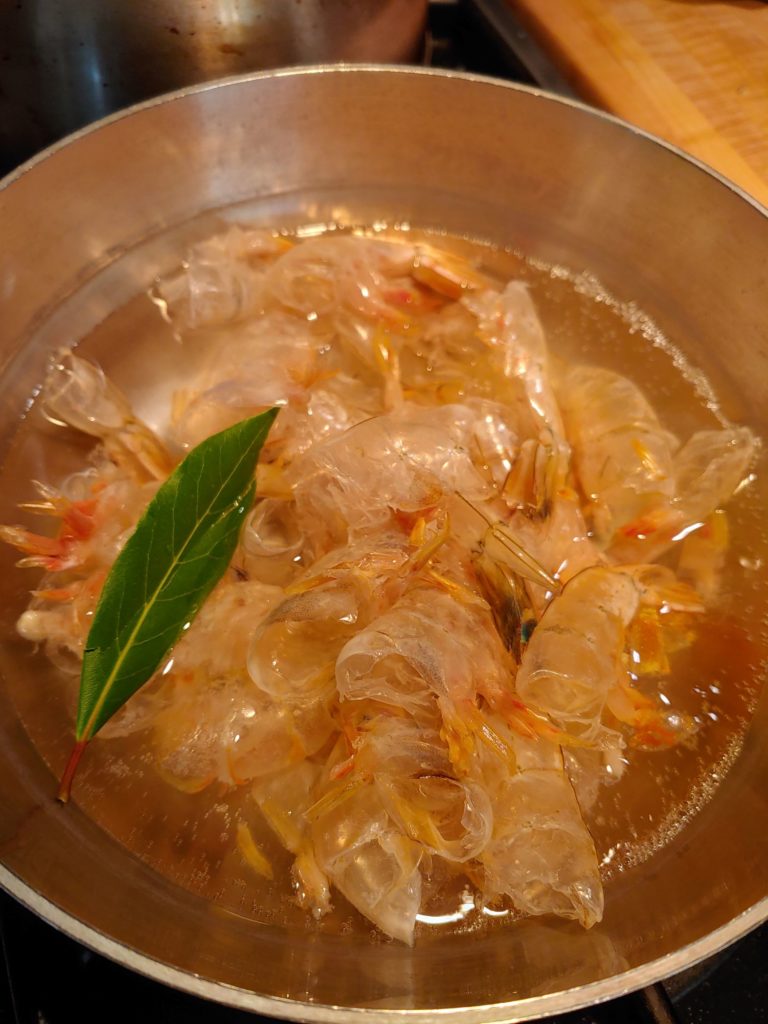 The stock I made last night, I let simmer a bit longer to reduce in volume, ended up with about 3/4 cup. As you may notice in the photo, the amount of water I used was minimal, a bit over half the level of the shells themselves. The shrimp flavor drawn off is mellow, simmering in gobs of water will leave you with a diluted, thin broth. Just stir the shells now and then while they simmer, pressing down a bit to encourage as much contact as possible with the liquid. You'll get all that flavor out.
Winging it for dinner that night, I sautéed a few cups' worth of sliced Brussels sprouts in butter until lightly browned and mostly tender. After transferring them to a bowl, I sautéed the shrimp in the same skillet for a few minutes, in a bit more butter, until about half cooked. Then I returned the Brussels sprouts to the pan with a generous cup of farro I'd cooked earlier (lentils, rice, other cooked grains would surely work great too). I then drizzled about half of the shrimp stock over, to moisten everything and help draw up flavor from browned bits stuck to the skillet, gradually adding the rest of it over the next few minutes. Season to taste, and by now everything should be cooked and tender and liquid mostly evaporated. Ta-da. That's a new idea I'll keep in my repertoire for future random weeknight dinners.
OK, now for that recipe. Which serves as a great excuse for you to have a supply of shells to simmer. With that shrimp stock you can add great flavor to your next chowder, cioppino, seafood risotto, shrimp pasta, any other number of perfect occasions for delicious shrimp broth.
Herb-Marinated Shrimp
1/2 cup chopped fresh tender herbs (flat-leaf parsley, tarragon, fennel, chervil and/or chives)
1/4 cup white wine vinegar
1/4 cup olive oil
Kosher salt and freshly ground black pepper
18 large shrimp (about 1 pound), peeled and deveined
18 pickled cocktail onions
In a medium bowl, combine the herbs, vinegar and olive oil, with a good pinch each of salt and pepper. Stir to mix; set aside.
Bring a medium pan of salted water to a boil. Add the shrimp and cook until just opaque through the thickest part, about 3 minutes. Drain well and let cool for a few minutes. Add the warm shrimp to the marinade and let cool to room temperature, stirring a few times. Cover and refrigerate until chilled, at least 1 hour, stirring occasionally.
To serve, spear each shrimp onto a small skewer or pick, with 1 pickled onion in the nook of the shrimp's curve. It's fine for some of the herbs to be clinging to the shrimp, but brush off any excessive herbs. Arrange the shrimp skewers on a plate and serve.
Makes 18 shrimp