This post comes with a hat-tip to Instagram, which is where I first caught wind of the recipe. For most of my life, I didn't care for (if not actively avoided) buckwheat. Something shifted 8 or 10 years ago and now I'm an avid fan of its distinctive, nutty flavor. Lucky to have a good supply of buckwheat flour on hand, I have radar out for any/all interesting options for using it. When this popped up—buckwheat + cardamom + chocolate!!—I hightailed it into the kitchen to give it a shot.
The source of this deeeeelicious recipe is Evelyn's Crackers, based in Toronto. Here's a link to the web site where you can find this and a handful of other recipes using less-traditional grains for baked treats—the specialty of the house. (You'll probably want to go ahead and follow them on Instagram too, right?!) Originally in large bakery-appropriate portions, for the recipe below I quartered the ingredients for a home-kitchen-friendly 9×13 inch baking dish. And I tweaked measurements, also, to use cup measurements but left key metric weights in for those so inclined.
First time through, I was little lazy (more likely, impatient!) and used some pre-ground cardamom I had on hand.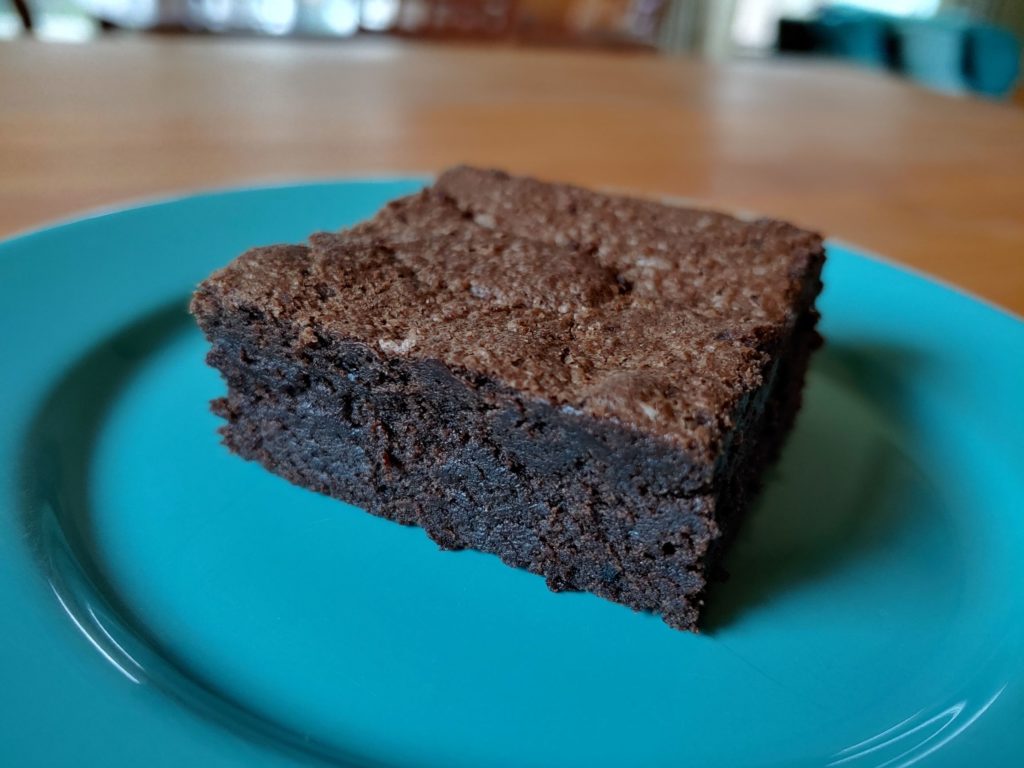 The flavor was super subtle; if you go that route consider using 1 1/2 teaspoons. It took a while, next batch, to pop the little black seeds out of whole cardamom pods I had, but it was very much worth the effort to use fresh-ground for more pronounced flavor.
I had every intention, for my second run through, to follow this bit of advice from Evelyn's: "For the fudgiest brownie, we like to chill the batter in the trays overnight and bake cold." Truly, I did. But again….impatient! So perhaps the third try it'll happen. If you do bake the brownies chilled, I expect the baking time may need an extra 3 to 5 minutes. [I've remade this recipe twice and have yet to be patient enough to wait on an overnight chill….}
On the buckwheat front, the initial test was with my stock of some wonderful flour from Cairnspring Mills in the Skagit Valley north of Seattle. I almost hate to mention that, because their buckwheat flour is available only to commercial customers far as I know. What is available from them at the retail level is Cairnspring all-purpose, pastry and bread flours, exclusively through Metropolitan Markets in the Puget Sound area. Definitely worth trying out if you're in the area and can pick up a bag or two. [Update: Cairnspring more recently began selling at least some of their flours online, have a look here]. I re-ran the recipe (due diligence!!) using more easily-available Bob's Red Mill buckwheat flour. Results delicious both times, I trust that whatever buckwheat flour you can find will be just great here.
Buckwheat & Cardamom Brownies (by way of Evelyn's Crackers)
1 1/4 cups (175 gm) buckwheat flour
1/3 cup (25 gm) cocoa powder
1 1/4 teaspoons freshly ground cardamom powder
1 teaspoon fine sea salt
1/2 teaspoon baking powder
1 1/2 cups (3 sticks) unsalted butter
7 ounces bittersweet chocolate, chopped
5 large eggs
1 1/2 cups (300 gm) granulated sugar
Preheat oven to 325 F (if refrigerating the batter before baking, save preheating the oven until needed). Butter a 9×13 inch baking dish. Cut a strip of parchment just under 9 inches wide, long enough to come up each end of the dish. Lay the paper evenly in the dish and lightly butter the paper too.
Combine the buckwheat flour, cocoa powder, cardamom, salt and baking powder in a small bowl and whisk together. Be careful to break up any clumps. Set aside.
Melt the butter in a medium saucepan over low heat. Once fully melted, take the pan from the heat, add the chocolate and whisk gently until melted. Set aside to cool.
Whisk together the eggs and sugar in a large bowl. Whisk in the cooled chocolate-butter mixture until thoroughly blended and shiny. Slowly whisk in the dry ingredients. Scrape the batter into the prepared pan, smoothing the top. Bake until the brownies are set, the edges firm and barely a slight hint of a jiggle at the center, 25 to 28 minutes.
Let cool on a wire rack, then cut the brownies into pieces to serve.
Makes 24 brownies