It's a funny sensation, that moment in an author's life (at least this author's life) when you realize the book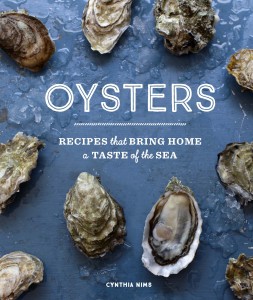 manuscript you've been working on for months is now finished and leaving your grasp for good: off to the printer in whatever form that last round of edits produced. The tweaking of the title, the final review of a few pages. The last minute edits and confirmation of name spellings. Then–'poof'–it's off into the ether. Even though I've been through this process many times before (this counts as number 9 of my solo books, with a dozen-plus more collaborations), it's a moment that always sets into flight a whole host of butterflies in my stomach.
The butterflies have settled a bit now, the new book Oysters: Recipes that Bring Home a Taste of the Sea
is being brought to life, and it will hit shelves in January. Though, if you're anxious to claim your copy, the book is already up for pre-sale on Amazon via that link above, and on other sites (which blows my mind…five months in advance!).
This project was particularly enjoyable as it allowed me to slip back into the seafood-centric mode I'd been in early in my career as editor of Simply Seafood magazine (which, sadly, is no longer published). Fresh home from cooking school in France, I was quite fortunate that a simple coffee date with someone in the food biz made me aware that the magazine's food editor position was available. I dived deep into the world of seafood there for about seven years, becoming managing editor along the way. I loved every minute of it, and developed an even keener appreciation for seafood than I had the first day on the job.
Another loop back into my past with this new book is once again working with Sasquatch Books, who published my first cookbook going way back to 1996: The Northwest Best Places Cookbook. It's been over a decade since the fifth book I did for them, The Best Places Northwest Desserts Cookbook.
Though I may sound nostalgic in reflecting on the foundation that's behind this new book, it's very much inspired by the current rage for all things oyster. Oyster bars are popping up all over the country, oyster farms are expanding, oysters slurpers have more varieties to try and more resources to help enjoy them to their fullest, whether online compendiums or in-person events (New York Oyster Week begins in a few days).  I had a blast playing around with cooking oysters countless ways, eventually settling on a few dozen recipes that fall into four chapters: Raw, Baked & Grilled, Steamed & Poached and Fried & Sautéed.
And because I live in Seattle and am deeply ensconced in west coast oyster culture, the book has a decidedly Pacific bent. At least in terms of the growing regions I briefly discuss–from Alaska down to nearly Southern California–and the oyster-growing (and -eating) history along this coast. But the recipes are, I'd say, geographically neutral. And I expect that any oyster lover, no matter where they live, will find information and ideas within the book's pages to inspire lots more oyster-enjoying adventures.