There are so many reasons that it's been as long as it has since I last sat down to write a post here. I won't bore you with details, aside from the more recent reason that I was out of town for most of December. It was a trip my husband and I had been looking forward to for many months, since springtime when he determined how he'd like to celebrate the noteworthy birthday milestone he'd be hitting this month. The months went by with loads of work and other distractions. Before we knew it, departure date was upon us. After first flying to Florida, we boarded the MS Statendam in Ft. Lauderdale and set off on a 14-day cruise that took us across the Caribbean Sea, through the Panama Canal, up the western coast of Central America and Mexico, disembarking in San Diego two days before Christmas. Rather than join the throngs of travelers on obligatory pre-Christmas flights, we stuck around in San Diego until after the holiday, spending Christmas day in Palm Springs with friends. It was a glorious trip of nearly three weeks in all. But the sign of a great vacation, in my mind, is one that makes you happy to be home. And despite the fact that Seattle had been having unseasonably nice weather while we were away and it was chilly and gray and rainy our first day home, we were delighted to be back in Seattle.
As luxurious as it was to have such a grand change of pace and scenery for those few weeks, one of the things I missed most of all was my own kitchen. Sure, it's nice when someone else not only cooks for you three meals a day, but also keeps you from having to do any grocery shopping, clean-up, emptying the dishwasher, etc. But truthfully, I missed cooking. A lot of folks ask "how was the food?" when we talk of our cruise. The food was fine. Holland America is the only line we've traveled on, so don't have much to compare with. But they do a fine job of serving up 6000-7000 meals each day (our ship had about 1200 passengers). I shift gears in situations like that and don't expect a cruise ship meal to be on par with dining at a farm-to-table bistro in Seattle. Not fair to them, and honestly I'm on vacation and just turn off the "critique" mode I might be in at another time. But after a few weeks of other folks cooking my meals, it was a huge treat to get back in my own kitchen and get back to cooking.
Our first dinner back home was husband-requested beef stew. That morning I'd been thumbing through the piles of mail and saw in the current issue of Cook's Illustrated magazine a beef stew recipe that contradicted one of the accepted building blocks for traditional meat stews: the step of browning the cubed meat before the simmering gets underway. Their "Catalan-Style Beef Stew with Mushrooms" definitely caught my eye and became my inspiration that night. I rarely follow recipes to the letter, this time no exception. I'd already bought chuck, which I used instead of the boneless beef short ribs. Used canned tomatoes instead of fresh, and dried porcini in place of the fresh oyster mushrooms. And in addition to the smoked paprika called for, I added a teaspoon of urfa biber, a Turkish dried chile that has a moderate dose of heat along with rich and savory smoky-coffee type flavors. Oh, and I skipped the picada altogether, just added a big dose of garlic to the stew itself. To accompany the stew, I sauteed some thinly sliced brussels sprouts and cooked up red grits I'd brought home from Riverview Farms in Georgia. Quite the welcome-home dinner.
The next night we caught up with my sister and brother-in-law. Over a home-cooked meal, of course. This time roasted Dungeness crab (this recipe, a favorite), a flatbread covered with thinly sliced Meyer lemon that I'd carried home from our friends' house in Palm Springs, salad with kumquat and almonds, roasted Yukon Gold potatoes. For dessert, I sliced up some apples for this simple, rustic tart, perching them on a frangipane of hazelnuts. The flavors of home. So good to be back!
Hazelnut-Apple Tart
Pastry:
1 cup all-purpose flour
3 tablespoons sugar
1/4 teaspoon salt
1/4 cup unsalted butter, cut into pieces, chilled
1 egg yolk
1/2 teaspoon pure vanilla extract
3 to 4 tablespoons ice water
Filling:
1 cup toasted hazelnuts
1/4 cup sugar
1 teaspoon ground cinnamon
2 eggs
1/4 cup unsalted butter, cut into pieces, at room temperature
3 large apples, cored and cut into 1/4-inch slices
1/4 cup apricot preserves
2 tablespoons brandy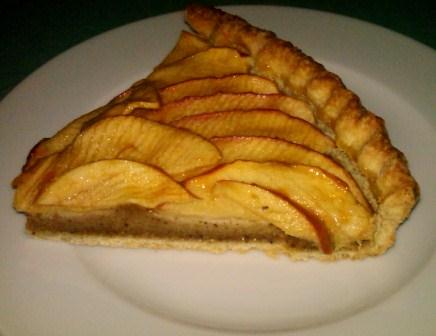 For the pastry dough, combine the flour, sugar and salt in a food processor and pulse a few times to blend. Add the butter and pulse until it is finely chopped and the mixture has the texture of course sand. Add the egg yolk and vanilla extract and pulse a few times. Gradually add the water, pulsing as you go, until the dough has just enough liquid to hold its shape when pinched between your fingers. Turn the mixture out onto the counter and form it into a disc; wrap in plastic and refrigerate for 30 minutes.
Preheat the oven to 400 F. (I set a heavy steel baking sheet on the oven rack to preheat as well and later set the tart pan directly on the heated baking sheet, to help cook the base of the tart dough, since it wasn't to be blind baked before the filling was added.)
Roll the dough out on a lightly floured surface to a circle about 12 inches in diameter and use the dough to line a 9-inch tart pan with removeable base. Fold or trim the dough edges as needed, crimping them with your fingertips to echo the ridges of the side of the pan.
For the filling, combine the hazelnuts, sugar, and cinnamon in a food processor and pulse until finely chopped. Add the eggs and softened butter and process until smooth. Spoon the filling into the tart shell, spreading it out evenly. Arrange the apple slices over the filling in slightly overlapping circles, beginning at the outer edge and working inward. Bake the tart until the crust is nicely browned and the hazelnut filling is set, about 45 minutes. Let the tart cool completely. Warm the apricot preserves and brandy in a small saucepan and brush the mixture over the surface of the tart. Remove the sides of the pan and cut the tart into pieces to serve. It's tasty as is, though of course vanilla ice cream or whipped cream can be served to embellish the tart if you like.
Makes 8 servings