As usual, I walked into the grocery store last night not sure what we'd end up having for dinner. I was thinking "pork tenderloin" but when I got to the meat & seafood department, those big, plump Dungeness crab really caught my attention. At under $5 per pound, they were impossible to resist.
Just Wednesday, I'd been talking with guests at Tom Douglas's Cookbook Social about Dungeness crab, particularly with one couple who pull up plenty of their own crab throughout the year. I'd been telling them about a couple of my favorite recipes from my cookbook, Crab
. One a twist on traditional steamed crab, using good local beer in place of water to steam the crab. The malty-hoppy character of the beer melds beautifully with the sweet crab, which I suggest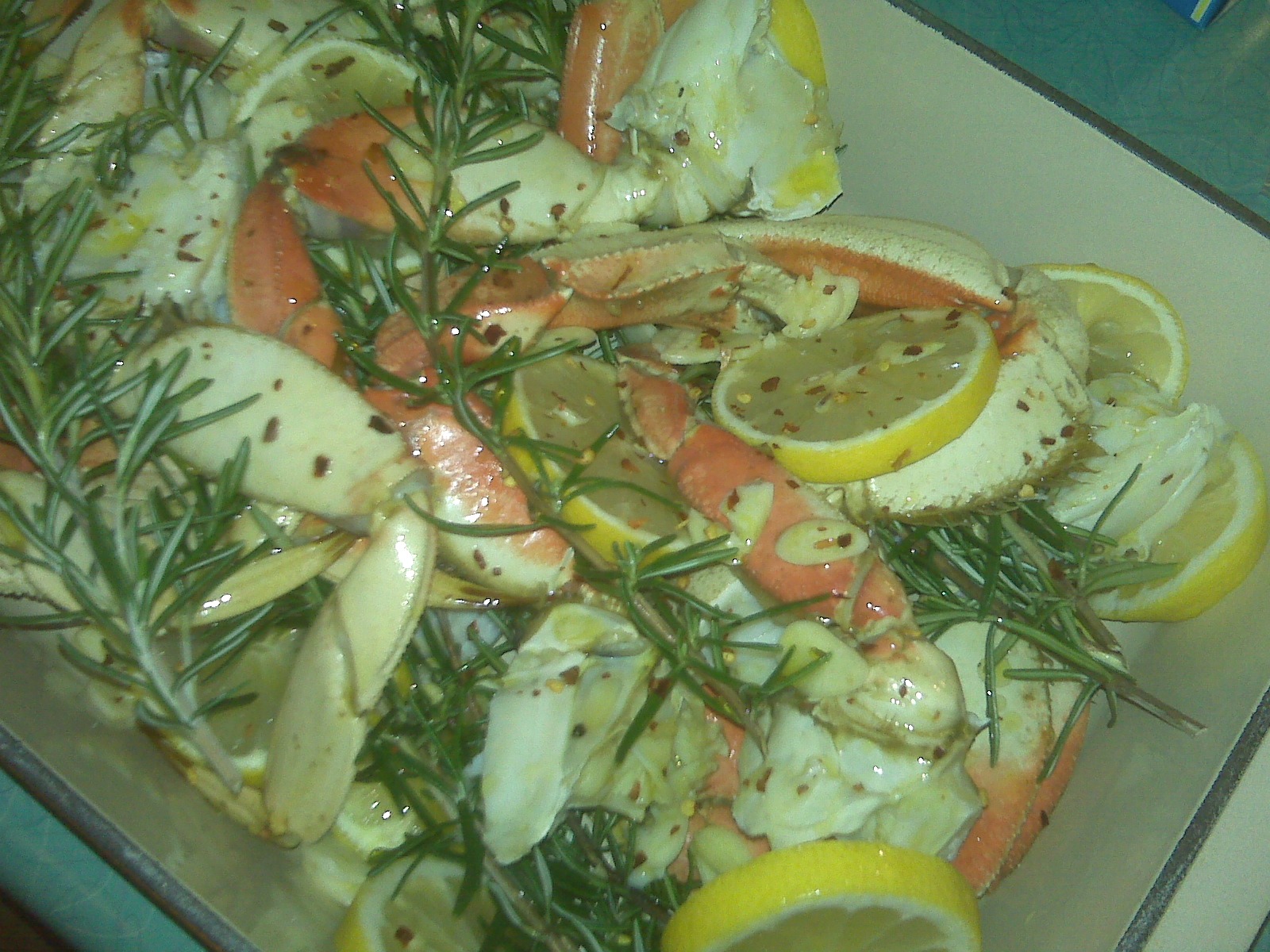 serving with a simple melted butter embellished with a dash of dried mustard. The other favorite is this one, which has been a hit with classes I've taught since the book's release. It's got a trifecta that's beloved by home cooks: simplicity, great flavor, and fun presentation. Plus, the added benefit of the aromatherapy that comes from the wafting blend of rosemary, garlic, lemon and crab coming from the oven? Nothing much beats that!!
It was a delicious dinner last night, served with sautéed lacinato kale and roasted sunchokes alongside. A perfect Saturday dinner on a chilly winter evening.
Enjoy!! Don't forget to cover the table with newspapers, you're sure to send a bit of crab juice, bits of shell, a random flick of meat scattered around as you pick and eat. What a snap it then is to just roll up the papers and toss them out, no messy tablecloth to have to wash!
Rosemary Roasted Crab (from Crab in the Northwest Homegrown Cookbook Series)
The rosemary, lemon, and garlic roasted with the crab here penetrate the sweet meat with delicious subtlety while filling the kitchen with their wonderful aroma. This preparation is particularly good with raw crab portions, which will suck up that flavor more than precooked crabmeat will. It would also be good with king crab leg portions, fully thawed before cooking if using frozen meat. Partially split the king crab shells before roasting, to allow the flavors to penetrate and make shelling them easier for your guests.
2 whole Dungeness crab (about 2 pounds), cleaned and portioned, shells lightly cracked if precooked
6 to 8 long sprigs rosemary (about 1 1/2 ounces)
1 large lemon, thinly sliced
1/4 cup olive oil
4 cloves garlic, chopped or sliced
1/4 teaspoon dried red pepper flakes
Salt and freshly ground black pepper
Preheat the oven to 450°F.
Lay the crab portions in the bottom of a 9- by 13-inch baking dish and top with the rosemary sprigs and lemon slices. Add the olive oil, garlic, and pepper flakes, and season generously with salt and pepper. Toss with your hands to evenly coat the crab pieces with the seasonings, arranging them finally in an even layer with most of the rosemary and lemon underneath. Roast the crab until the flesh is just opaque through (use body portions to judge, their flesh will be more visible), about 15 minutes if using raw crab, or until the precooked crab is heated through, 8 to 10 minutes.
Transfer the crab pieces to a serving platter, garnish with the rosemary and lemon slices, and serve.
Makes 2 servings