This time next week many of us will be scrambling around the kitchen, tending to a bird, popping a batch of rolls in the oven, trimming Brussels sprouts to steam, setting just-baked pies aside to cool. For some I know this can be a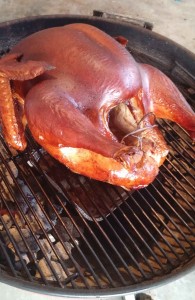 stressful occasion, whether it's because of pressure to not mess up the beloved meal, or in anticipation of the potentially-awkward dynamics around the dinner table later. (After hearing my friends Nancy and Dick discuss Thanksgiving annoyances on KPLU yesterday, I realized how well-behaved and enjoyable my Thanksgiving guests are–counting myself lucky!)
For me Thanksgiving is pure bliss. Particularly if I'm home, having family and friends over, taking full advantage of the opportunity to cook my brains out. The menu's replete with cozy and satisfying food to match the mood of the season. It's cool & crisp outside, warm with a crackling fire and friendly buzz inside. There are no presents, simply the joy of everyone's presence. It's about good, unfussy food, and being together. And while games are a big part of many folks' Thanksgivings, ours is less of the football variety and more of the dominoes/board games variety. Dinner starts early, we eat in a relaxed, very leisurely fashion, then clear off the table and play games for a few hours.
For me, it's holiday perfection.
Old-school at heart, I lean heavily toward the traditional influences on the menu. Often turkey, though sometimes game hens or duck. (If you're still searching for a turkey recipe, this Spice-Brined Turkey is one of four that I created for Cooking Light a few years back.) Or some combination of them. A couple green vegetables, potatoes mashed and/or gratin. Stuffing, though I long-ago dispensed with actually stuffing it in anything besides a baking dish. Mom's classic fresh cranberry and orange relish. Pumpkin pie.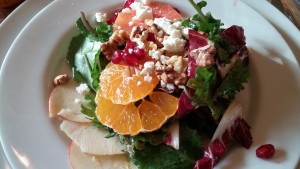 But even with that framework there is plenty of room for yearly variations and tweaks. I haven't cooked those birds in the oven for many years, since relegated to the grill. Not only super delicious cooked over coals with some wood chips added, it frees up the oven space so you can bake and/or reheat a number of other things in the time that the turkey would have been in there. Usually the grill is tucked in the garage in case of inclement weather, like an extension of the kitchen. And the garage smells DIVINE for a good week following the festivities.
The green side of vegetables ranges from a crisp fresh salad course (often with endive, slivered fennel, orange, maybe toasted hazelnuts, blue cheese), sautéed or roasted Brussels sprouts, green beans any number of ways, kale gratin. Mashed potatoes may have some celery root or turnips added, maybe blue cheese stirred in at the last minute. Maybe the spuds are sliced to make a gratin (one year is was this version from the inimitable James Beard). Though the cranberry-orange relish is beloved, one year it was blueberry chutney to go with grilled game hens, another year I made some sour cherry ketchup. Traditional does not need to mean uninspired, boring, staid.
So, with the caveat that I always reserve the right to change my mind at the last minute, this is what I'm currently planning to cook up for dinner next Thursday:
For snack time cocktail hour: rosemary cornmeal crackers, crostini with sardines & lemon chickpeas, pickled cauliflower, roasted pepper & walnut spread
Salad course giving way this year to soup: crab & bourbon bisque, using some remaining king and snow crab from recipe-testing my latest cookbook
For the main event: grilled salmon with ginger-cranberry relish, grilled ducks with kumquat-spice compote, sautéed Brussels sprouts, green beans with shallots and herbs, stuffing with mushrooms, thyme-roasted root vegetables, mashed potatoes
Then for the other main event: pumpkin pie (using this brilliant tip from Ruth Reichl), upside down pear-rosemary cake (from Jerry Traunfeld's The Herbal Kitchen), ice cream
Time to start making shopping lists, timelines, orchestrating the prep. That's part of the fun too. The only chore I really don't enjoy is the actual shopping, but it's a small price to pay for the rest of the pleasure the holiday brings.
Since I can't crawl out of my skin and inhabit that of another for a spell, this is something I'll never know:  Would I love Thanksgiving as much as I do if I wasn't a Thanksgiving baby? I was born in the wee early hours the morning after Thanksgiving dinner, sorry to have disturbed my mom's enjoyment of her meal that year. Thus far in my life, my birthday has fallen on Thanksgiving eight times and I've never once been unhappy about it. To me it's about the best present I can get.
Wishing you and yours a delicious, relaxed, cozy, wonderful day of giving thanks and sharing time together.