If you don't have anything on your calendar for October 16 and you'll be in the Seattle vicinity, I've got a proposition for you. Come join me and many of my Dames pals for this year's fundraiser. It's going to be a fun and tasty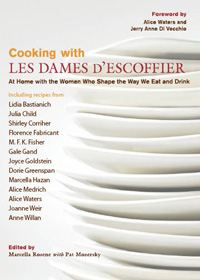 evening, held at the wonderful and exclusive Kathy Casey Food Studios in Ballard. We'll be celebrating the release of the first cookbook ever produced by Les Dames d'Escoffier, a national organization of professional women in the fields food, wine, hospitality and other gastronomic pursuits. Our local chapter has disbursed more than $240,000 for educational programs, community projects and culinary scholarships for women in Washington state over the past 15 years. Money raised this evening will help continue those philanthropic efforts.
Though the book includes some well-known women from around the country–the forward was written by Alice Waters, recipes include those from Dorie Greenspan, Anne Willan, Alice Medrich and Joanne Weir–we have special hometown pride as the book was edited by our own Marcella Rosene and published by Seattle-based Sasquatch Books. On the 16th, you'll be able to sample recipes contributed by local members, including Fran Bigelow, Lisa Dupar, Leslie Mackie and Kathy Casey. It's going to be a convivial, casual evening.
Space is limited and tickets are available here, each includes a signed copy of the cookbook. More cookbooks will be on sale that evening as well, a great opportunity to stock up for your holiday giving! Help support our efforts to, in turn, support women joining the culinary field in the Seattle area! We promise a fun evening with delicious eats.  And a chance to get to know some great Dames!