Which would translate to "god jul" in Swedish, with a "gott nytt år" tossed in to wish you a happy new year as well!
There are a couple of reasons that our Christmas day menu–usually a hearty but simple brunch, then a casual nosh later in the day–became a vaguely smörgÃ¥sbord-influenced Scandinavian spread. The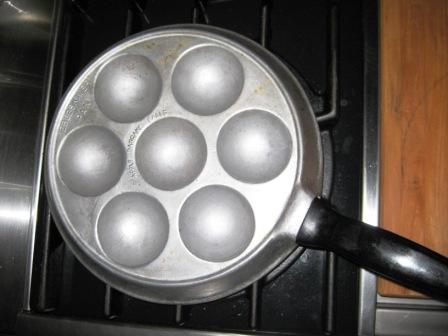 main impetus was a holiday party earlier this month. The gift I came home with at the end of the white elephant exchange was this aebleskiver pan. I don't think I'd ever tasted aebleskiver before, let alone made them, so instantly  looked forward to giving them a shot. And as soon as that seed was planted, I was recalling our mid-November trip to Stockholm a few years ago. The amazing foods we ate, the aquavit we sampled, the fun table-top trinkets I came home with that would be ideal on the Christmas table. Off and running, I was!! Thankfully I can count on my family to be up for pretty much anything I serve them, so I knew they'd be game.
This particular pan, whose provenance I know nothing about, does the favor of not only telling me what it's for: "ebleskiver" is how it's spelled on the pan. It also offers a none-too-appealing translation: apple pancake balls.
Oddly, just a few days after I'd acquired the pan, the folks at Sur La Table  twittered that they had an aebleskiver recipe to offer. And just in the nick of time. I wasn't having any luck right off the bat finding a recipe among my usual go-to sources. I'm a huge fan of the 1970s Time-Life book series, Foods of the World, but in this one case felt a little let down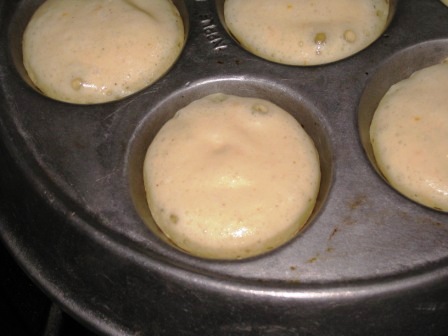 that the Scandinavian volume didn't offer an aebleskiver recipe. I checked a dozen other places, from my old Joy of Cooking to www.epicurious.com and found no recipes at all. Later I found this site with lots of information about aebleskivers, but since they sell aebleskiver mix, no luck with a recipe there either. So that Sur La Table version that came across from Twitterville proved to be serendipity for me. The few recipes I've found since don't include apples at all. The name apparently translates as "apple slices" but clearly the literal foundation of this classic Danish dish has morphed over the years.
I don't usually go through a dry run of a new recipe before a first time of serving it to family and friends. But I made an exception here, since this pan's pretty one-of-a-kind, and this is a pretty unique treat. I wasn't sure if the pan needed some coddling to avoid sticking, or how much fiddling I'd need to do to regulate the heat. I found pretty quickly that medium-low heat was plenty after a good dose of preheating, and that this would be hard to do on a non-gas stove (at least with the type of pan that I have), given that only the outer rim of the lower part of the pan comes in contact with the surface; gas flames licking up to warm the undersides of those divots was invaluable for even cooking.
The basics of making these little pancakes puffs is pretty straight-forward. The simple batter (using eggs separated, more like a waffle recipe) is spooned into the preheated cups of the aebleskiver pan and cooked until about halfway done and nicely browned. Then with the flick of a wrist, each is rolled over in its little cubby to cook on the other side.
That last bit is easier said than done. It's the sole potential snag to an otherwise easy recipe. After a few minutes in the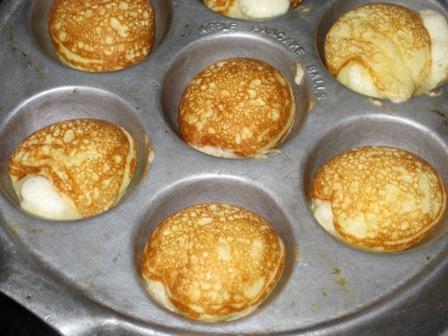 pan, the batter in the center will still be liquid so that it will, when inverted, flow down into the bottom of the indentation to make a rounded surface on the second side. If cooked a bit too long on the first side, that top surface won't give at all and you'll have an odd-looking demi-sphere of dough. Still delicious, just not evenly formed. Next time around I'll try the technique I learned here, turning the round cakes in a few stages rather than all at once. 
I had to laugh when a few descriptions for how to make aebleskivers cited a knitting needle as the tool of choice for the job. I love to knit, but prefer to keep those needles in the living room where they belong. I chose instead a long tapered chopstick that lives in the crock next to the stove with other handy utensils, its tip ideal for the task.  I got better after a couple dozen but still, the delicate texture of the puffs makes it hard to avoid deforming them in the process of nudging them upside down. But my nephew was the first to reassure me that they taste just as good, even if not perfectly round.
The Christmas batch was gobbled up pretty quickly. I served them as is, alongside a dish of lingonberry jam that I'd picked up at IKEA while buying a boatload of office furniture earlier this month. Many descriptions call for topping them with powdered sugar, sweet jams, even syrup. This household doesn't have much of a sweet tooth, so plain with tart lingonberries was perfect. In fact, my brother-in-law had a couple topped with thin slices of the gravlax I'd made for the occasion, claiming the aebleskivers to be not far off from blini (blini with a smidge of orange zest and cardamom, which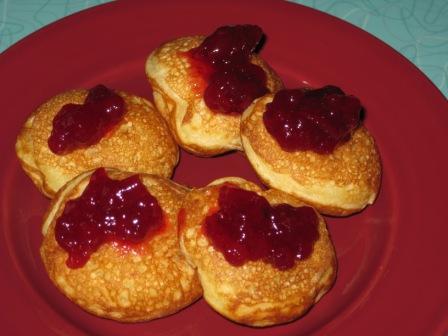 actually sounds great for salmon!).
Most Christmases in recent memory I've welcomed my family with fresh-from-the-oven cinnamon rolls. I forsake those this year with aebleskivers and kringle on the menu (the latter my sister picked up from Nielsen's Pastries in lower Queen Anne). And while I know these aebleskivers will be welcome again, I got a few hints that they might still like to see (and smell) those cinnamon rolls again some year. Oh well. Tradition is tradition! And when new traditions come along, I guess they can learn to mingle with the old. Perhaps I'll add a French bûche de Noël and another holiday delight or two, making next year's Christmas even a bit more international.
The menu that eventually built up around the aebleskiver foundation became an easy-going cold buffet that we could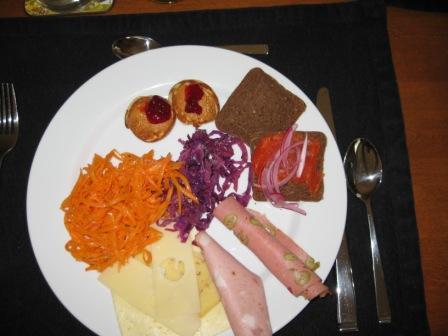 nibble on over the course of a few hours. I made a few different salads: grated carrots with toasted caraway, red cabbage with apple and walnut, dilled cucumbers. I made that aforementioned gravlax, a gin- and juniper-cured version that I developed for my Salmon
 cookbook a few years back. I picked up some cheeses (cumin-gouda, aged emmenthaler, havarti) and good cold cuts (mortadella, olive loaf, ham).
Oh, and libations! How could I forget. I had in my cupboard an unopened bottle of Krogstad Aquavit from Portland distiller House Spirits. Aquavit is a strong spirit that can be flavored with a range of spices, commonly with caraway as at least a base flavoring. Krogstad uses caraway and star anise. We came home from Stockholm with a sampler-pack of seasonal aquavits from different producers, each using different flavor elements that included dill, bitter orange, anise, cumin and coriander. That Christmas just a few weeks after we returned from the trip, I had a number of the bottles out for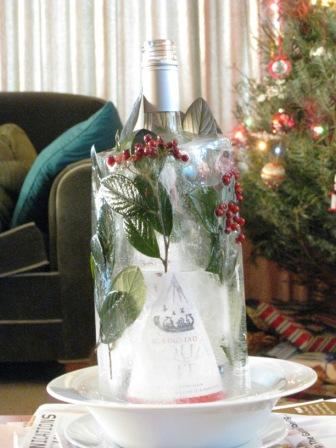 sampling throughout our brunch feast. This year, I plunked that bottle of Krogstad down into an empty milk carton, shimmied some red-berried branches down around it and filled the carton with water then stuck it in the freezer. With the ice frozen solid, the aquavit pours in a wonderfully icy, viscous texture into small glasses. Outstanding. A wonderful digestif to enjoy after our feast, while we watched the Swedish "comedy" Together. By the end of the evening, after playing a rousing card game called 2500 (a new family favorite), we'd emptied the bottle.
So, a lovely, Scandinavian-hued Christmas was had by all in our cozy home. A really wonderful, memorable, relaxed time with family.
Here's hoping you, too, had a wonderful holiday season. And cheers to you for a wonderful 2010 ahead!! A toast from Bob and me, here in the ice bar of the hotel we stayed at in Stockholm. Skål! and gott nytt år!!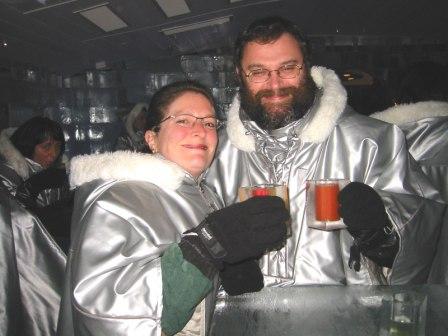 Aebleskivers
(adapted from Sur La Table)
4 eggs, separated
1/4 cup sugar
6 tablespoons unsalted butter, melted
1 1/2 cups buttermilk
1 teaspoon finely grated lemon or orange zest
1 1/2 cups all-purpose flour
1/2 teaspoon baking soda
1/2 to 1 teaspoon ground cardamom
Combine the egg yolks and sugar in a medium bowl and whisk until well blended. Add the melted butter and gently stir to blend. Add the buttermilk and citrus zest, stir to evenly mix, then add the flour and baking soda and stir until just smooth.
In a separate bowl, whip the egg whites until medium peaks form. Working in 2 batches, fold the egg whites into the batter.
Heat the aebleskiver pan over medium-low heat and brush each cup with butter. Spoon the batter into the heated cups, to just below the top. Cook for a few minutes, until bubbles begin appearing on the surface. Use a tapered chopstick, skewer or knitting needle to carefully turn the aebleskivers over. Continue cooking until nicely browned on the second side. Transfer to a baking sheet and keep warm in a low oven while cooking the remaining batter. Serve warm, with a dish of lingonberry or other jam alongside to spoon on top of each aebleskiver.
Makes 3 to 4 dozen aebleskivers