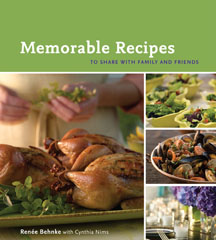 I'm wildly overdue in sharing news of  release of the latest cookbook project I've worked on. Delayed in large part because I was up-to-eyeballs in work on the newer book, Gourmet Game Night, which just went to bed this week. Coming up for air and getting caught up!
Memorable Recipes To Share with Family and Friends
 is a project I worked on with Renée Behnke, president emeritus of Sur La Table. It's a book I really grew to love over the time working with her on it. And it has been receiving some great press and kudos already, including having been named one of the ten best cookbooks of the summer by NPR.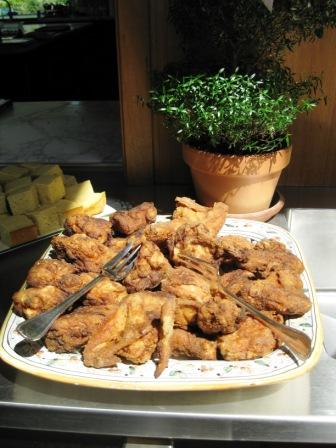 The collection encompasses recipes that ultimately act as something of a memoire for Renée, ranging from family treasures that take her back to her childhood outside Portland, to evocative, exotic dishes that reflect the amazing world travels she has experienced. How many other cookbooks could get away with clam dip,  fried chicken, and peanut butter cream pie, as well as lamb shanks tagine, cheese-stuffed zucchini blossoms and Pakistani vegetable samosas? It's a diverse and personal  selection;  something is sure to fit most any dinnertime situation.
I tested all the recipes in my home kitchen, an objective perspective to complement her years of cooking these dishes for family and friends. I had many favorites, but a few of them include Tiny Potatoes with Hot Bacon Dressing, Wine Braised Corned Beef, French Potato and Green Bean Salad, Artichoke Risotto with Peas and Mint, and Red Wine Poached Pears with Ricotta Stuffing. Oh, and that fried chicken? It is one of the best recipes I've ever tried for that classic!
Though this isn't an "entertaining" book per se, Renée really is one who
makes entertaining look about as easy as rolling out of bed. She shares many of the tips she's learned after years of throwing dinner parties of all kinds. In fact, reading Joanne Weir's forward in the book, you'll get a taste of Renée's style as Joanne recounts a couple of her more memorable occasions dining with Renee.
When you flip through the book and see the chapter-opener photographs, and many other garden shots — those all come from the glorious garden that she and her husband Carl tend. I can't even tell you how many different plants are in that large plot, how many varieties of peas, potatoes, tomatoes, squash, herbs, beans, corn…they could set up their own CSA program! On Renée's web site and linked blog, you can read more about her garden, as well as travels and other delicious things she's up to.
I just had the occasion to partake of a phenomenal luncheon–including some time in that garden, eating sweet peas straight from the vine–at her home this past week. The honored guest was Michel Escoffier,  great-great-grandson of Auguste Escoffier and president of the Auguste Escoffier Foundation. Truly one of the rock stars of the culinary world, the elder Escoffier was a trailblazer and mentor of his time. Michel was in Seattle (for his first time ever) before boarding a cruise ship to Alaska. I was thrilled to be asked to join for this intimate afternoon. And, of course, Renée was in prime form. Not even an Escoffier descendant could throw her off her game. This woman knows how to do it!
Rightfully, she didn't try to toss anything fancy at him, certainly nothing
 French. The man's in town for a few short days, hasn't been to the city before, surely wants to relax and enjoy the local style and flavors. We early birds started on the deck with a little rosé and some very simple nibbles: carrot and celery sticks, a small dish of perfect Rainier cherries, some wonderful salted nuts. Then Thierry Rautureau, chef/owner of Rover's, showed up with his contribution: deviled eggs, done up snazzy with a touch of  Moroccan harissa.
After a tour of the garden, we lingered a bit alongside the regulation-sized croquet court. Michel and Thierry knocked some balls around, as did I for just a bit. Renée figured that her guests were happy where they were, so brought the first course down to us: generous bowls of sweet, perfect Dungeness crab meat with a homemade cocktail sauce. It was simple, elegant and delicious.
We then moved up to the covered outdoor table for the main spread: an American-style picnic menu of fried chicken, baked beans, watermelon-red onion salad, cornbread and a pasta salad with tuna. Outstanding. Though at how many picnics have you been offered Petite Syrah (a California label, completely escaping me which right now) and Leonetti Cabernet Sauvignon? Granted, this wasn't really your average picnic. But what Renee does so well is meld comfort food with celebrations of all kinds, even the most grand. She once told me how much she enjoys
 watching the faces of her guests showing up for a more formal dinner party in their home, when they realize they're being serving an amazing brisket for dinner or maybe a big pot of luscious gumbo instead of more uppity beef Wellington. They just naturally relax, the food helping ease any sense of pretension about the evening.
The moral of her story is that gathering people together is the foremost reason for entertaining in Renée's book. Driving yourself insane with an elaborate menu and finicky touches that complicate the process? No need. Just think: fried chicken and a nice bottle of wine. It can be as easy as that.