I wrote an article about apple pie a few months back, which appears in this month's issue of Alaska Airlines Magazine. In rereading the article last week (it's always surprising how quickly I forget exactly what I wrote soon as an article is turned in…), I was reminded of having come across a recipe called Simplest Apple Pie in the book Home Baking: The Artful Mix of Flour and Traditions from Around the World
 by the incomparable duo of Jeffrey Alford and Naomi Duguid. It was a brief mention in the context of describing how very many different forms apples-and-crust come in, in the greater world of apple pie-dom. They state that this is a recipe of Eastern European Jewish origin, learned from a friend of theirs who had learned it from her mother. (Now isn't that, in principle, the very best pedigree of any apple pie recipe?)
Only today did I get my first chance to make this interesting pie myself.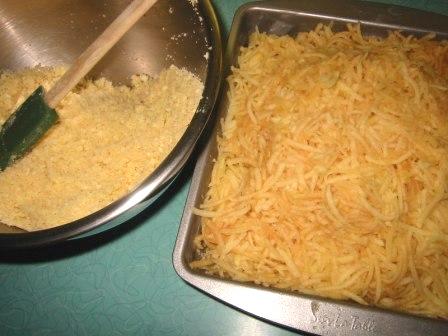 Made in a square baking dish, it has the two classic components: crust and apples. But the crust here is more a crumbly mixture, part of which pressed into the pan for a base, the rest crumbled over the apples. Which are, in turn, grated rather than sliced. So it's familiar, but different. And deliciously so.
They recommend McIntosh apples, "so that the grated apples will melt as they cook." Those aren't so easy to come by in Seattle, so I opted for local Braeburns instead. I love the robust flavor of Braeburn apples, a bit sweet, a bit tart; they didn't really melt down as described, but did enough so to form a dense apple-y layer.
Simplest Apple Pie
from Home Baking: The Artful Mix of Flour and Tradition Around the World by Jeffrey Alford and Naomi Duguid
2 cups all-purpose flour
1/2 cup sugar, plus optional extra for apples
12 tablespoons unsalted butter, cut into small cubes, softened
2 large egg yolks, at room temperature
3 tablespoons sour cream
Scant 1 teaspoon minced lemon zest (optional) [I just grated mine]
Up to 2 tablespoons cold water, if needed [I didn't]
About 3 tablespoons fine fresh bread crumbs [I cheated with dried]
8 medium-to-large McIntosh apples (nearly 4 pounds) [I used 5 large Braeburns, about 3 3/4 pounds]
2 tablespoons fresh lemon juice
Mix the flour and 1/2 cup sugar in a medium bowl. In another medium bowl, break the butter up into bits with a fork or your fingertips. Add the egg yolks and sour cream and beat with a wooden spoon. Add to the flour mixture and stir. Add the lemon zest, if using. Use your fingers to break up lumps so the mixture has a coarse cornmeal texture. Add water a little at a time if needed to make the dough come together, blending it in, then pull the dough together into a mass. Place in a heavy plastic bag and refrigerate while you prepare the apples.
[Note: I did a bit of a whiz-bang shortcut on the crust: whirl together flour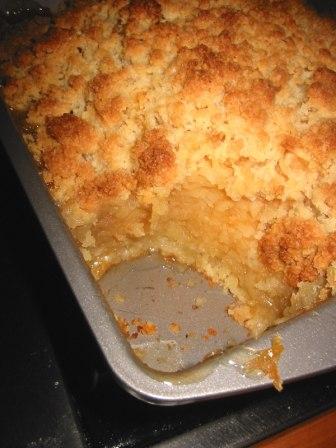 and sugar in food processor. Add butter and lemon zest, pulsing until about cornmeal texture. Stir together egg yolks and sour cream in small bowl, add to flour and pulse a few times to incorporate but not overwork. Transfer to bowl until ready to use.]
Position a rack in the upper third of the oven and preheat the oven to 350°F. Grease an 8-inch square baking pan and sprinkle the bottom generously with the bread crumbs.
Peel the apples. Using a coarse grater, grate the apples; you should have about 8 cups. [a glorious time to have a grater attachment on my food processor; made this chore really quick] Place the apples in a bowl, add the lemon juice and a little sugar if you wish, and toss well.
Remove the dough from the refrigerator, cut it in half, and set one half aside. Place the other half in the cake pan and press it evenly to cover the bottom; it will be less than 1/4 inch thick. Pile on the grated apples [mine were pretty juicy, I left behind all the juice so the pie wouldn't be soggy], mounding them up in the middle; the pile will look high, but it will shrink during baking. Crumble the reserved dough over the apples to cover.
Bake for 1 hour, or until the top of the pie is touched with golden brown [mine baked 1 hour 10 minutes]. Serve hot or at room temperature.
Delicious. And I know what I'm having for breakfast tomorrow!