Still in a bit of a fog following a very full week in Denver last week for the IACP conference. Much as we have opportunities to get out on the town for meals and excursions, cocktails and random breaks — it never really feels like I'm able to do justice to a city when passing through for a conference.
It's the nature of the exercise, I suppose. The time we spend together at the keynote presentations (with luminaries this year the likes of Dan Barber, Mas Masumoto, Michel Nichan, Kim Jordan…and Lynne Rosetto Kasper and Kim Severson served as amazing moderators), workshops and formal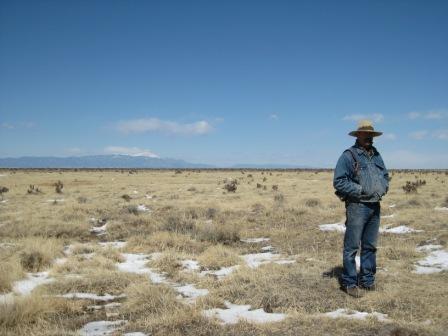 events are the core of what give us the opportunity to interact and network, catch up with friends and learn together new skills and information to help us in our careers. I can always return to Denver to visit the Denver Art Museum (our opening reception was there but I didn't make it around to see much of the artwork) and walk the Cherry Creek path.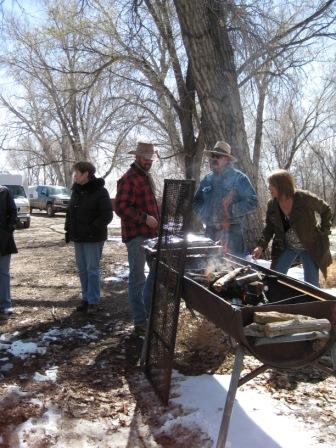 So here are some highlight of what I was able to see/do/taste while in town.
I took a wonderful day-long excursion to Chico Basin Ranch, an 87,000 acre property that raises grass-fed beef. One of the state's largest historical ranches (herds of cattle have been grazing here since the late 1800s), they do things the old fashioned way on this property. Not only do they raise their cattle on natural grasses (the animals never see a feedlot nor are ever fed grain), ranch manager Duke Phillips and his crew also travel on horseback to do the day's work. No jumping in a jeep or SUV to cover the 5 or 6 miles to where the herd is. Guests can join them for a week of working the ranch and living that timeless western lifestyle. "But this isn't a dude ranch," Duke was quick to point out. No 3-star meals or afternoon hot-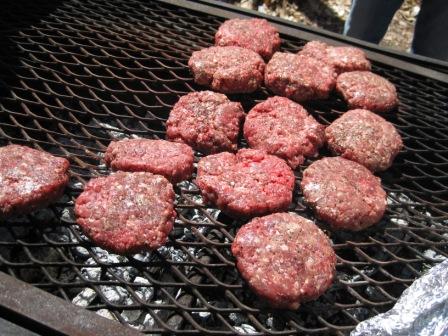 stone massages. But the picnic we had of the ranch's grass-fed beef–in burger form, cooked over cottonwood coals–was amazing.
Denver's restaurants definitely didn't disappoint. I was solo the first evening, and walked from my downtown hotel to Fruition restaurant, in a residential  area that apparently touches three neighborhoods: Cherry Creek, Capitol Hill and Cheeseman Park. I loved the simplicity of the interior, the rich colors, the casual style of the place. It's clearly a locals spot: a couple celebrating the wife's birthday, friends meeting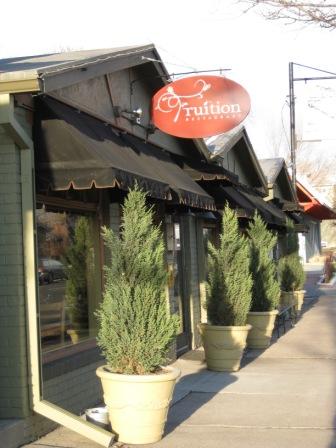 over dinner, maybe even a first date or two. Though not as bustling as Restaurant Zoë tends to be, Fruition reminded me of that neighborhood bistro in Seattle that I so adore. Dinner began with the house salad: watercress, grilled asparagus, red onion, avocado and crispy shallots (what's not delicious with avocado and crispy shallots?).  For my main, I was enchanted by the brussels sprout-sweetbread accompaniment to the beef culotte steak, but am kind of kicking myself for not ordering the Colorado lamb with boulangere potatoes and blood orange salad. And the rabbit pot pie sounded a bit too rich that evening. Next trip!! I suggested those dishes to colleagues visiting Fruition later in the week and all raved.
My next dinner out was with a big group at Duo restaurant. A quick cab ride into the Highland neighborhood, and we're walking into this cool open space with rustic brick walls and old windows hanging as arty dividers. We snacked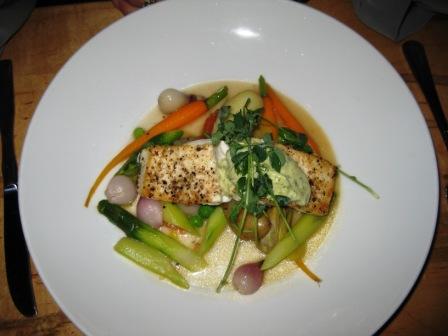 on their salmon and smoked trout tartare, fried baby artichokes with lemon aïoli and arugula salad with shaved fennel, fava beans and mint — all delicious. And it could have been dinner. It was late and we were chatting about how easily appetizer-grazing could be dinner that night. But soon as the entrées arrived, we dug in with gusto anyway. Being from Seattle, I didn't order the night's special: wild Alaska halibut with herbed aïoli. This dish was the perfect snapshot of spring, served on a bed of braised seasonal vegetables (radish, carrot, baby onions, peas, fingerlings). The herb aïoli was so delicious–like a ramped-up béarnaise–we asked for a couple small side dishes of it to slather on everything we were eating. I opted for the lamb T-bone served with farro and baby artichoke pilaf, outstanding too.
Let's see. The next evening, four of us went out to Root Down, one of the newer kids on the block, open just four months. But the very hip, very local spot still garnered one of the slots at the conference's opening reception,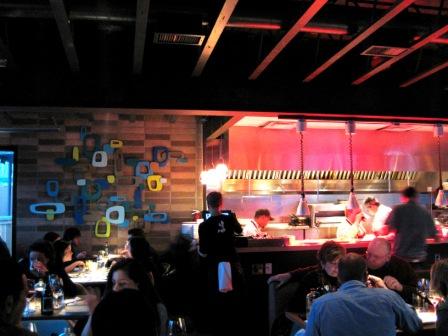 where their beet flan and the carrot-red curry soup had lots of us talking. It was great to go to the source to try as many other dishes as we could manage. The room was a total buzz, lots of youthful vitality. And while IACP members seem to take over most of the great restaurants when we're in town for a conference, we didn't notice any of our colleagues at RD that night, so felt a bit like we were in on a locals' secret! Sharing all around, we ordered the winter panzanella (carrots, parsnips, arugula, frisee, goat cheese…yum), rice crispy calamari with fried lemons and tomato-chile salsa (so tasty), buffalo sliders with shiitake relish (very good) and a big fat pork chop with cheddar polenta and fennel-tomato sofrito. Every bite was flavorful and so satisfying. Our only disappointment was that they didn't have the banana crème brûlée pie available that night. (Yet another reason to return to Denver.) We made do with housemade ice cream, peanut butter and banana flavors (the latter a bit bland).
Wow, quite a week of wonderful dining. Rioja was next on the list, my last out in Denver. They also were part of the conference's opening, where I (and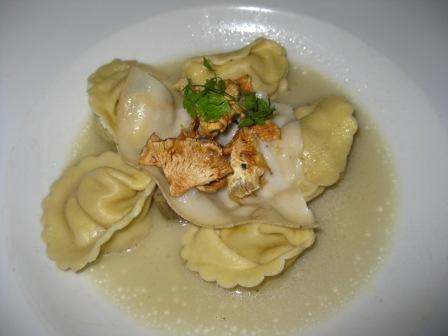 many others) swooned over the arugula ravioli with (I believe) a walnut-cream sauce. Pasta was the highlight of my dinner at Rioja on Friday, the tortelloni filled with artichoke-goat cheese mousse, in an artichoke broth, topped with fried artichoke slivers, queso de mano cheese and truffle oil…? Wow. Other dishes were good, interesting, but didn't stand out as quite as distinctive as items sampled at other restaurants of the week.
The days were too long to squeeze in too many nightcaps before crashing in bed (with hopes of getting at least 4 or 5 hours of sleep). But one intrepid pal and I capped off Friday with a visit to the nearby historic Oxford Hotel and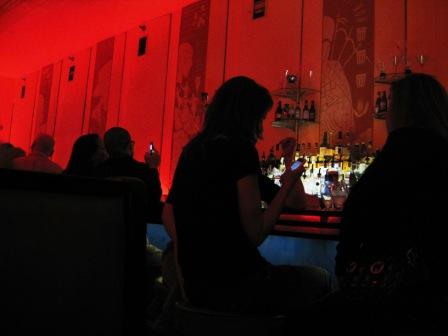 their cool deco bar, The Cruise Room. That's "cruise" as in cruise ship, I understand the long slender bar was designed to appear as if it might be aboard the Queen Mary. Mellow, sexy, arty, timeless, it was a great spot to toast the near-end of conference week.
The grand finale of the week was the IACP awards gala on Saturday. I was thrilled to see friends with nominations, including Puff
 by Martha  Holmberg (more on that later….I'm going to see if I remember how to make puff pastry from cooking school!) and Fat: An Appreciation of a Misunderstood Ingredient, With Recipes
 by Jennifer McLagan (which won its category, beating out Thomas Keller and Jacques Torres — go Jennifer!!). You can check out both the finalists and the winners here. What a week. But it's great to be home.