"Come over for dinner tomorrow night, why don't you?" I asked a friend Friday. "Sure, sounds great. I'll bring the wine, I was recently at a tasting of Portuguese wines and have a couple of bottles to share," she tells me.
Oooh. Portuguese. That sounded like fun.
My plan for dinner had been simply to follow whatever random inspirations hit as I made a tour of the market–which is the way I approach any dinner party that has no predetermined focus. When I'm cooking for fun, it's all about going freestyle. I spend many of my work days meticulously testing recipes, noting every extra teaspoon of this, every 5 minutes more time needed, every shift in oven temperature. I spend as much time editing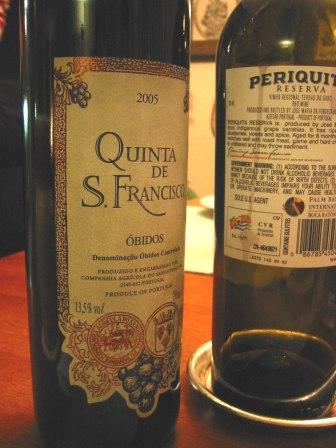 recipes over and over again, a sometimes eye-glazing task making sure steps are clear and accurate, phrasings are consistent, no 'i' remains undotted. When that work switch goes into "off" mode, I run in the other direction and get my giggles from unscripted cooking.
But Portuguese. That's not a cuisine I have much inherent comfort with. I think about seafood, pork, …., port? Not enough to inspire a whole menu. So I turned to my ever-trusty Foods of the World Time-Life series, and the Spain and Portugal book set me on my way.
Yes, I kind of broke my own off-hours rule: I referred to some recipes. But just for ideas. It's almost impossible for me to really follow a recipe by the letter when I don't have to!
Our first course was a soup, based on a garlic soup recipe I'd read. I started with finely minced onion and lots of minced garlic nicely sautéed in olive oil (not just tender, but lightly browned). I added 4 cups good organic chicken broth, 1 drained/rinsed can of chickpeas and a splash of white vermouth. While that was happily simmering away, I plucked a generous handful of mint leaves from their sprigs and blended them in the food processor with a good drizzle of olive oil until smooth. When serving the soup, I added a spoonful of the mint oil, which perked up the  simple soup wonderfully.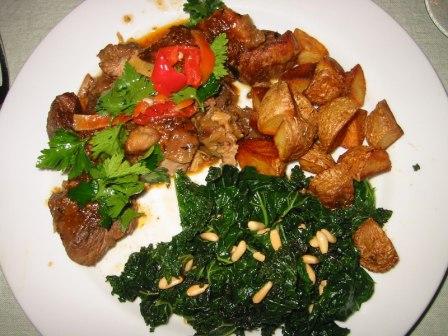 I came across a number of pork recipes, often braised. I opted for a simple concoction that began with large-cubed pork butt, first well browned in olive oil. Out comes the pork, in goes a chopped big onion and (again!) lots of chopped garlic. Sautéed until partly tender, then I added a good dose of pimentón de la vera (smoked paprika), some thyme and good pinches of salt and pepper. I added a couple cups of chicken broth, on went the lid and into a 275 degree oven for nearly 4 hours.
Preferring to serve this not in a stewy fashion, I scooped out all  the meat and reduced the cooking liquids a bit, keeping the meat warm (covered with foil) in a low oven. Parsley was meant to go in the soup too, but I wanted the mint to shine there, so saved it for the main dish.  To cap off this dish, I combined a small handful of flat-leaf parsley leaves with a couple spoonfuls of Mama Lil's pickled peppers. No, they're not Portuguese. Made in the Seattle area with beautiful peppers from Eastern Washington. But I love those things and felt they were in the spirit of Portuguese cuisine! Spooned on top of the tender, aromatic braised pork, the parsley/pepper combo made for a perfect fresh, bright complement. (Braised Pork à  la Portuguese with Paprika, Parsley and Pickled Peppers. Try saying that 10 times fast!)
To accompany, I served simple sautéed kale, embellished with toasted pine nuts and a sprinkle of lemon juice just before serving. And sautéed potatoes (delicious bintje potatoes I'd bought at the farmers market that afternoon) tossed with more pimentón de la vera. It all combined into a great main-course medley.
For dessert, I found a porto pudim flan recipe that was beautifully straight-forward. But of course I had to make some alterations! For starters, I heated 3/4 cup each of milk and heavy cream  in a saucepan. Same time, sugar (I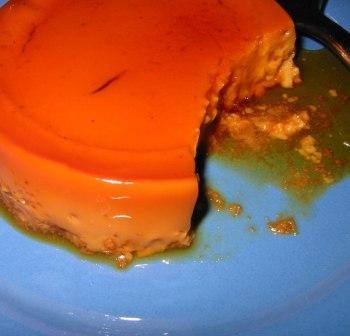 used about 1/2 cup) was caramelizing in a separate pan. I poured some of the deeply colored caramel into the bottom of 4 ramekins. Then I carefully poured the warm milk/cream mixture into the rest of the caramel, stirring until the caramel is fully dissolved.
In a medium bowl, I whisked 3 egg yolks for a minute or so, then added the warm caramel-milk (start with a small drizzle to temper the egg yolks, warming them gently to avoid cooking them). The custard went into the ramekins, then the ramekins into a baking dish. I poured some boiling water into the baking dish and the custard baked at 350 degrees for 40 minutes or so, until set. (I'd probably cook them at a gentler 300 degrees for a bit longer next time.) After they were cooled to room temperature, I covered the ramekins with plastic and refrigerated to fully chill. Nothing better than a dessert that takes just a moment to unmold after dinner!
So, my "hey let's have dinner together tomorrow night" became a little more involved than I'd initially imagined. But boy, did I have fun. Exactly my kind of busman's holiday, cooking up a storm but just for the pleasure of the moment. And not one little note written down. Just this recounting for you. Sometimes the emphemeral meals are the best.