It was already pretty wonderful just to be in France at all for those nearly three years I spent (mostly) working and studying at La Varenne. But on occasion a really magnificent, unexpected, enchanting experienced came along to make the stay even more magical. This was one of those occasions: a very cold, foggy January weekend in Burgundy, reveling with other wine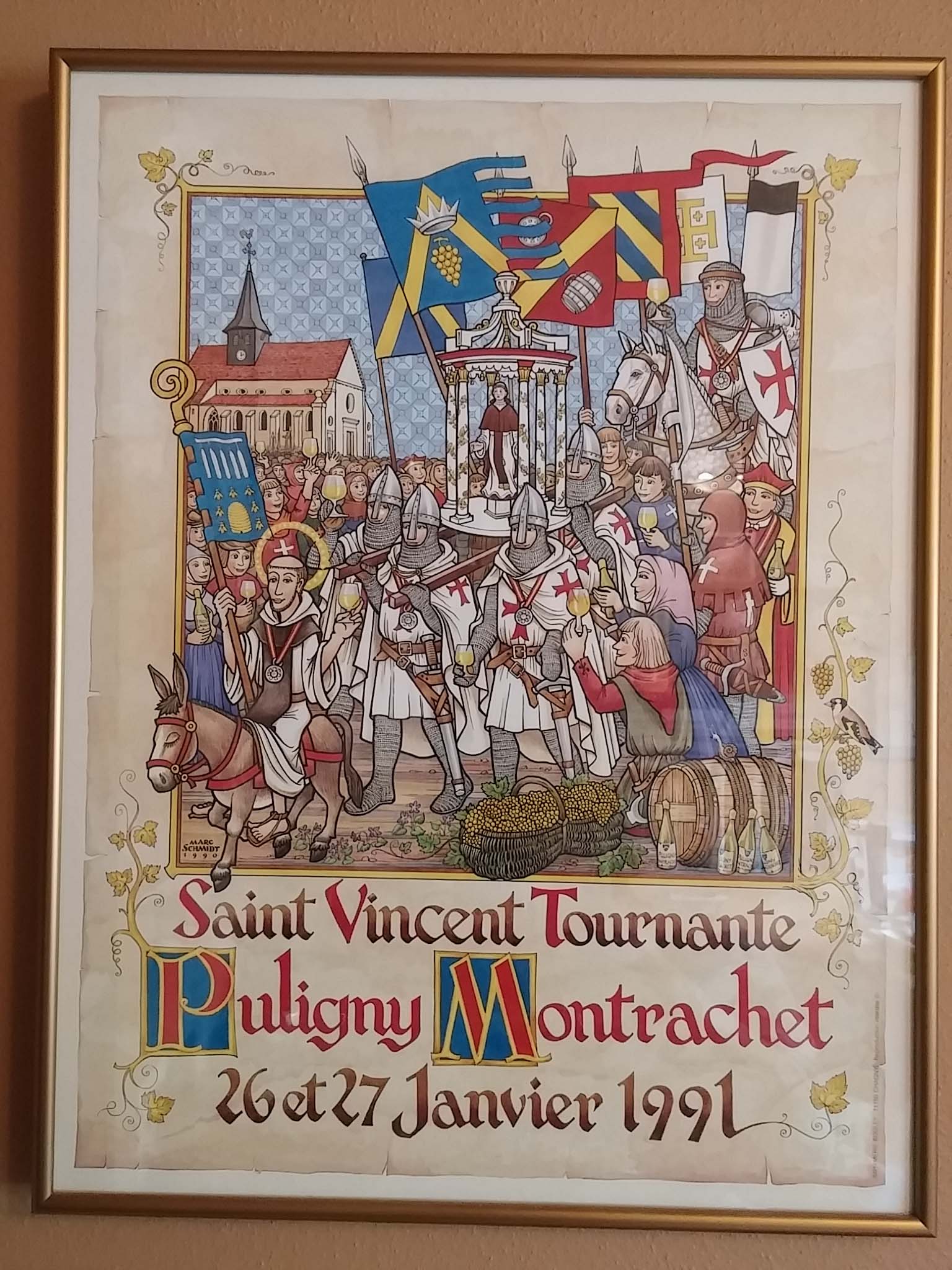 lovers in the celebration of Saint Vincent Tournante. This past weekend the festival was held for its 71st year, one of the most distinctive annual events that reflect the deep heritage of wine making in Burgundy.
Saint Vincent is the patron saint of winemakers and since 1938, the winemaking villages of this region have shared in celebration of their saint. "Tournante" reflects the fact that the festival moves from one village to the next from year to year.
I don't recall exactly how we learned of the festival back in 1991, maybe an item in the International Herald Tribune or a personal recommendation from someone at the school. My pal and I borrowed the school car and headed out early for the 2-hour drive south from Joigny to Puligny Montrachet, where the festival was held that year.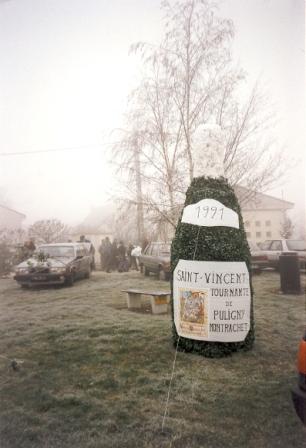 It is certainly possible that some elements of the festival have changed since then, but a quick glance at this year's overview rings familiar. The day's activities included a parade with winemakers representing the different villages of the region (each carrying a statue of Saint Vincent), and many caves (wine cellars) in the village open to attendees for barrels samples. We paid something like 20 or 25 francs for an official festival glass, and simply went from cave to cave for samples (some direct from the barrels) at no extra charge.
The experience was not only festive–a fun diversion on a cold Saturday–but also made me a forever-fan of the white wines of Burgundy. Most of the Burgundian appellations for white wine use only the Chardonnay grape.  But as far as I'm concerned, there is white Burgundy, and then there's the whole rest of the world of Chardonnay. The two are just completely different animals in wine's wild kingdom! In fact, I paid $22 for a glass of white from Burgundy during our dinner at L'Atelier to Joël Robuchon in Vegas in December, and so delighted in each sip the price was of no consequence.
The festival honoring St. Vincent was incredibly relaxed, convivial, no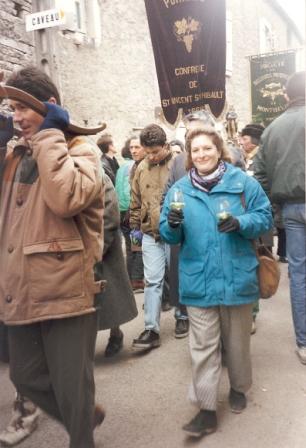 pomp or commercialism.  You can see how easy it was to feel part of the celebration, as I joined the parade itself for a few paces! There was nothing at all "touristy" about the experience, it was a glorious opportunity to meld into the local culture without any kind of visitor's filter.
The one element of the festival I found most engaging was the way the village was decorated. Being dead of winter, of course trees were bare, no flowers or other blooms in sight. Nonetheless, trees and fences were adorned with colorful flowers–made of paper–adding some flair and as a reminder that spring is just around the corner.
If ever you find yourself in France near the end of January, I recommend you Google "saint vincent tournante" and find out details about where the festival will be held that year. I know it's on my list, to find an opportunity to return myself.