A few days ago it was Just One Of Those Days. Never catching a break, feeling always behind the 8-ball, a sense that if I just grasp my head firmly enough alongside each ear I can hopefully keep my head from exploding. You know those days, right? Couldn't even muster any enthusiasm for going out to dinner to get away from it all. And while I love most everything about my West Seattle neighborhood, we live in some odd dead-zone when it comes to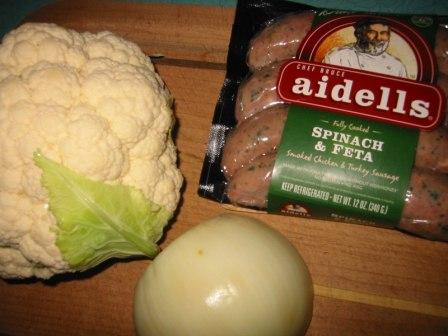 delivery options. It seems Domino's is the only one who can find us (and we're by no means in the boonies of the neighborhood).
So boy, was I glad I had these simple things on hand: a package of good sausages (Bruce Aidell's brand, this version spinach with feta), half an onion and a head of cauliflower (a delicious and versatile vegetable that I don't think gets nearly the attention it deserves). To the rescue! It took  maybe 10 minutes to throw this all together and pop in the oven. A welcome brief reprieve from my desk.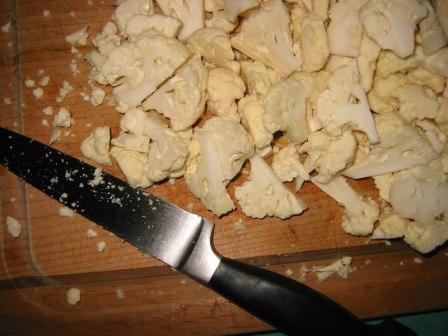 First I browned the sausages in a big oven-going skillet (I know, they're already cooked, but just for some added layers of flavor). While that's going on, I cored and coarsely chopped the cauliflower and diced up some onion.
Sausages get set aside, in goes a bit more olive oil and onions brown for a few minutes over medium-high heat. Add the cauliflower and saute for another minute or two. Nestle the sausages on top, sprinkle everything with salt and pepper, and I added a generous splash of Noilly Prat dry vermouth (one of my secret weapon ingredients). Into a 350 degree oven until I make it through the next pressingly urgent bit of writing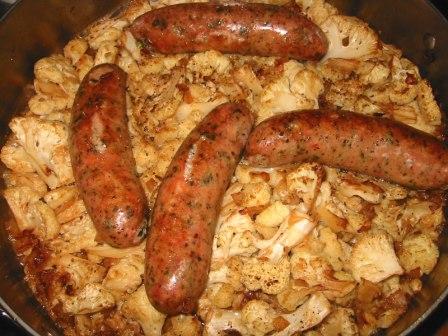 I need to get done (or the cauliflower is tender and lightly browned around the edges, whichever comes first).
I already can't remember if we had anything else, I think that may have been the extent of dinner. But it was really delicious, really easy and stands up to any quick-food options on One Of Those Days.