I thought it was hilarious at the time, during that visit I made years back to the city of Nîmes in the south of France. I don't know of any historic record that my last name, Nims, has any connection to that city — but it didn't keep me from an occasional reference to myself as Cynthia de Nîmes, like when checking in to the hotel, showing the clerk the name on my passport (ha, ha, ha…see?!). But I recall just getting the French version of the eye-roll (which is like a double-eye-roll with a certain je ne sais quoi)….
So I'm not too sure how they took it, those few French to whom I made the comment about feeling moitié bourguignonne (half Burgundian) while on my trip to France in September. It is no formal claim to French lineage, certainly, but a sense that of France's many gorgeous and delicious regions, it is Burgundy where I feel most rooted (not counting Paris, which will always feel like slipping into a familiar home-away-from-home). I spent a semester during college at the Université de Dijon (now de Bourgogne, with satellite campuses in a few other cities). And a few years later returned to France to attend La Varenne cooking school, spending much of those two and a half years (not because I was a terrible student but because I stayed on to work on cookbooks with Anne Willan) at the Chateau du Feÿ in northern Burgundy near Joigny. Escargot, mustard, époisses, cassis, pain d'épices. These flavors of the region are among my first experiences, and still strongest connotations, with French cuisine.
Even though my La Varenne years had me spending a lot of time in Burgundy, I made just one or two brief trips to Dijon while there. I imagine because that was a phase of new explorations and adventures, building new memories, rather than revisiting past ones. My recent Burgundy visit couldn't have been more different–it was, in fact, pretty much all about revisiting the place of that amazing college experience, and the people that made it so special. It was truly a sentimental journey. Of two and a half weeks in France, a full week of it was in Dijon. I was determined to not just hit the highlights for a few days, but to settle in for a bit. Check out familiar places, re-orient myself in the city. With time to get a sense of what's new, too.
I spent most of my time in the center of town, the historic heart of Dijon. Where, granted, not a lot of major change happens. New shops, spiffier pedestrian streets, some new public art. But the Palace of t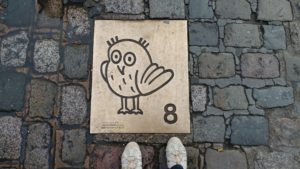 he Dukes, the covered market, Darcy Garden, the famous owl of Dijon, stunning ancient houses (Maison Millière, circa 1483, among them), they and other classic images of Dijon remain timeless. One new element, however, is a brilliant way to better appreciate points of historic/architectural interest. As I wandered around my first day, I noticed brass plates in the sidewalk here and there. Some smaller and pointed, others square with a number, all featuring an owl. The mystery was solved at the Tourism Office where I learned about the Owl Trail, which is new since I was last in Dijon. For 3.50€ (about $4.25) you can pick up a booklet that explains the 22 main points — with 3 additional loops you could choose to do as extensions — along with extra notes (such as a spot where parts of Cyrano de Bergerac was filmed) along the way.
They say the main trail should take about an hour, for me it was a good couple of hours only because I was lingering on occasion, even doubling back now and then to check a detail I wanted to revisit. As an introduction to the city–a way to both get the physical lay of the land for future explorations and learn some key factors of Dijon's historical importance–this is a stellar option for tourists. With the bonus of being self-guided, so you can start anywhere on the itinerary and break it up over a couple days if you wish.
Somehow it had missed my radar that UNESCO had added the French meal to its list of Intangible Cultural Heritage entities in 2010. That designation inspired the French government to establish venues in a few cities that celebrate this culinary legacy. Four cities were chosen–Lyon, Tours, Paris-Rungis and Dijon–the latter of which the largest and most comprehensive, making La Cité Internationale de la Gastronomie et du Vin one of the biggest new developments in Dijon. It is a huge and ambitious project melding old and new on the property that for more than 800 years has been the site of the city's hospital (only a few years ago the hospital moved to another locale).
As construction is underway for a projected opening in late 2019, they offer an informational exhibition about the project in the chapel on the hospital property, with a centerpiece maquette showing the layout and d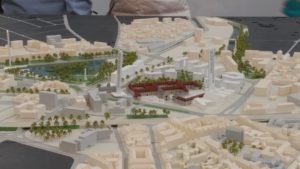 esign. The CIGV will include culinary education, both classes for general public and professional training under the auspices of the Paris-based Ferrandi culinary school. There will be exhibit space for art installations on subjects of food and wine. Restaurants of various sorts, boutiques focused on food and the art of the table, a hotel and spa, even a cinema. Even a sort of incubator zone in which start-ups and other fledgling businesses will have a platform to interact with the public. Plus some of the original buildings are being transformed into affordable and ecological housing as well, creating a true community centered on all things culinary and wine.
Having a whole week to stay in Dijon was such a joy, allowing time for exploring new experiences in the city as well as meandering in nostalgic footsteps of my college days. It allowed time for museum visits and meeting with friends, some meals out (old-school Le Bouchon du Palais and mod Restaurant So were a couple favorites) and casual meals in the apartment (enjoying gorgeous products picked up at the historic covered market, oh and the CHEESE!!). It was valuable time to engross myself in French life, language and culture, with the bonus of contemplating how much France has figured in my life and career–more so than I could have imagined when I first landed on the doorstep of my host family on Rue Mably so many years ago.