It is going to be such an honor to have Anne Willan here in Seattle for a couple days later this month. I love my hometown and am always thrilled at the chance to share it with friends and colleagues when they visit. This occasion will be an even richer one given that Anne has a large part to play in that path I eventually navigated leading to this career in food writing. I left Seattle back in 1989 thinking some time in France studying cooking would be an interesting and fun diversion until I figured out what to do with myself post-college. As it happens, my time in France at Anne's La Varenne cooking school (both in Paris and at the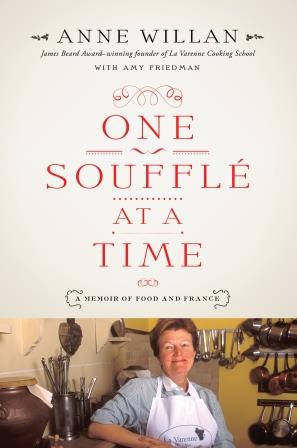 Château du Feÿ) was an incredible adventure, an endless string of memorable/inspiring/unique experiences that had a huge impact on me. Not surprisingly, that era has come up many times in posts here over the years. Welcoming Anne to Seattle, sharing this local food community with her seems a delightful complement to that glorious time in France, sharing with her the pleasure of great food as seen through our Northwest lens.
There are a couple great options for you to meet up with Anne, get a signed copy of her new memoir One Soufflé at a Time: A Memoir of Food and France
and learn more about her fascinating path in the world of food, which began in earnest with the opening of La Varenne in Rue Saint Dominique in Paris in 1975.
Book Larder in Fremont, a reception and book signing from 6:00 to 8:00 Friday October 18. Free, but they request you RSVP. More information here.
Saturday October 19, we'll be on Bainbridge Island, for a book signing at Intentional Table followed by lunch at Restaurant Marché, with a menu selected by the wonderful chef/owner Greg Atkinson. Seating is limited for lunch, information and reservations available through Intentional Table (click on the "schedule" option).
Don't miss this chance to meet one of the women who has significantly contributed to our appreciation and enjoyment of French cuisine, both through her school and through her very many cookbooks.