I went a little nuts at the market today. It's Sunday, a prime market day in many neighborhoods around Paris. The closest/best to where I'm staying in the Marais is the Bastille market that spreads north of Place de la Bastille on the Boulevard Richard-Lenoir. I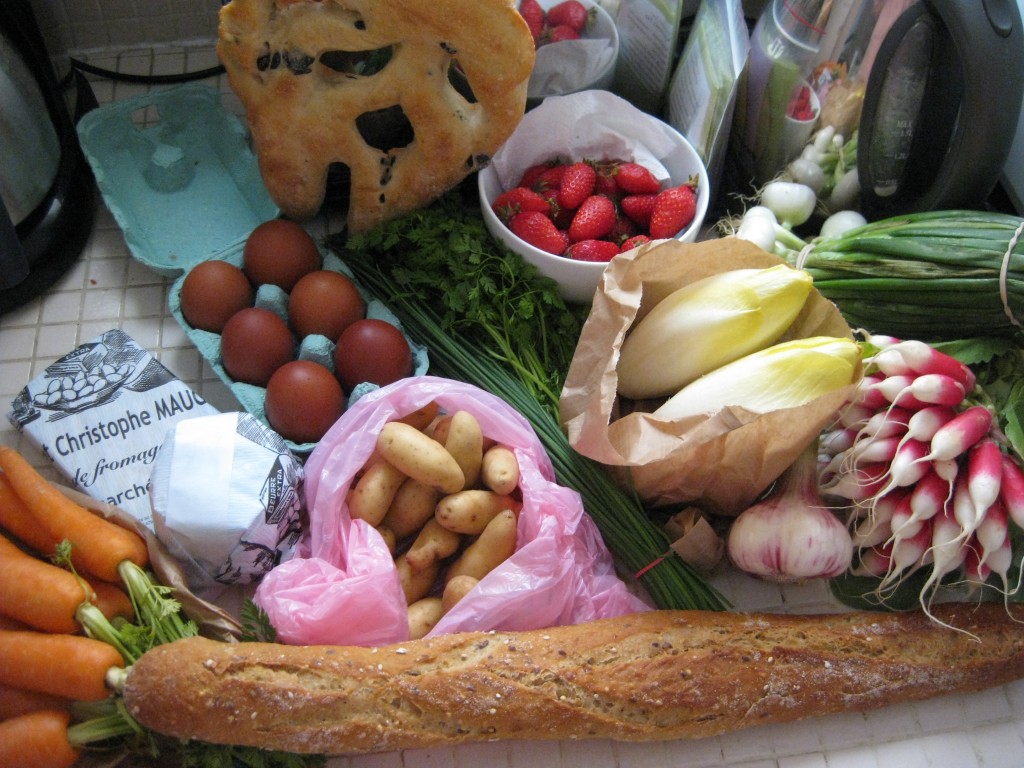 went to the market last Sunday too (it's on Thursdays as well, I'll hit it one more time this coming week), but that was a more casual walk-through. I picked up some radishes, strawberries, some arugula. This week I bought decidedly more. For a couple reasons. One thing, it's Sunday and always slimmer pickings in the restaurant options, a good evening to stay in. And tomorrow's a holiday, so with two consecutive days of limited shopping/dining options, figured I should stock up.  (I should say another holiday, the fourth French national holiday this month–which I remembered was great that semester I was at University of Dijon!)
A friend a week or two ago via Facebook asked if I was going to be doing any cooking during this month in Paris. That really wasn't part of the plan. It's a lovely but small apartment with a tiny kitchen, two burners and a "combo" microwave oven (though it really seems just microwave to me). Not suited to lots of cooking. I love to cook, don't get me wrong. I've been taking advantage of the kitchen for simple meals/snacks, primarily morning yogurt with fruit, afternoon/evening salads, cheeses, etc.
But nothing beyond that. Until today, I hadn't turned on those burners. And I guess three weeks away from the stove was my max. Granted, I'm not doing any seared duck breasts with port reduction or anything. But I did soft-boil a couple glorious eggs from the morning market, with some bread and a nub of butter…oh, it was so very good for a post-market breakfast!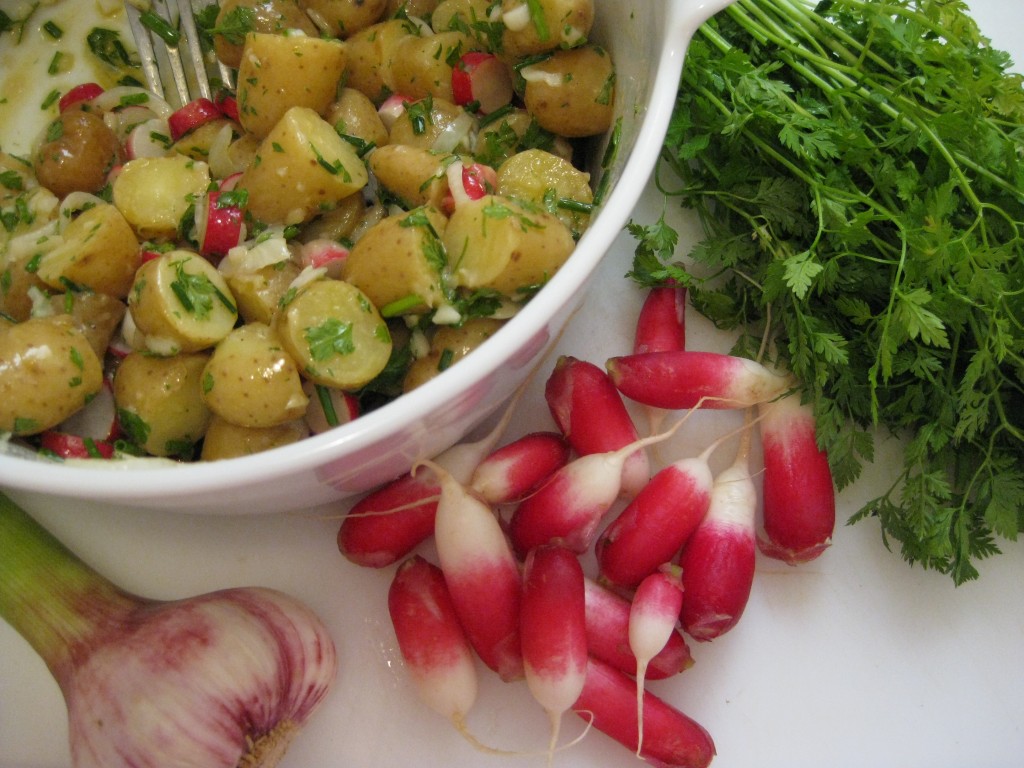 My purchases today were a little hap-hazard, on whim. Buying strawberries, I also glanced at the bin of small potatoes that caught my attention. They were the La Ratte variety, a wonderful nutty, dense little potato that's just delicious. And I seem to be addicted to radishes, more of them too. And LOVE Belgian endive, two heads please. Had yet to bite into a morsel of pâté, got some with green peppercorns, and while I was at it a slice of jambon persillé (ham layered with aspic that has lots of parsley). No question I'd get some cheese, brie de Meaux, a lovely rich cantal, some chevrot goat cheese. And bread, can't forget the bread, to change things up got some whole-grain baguette and an olive fougasse to nibble on at aperitif hour. What else…herbs, carrots, some fresh garlic, young onions. My mini-fridge looks pretty bountiful right now.
Guess it felt good to be cooking again, even at this minor degree. After the eggs were done, I refilled the pot with cold water, added those potatoes and set them simmering. The end result is this simple, fresh, delicious potato salad inspired by my market-day haul. After it rests another hour or two, it'll be delicious for a late lunch accompanied by that pâté, a bit of cheese, some carrots. Oh, and what the hell, maybe a glass of the Côtes d'Auxerre wine sitting on the counter. It is Sunday, after all.
Market Day Potato Salad
** Please note that because this was an at-whim recipe created in a tiny kitchen I've never cooked in before and without my typical equipment, the times and quantities are my best-guess to retrace my steps. But the nice thing is, you can't go too far wrong with a recipe such as this. As always, feel free to modify as so inspired.
1 1/2 pounds fingerling potatoes, rinsed
1 tablespoon Dijon mustard
2 1/2 tablespoons red wine vinegar
1/3 cup olive oil
Salt and freshly ground (I wish, not in this kitchen….) black pepper
1/3 cup thinly sliced spring or green onions (or regular yellow onions in a pinch)
1 tablespoon (or less to taste) chopped garlic
3/4 cup thickly sliced radishes
2 tablespoons chopped chervil or flat-leaf parsley
2 tablespoons chopped chives
Put the potatoes in a pan of cold water and set on high heat to bring the water to a boil. Reduce the heat to medium and simmer until the potatoes are just tender when pierced with the tip of a knife, about 15 minutes.
While the potatoes are simmering, combine the mustard and vinegar in a medium bowl and stir with a fork to blend. Add the olive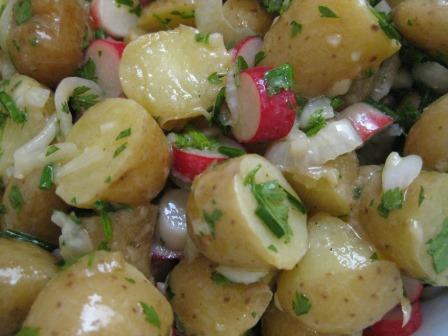 oil with a good pinch each of salt and pepper. Stir vigorously until well blended. Add the onion and garlic and stir to mix.
When the potatoes are done, drain them and set aside until cool enough to handle. Cut the still-warm potatoes into halves or thirds and add them to the bowl, tossing gently but thoroughly so the potatoes are evenly covered with the dressing. Add the radishes, chervil and chives and stir again to mix. Set aside on the counter for 1 to 2 hours to allow the flavors to meld, stirring occasionally. Or cover and refrigerate for up to 4 hours. (If you'd like the make the salad farther in advance, up to 8 hours, I'd recommend adding the radishes and herbs shortly before serving.)
Makes about 4 servings