It's interesting those times in our lives when we realize a pleasant, unexpected outcome from an otherwise unpleasant event. My recent example is the untimely demise of our refrigerator. A week earlier I'd found the ice cream to be surprisingly soft and ready-to-eat, scooped my portion and happily forgot about it thanks to a few days out of town. Home again last week, I reached into the freezer for ice, only to find little sloshing puddles of water in the trays. Not to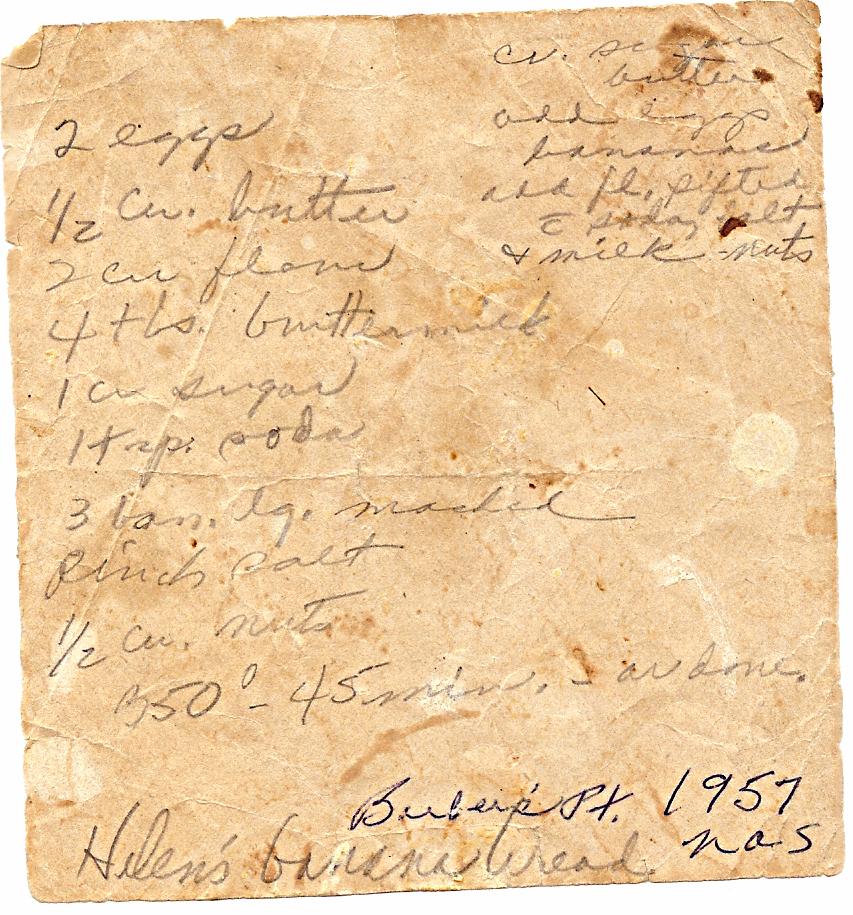 mention the larger mess gathering across the bottom of the freezer, and disarmingly tepid milk and mayonnaise in the refrigerator.
The fridge was replaced within two days and we're back in frozen-ice-cream-and-chilled-milk contentment. But along the way, the exercise took me down a few different pathways as I cleaned and reorganized in and around the area, especially in a storage area seldom accessed above the fridge. Some were practical adjustments: I forgot I had a back-up workbowl for my Cuisinart, so trading out my well-scratched bowl, it looks suddenly like a new machine. And a couple old enamel turquoise saucepans that collected dust on top of the fridge now hang in easy reach next to the stove.
I also found a few old cookbooks that should otherwise have been with the rest of my collection. A 1946 edition of The Joy of Cooking and an original (this edition has since been re-released) 1953 Better Homes and Gardens New Cook Book
. Treasures, to be sure, even more so because of the notes my mother made on the crinkling, often dislodged pages, and the additional recipes she wrote or taped in the fronts and backs of the books.
And other slips of paper, notes, newspaper and magazine clippings tumble out of the books, too. I found this scrap that gives the banana bread recipe I grew up with. I'd asked my sister recently for Mom's recipe (for years I'd used James Beard's from his Beard On Bread
book) and she was surprised that I didn't have it. Technically I did. I just didn't know to look in the copy of Betty Crocker's Creative Recipes with Bisquick book, from whose pages this fell. This dates to my dad's service at the Naval Air Station (NAS) in Barber's Point, Hawaii in the  1950s. I'm afraid I don't know who Helen is.
Another find from that era was notes for the 4-Day Diet, which my mom wrote on the back of a statement from the Commissioned Officer's Mess, c/o Fleet Postmaster in San Francisco. "Payment due for Cdr. Minner's Aloha Party, totalling $3.88, duly paid on March 10 of 1956." I wasn't around yet, and have long been jealous of my family's time living in Hawaii, complete with papaya tree in the backyard. Maybe that's why I so love the 1956 house I live in now, and why I was devoted to turning the basement into our Lava Lounge party room, complete with tangerine orange walls and vinyl records played on a turntable? Living an era I feel a once-removed connection to.
I can't tell if it's a promise or a command: my mom wrote "Lose 10 lbs." at the top of the page describing this 4-day diet, underneath which it says "no liquor (tea and lemon at cocktail hour)" — probably a more challenging dietary adjustment than the 1/2 grapefruit and black coffee prescribed for each morning's breakfast. Otherwise no surprises. Actually, it doesn't sound bad. Dinner one night says "steak, lettuce, pineapple juice;" lunch another day is scrambled eggs with a side of string beans and tomato juice. I just may give it a shot. As a little tribute to the memory of my mom, and that long-ago era that I harbor a yearning to have been part of.
So, the refrigerator gave out on us. It was an inconvenience that changed our planned quiet evening at home into a shopping trip. And it took time from my work to-do list, vacating the old fridge for hauling away, cleaning in advance of the new delivery, etc. Not to mention the unexpected dent in the budget. But this little present it's given me, this forgotten trove, the echo of my mom's voice through these recipes and notes? It's the serendipity that can come from a broken down refrigerator.
Mom's Banana Bread (aka Helen's Banana Bread)
1 cup sugar
1/2 cup butter, at room temperature
2 eggs
3 large ripe bananas, mashed
2 cups flour
1 teaspoon baking soda
Pinch salt
1/4 cup buttermilk
1/2 cup chopped walnuts
Cream together the sugar and butter until smooth. Add the eggs, one at a time, beating well after each addition. Stir in the mashed banana.
Sift together the flour, baking soda and salt. Stir this into the wet ingredients, then stir in the buttermilk and walnuts.
Spoon the batter into a well greased 9-inch loaf pan and bake at 350 F until nicely browned and a toothpick inserted in the center comes out clean, 45 to 60 minutes. Set aside to cool slightly, then turn the loaf out onto a wire rack to cool completely.
Makes 1 loaf