When I left for La Varenne cooking school back in the summer of 1989, I thought I had a tidy 9 months ahead of me. But what already was clearly going to be a fascinating adventure became even more so when the excursion got extended a few different times and became 2 1/2 years of French bliss. I finished my degree as planned, but stayed on for new opportunities that presented themselves. It became something of a bohemian lifestyle, moving a lot, often back and forth between Paris and the northern Burgundy countryside where the school's Château du Feÿ is located. Even in Paris, I lived many different places: a spare room in a family apartment, a spare apartment in the La Varenne building, even on a friend's couch in the Austrian Embassy for a week or two (he was the chef and I was between gigs).
By far my favorite spot, though, was the tiny apartment where I hung my chapeau for 6 or 8 months while working for Patricia Wells and still keeping my fingers in some La Varenne work (just prior to Anne Willan having begun the Look & Cook book series, which kept me in France for another year). The bed in this very small nook of an apartment, on Rue de Trois Frères just below the basilica Sacré Coeur in Montmartre, was on a platform raised above some of the living space. The kitchen so small I had an under-counter fridge and just 2 electric burners with which to cook. Did I mind? Not in the least. To have any Paris real estate to call my own was like heaven, and my windows looked out onto a backyard garden with a peek-a-boo view of the Eiffel Tower.
Needless to say, I did very little cooking in that kitchen. I became a quick regular at the nondescript café Le Favorit on my block and took advantage of amazing to-go foods available at nearby markets. I did come up with one "signature dish," however, inspired by this experience: chicken with endive. Now and then, on my way home from work, I'd buy half of a rotisserie chicken from a street-side vendor and pick up a few heads of Belgian endive. With just a skillet, a dab of butter and a few splashes of white wine, this became such a satisfying meal for such limited resources.
It was with that dose of nostalgia that I recreated the meal a week or two ago. I bought a whole rotisserie chicken at the grocery store and a bunch of endive, reliving for a moment the delicious simplicity of that slice of my life back in Paris. I halved the endive heads and cut out the core at the base of the leaves, which harbors bitter flavors.  Then halved each piece again into quarters. After heating a combo of butter and olive oil in a skillet, in goes the endive to saute for a bit. I don't stir much, more just gently swirling the skillet and carefully turning the endive pieces; ideally I try to keep the portions together as much as I can. Though the random few leaves that separate? They'll just caramelize a bit more and bring some extra, lovely flavor to the dish. It's all good.
When the endive had started to soften and seemed about half cooked, I topped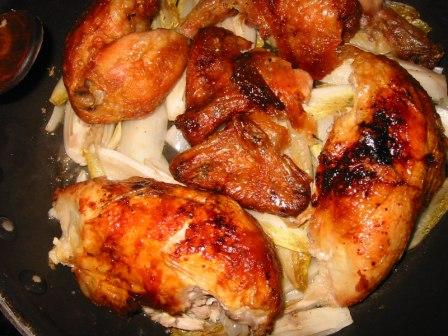 it with the portioned chicken. I drizzled a good 1/3 cup or so of dry vermouth into the pan, topped it loosely with a piece of foil and reduced the heat to low. Twenty minutes or so later, the endive will be tender, the chicken will be gently reheated and dinner will be ready to serve. If there's liquid left in the skillet or the endive looks a bit pale, crank up the heat for a minute to polish things off.