I've been on a granola spree lately. And it kind of took me by surprise.
Well, to be true, I do remember this moment: on a business trip a few months back, I was on deadline working in my hotel room through the breakfast hour. I usually find room service menus pretty uninspiring and fall back on what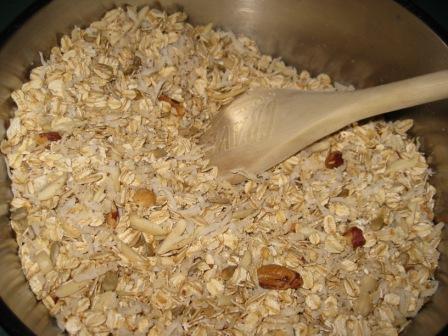 seems safe and easy. That day, as on many others like it, I chose yogurt, fruit, granola. Sometimes it's "yogurt and fruit" with a side of granola. Or "granola and yogurt" with a side of seasonal fruit. But it's rare that some incarnation of that trio isn't on a hotel room service menu. Safe. And easy.
So there I sat, looking down at my now-predictable hotel room breakfast. And realizing how much I liked it. And wondering why it was that I only eat it while typing away on a borrowed desk out-of-town rather than on my own dining room table at home.
Every now and then I think about picking up some granola at home. But most pre-made granola available at the store can be pretty insipid and lackluster if not also overly sweet. And the stuff that looks really great and homemade? Seems to always be about $5 per cup.
Homemade, you say? Yeah, I'd done that before. Probably exactly twice. Recipe testing. The first, for my first book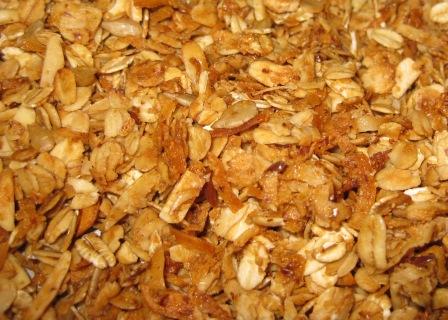 Northwest Best Places Cookbook, a "Nutty but Nice" recipe from the Marquee House in Salem, Oregon. (Looks like the recipe didn't make the cut for the re-issue of that cookbook last year; the original came out in 1996.) Another granola recipe from Rock Springs Guest Ranch in Bend, Oregon for another Best Places cookbook in 2003. Those Oregonians, they do love their granola! A popular item on many a bed and breakfast morningtime table, no matter what state.
Since then, no oats had been tossed with melted butter and honey. No pan of healthful grains toasting in the oven to make a nutty and delicious breakfast food. Not until that recent enlightened morning when I realized how much I actually like the stuff.
So back in the kitchen to make some homemade granola. Both of those previously-tested recipes had been good, but neither really knocked my socks off. I perused a few other options and liked this one best of all. But, of course, I changed things around quite a bit. Here's what I came up with to suit my fancy. Secret ingredient? Malt powder. Adds both a bit of interesting sweetness and that malty-nutty flavor that I just can't resist. (Some of that same jar went into a batch of chocolate-malt ice cream this week.)
Granola is an ideal template for variation. If you've got wheat germ on hand but not flaxseed, swap them out. Neither? The granola's just dandy without them. Nix the coconut, add raisins, use different nuts. Banana chips? Whatever floats your boat. It's a fun and tasty recipe to play around with.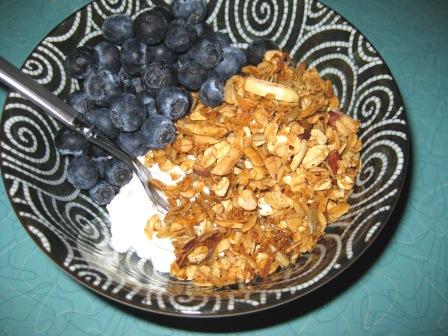 Malty Granola
5 cups rolled oats
3/4 cup chopped hazelnuts
1/2 cup sunflower seeds (unsalted)
1/2 cup shredded coconut
1/2 cup slivered almonds
1/2 cup malt powder
1/3 cup flaxseed
1/2 cup unsalted butter
1/2 cup honey
2 teaspoons pure vanilla extract
Preheat the oven to 325 F.
Stir together the oats, hazelnuts, sunflower seeds, coconut, almonds, malt powder and flaxseed in a large bowl. Combine the butter and honey in a small saucepan and warm over medium-low heat until the butter is fully melted, stirring occasionally. Stir in the vanilla, then pour the butter mixture over the oat mixture. Stir well to evenly blend, then pour the oaty combo out onto a large rimmed baking sheet or baking dish.
Bake the granola until lightly browned and toasty-nutty smelling, about 1 hour, stirring the granola gently every 15 minutes or so to assure even cooking. Set aside to cool thoroughly before transferring to an air-tight container for storage. The granola will keep for up to 2 weeks, in a cool, dark spot and well sealed to keep it crisp.
Makes about 7 cups.