I guess it was two different influences that conspired to establish our menu for dinner last night. First, the Sunday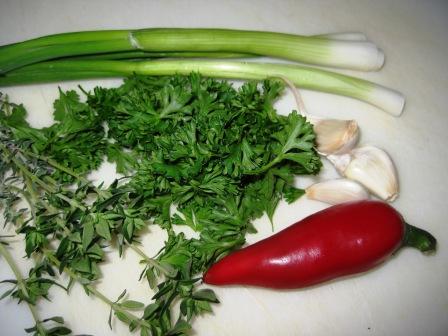 trip through our beloved neighborhood grocery store, West Seattle Thriftway, where my eyes caught a "buy one, get one free" special on beautiful, boneless rib-eye steaks from Misty Isle Beef. Couldn't pass that up, no way!
That same evening, we were chatting with a friend about random things in life and travel came up. "What's on your wish list right now for one of your next trips?" she asked. Hadn't thought about that lately. We have a lot of travel coming up this year–South Carolina, Santa Barbara, Italy, France–so what might come next hasn't come up yet. But after a second or two, I blurted out "Argentina!" It's maybe not next on the list, but I sure have a growing hankering for making a trip to Buenos Aires, having hear two different sets of friends rave about their trips there. And this friend, too, had been and echoed that the city's like the Europe of yesteryear, and less expensive, great food, amazing architecture, on and on.
Next thing you know, it's Tuesday and I'm considering what to serve with those rib-eyes. Must have been lingering images of Argentina that brought to mind chimichurri sauce, the traditional herb-garlic-vinegar concoction that is a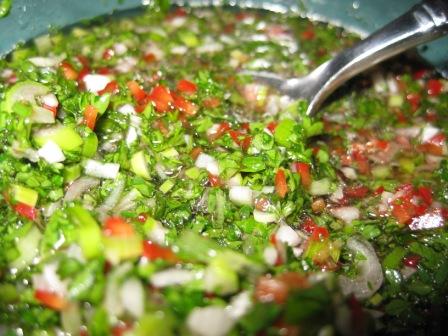 classic complement to grilled meat (which seems to be the national food of Argentina, one particularly good reason to make the trip!).
Parsley is the traditional backbone of chimichurri, often with an accent of fresh oregano as well. Parsley's not abundant yet in my garden, but thankfully had a bundle of parsley left from the weekend, so finely chopped most of that. (Yes, that's curly parsley in the photo, I usually get flat-leaf. But the husband was on that particular grocery outing and I failed to be specific!) No oregano sprouting outside yet either, but I snipped a few sprigs of really tender new thyme. And while I was out there, some lovage just for good–and green–measure.
Green onions and garlic minced. Same for a red Fresno chile I happened to have on hand. A few good glugs of red wine vinegar, and a moderate glug or two of olive oil. A big pinch of salt and a few grindings of black pepper. No time flat, I've got a lovely, vibrant, aromatic chimichurri just waiting for some grilled steaks to party with!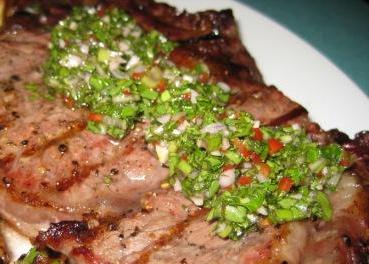 What a tasty dinner that was. There are a slew of bright flavors in the chimichurri–herbs, vinegar, garlic, chile–that serve bold contrast to the richness of the meat. It wakes up and engages your palate with each bite in a way that A-1 (another personal favorite) just can't replicate.
We ate up pretty much that whole bowl's worth, a little bit of which was brushed on some sliced eggplant that I grilled alongside the steaks. Mmmm, mmmm, mmmm. And I guess I'll be on a minor chimichurri kick now until I get down to Argentina myself and try some at the homeland. Can't wait.