I don't know exactly what spurred the urge, but sometime early December I got a serious case of waffles-on-the-brain. And it suddenly became clear that waffles aren't on nearly as many menus as you might hope when suffering such an affliction. Not that I go out for breakfast all that often these days. That meal's usually just a cup of coffee and bowl of cereal at home. But the few times that I did go out hoping for a nice warm, crisp, flavorful waffle I found only its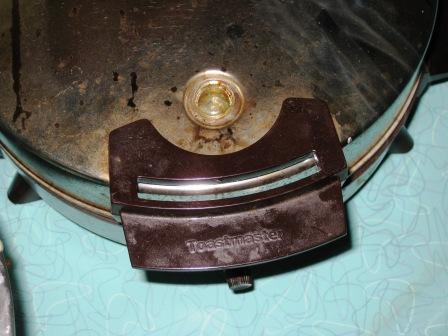 brethren: French toast and pancakes. And they definitely don't have those little crevaces of deliciousness to hold creamy butter and syrup!
Over a month later, waffle craving still unsatisfied, I had to take matters in my own hands. I pulled that simple old waffle iron from the lower cabinet and dug up a recipe.
I don't make waffles often, for that aforementioned habit of keeping breakfast simple. But I had gone through a waffle-making phase this summer while developing recipes for my new cookbook, Gourmet Game Night (coming out early March!). The premise of the book is foods that are perfect partners for playing games, things that won't get fingers messy and greasy, items that don't require you to put down your cards to pick up a knife and fork. In the realm of sandwiches, I was dreaming of some interesting twist on peanut butter and jelly that would use waffles for the bread. Long story short, after multiple attempts at the recipe, I just had to walk away. Waffles weren't working out. The recipe now sandwiches the berry jam-mascarpone filling between peanut buttery brownies instead.
BUT!!
That leaves me with this peanut butter waffle recipe that I'd developed. Maybe it didn't work in that sandwich motif to accompany playing games. But as a stand-alone waffle I was pretty happy. So out of my recipes-that-didn't-work recycle bin and back into the kitchen to help appease this waffle craving.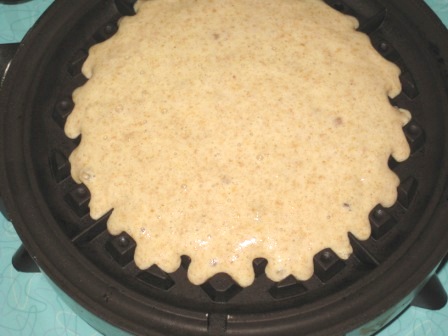 I've come to love graham flour in this past year or so, the nutty flavor it adds to recipes a welcome addition. I thought it would be a great partner to the peanut butter component of this batter. Because peanut butter is so delightfully high in fat (GOOD fat!), I did away with the melted butter that is typically in a waffle recipe. Should you want to omit the peanut butter, this recipe should work just fine using 1/2 cup melted unsalted butter instead.
Man, these waffles did hit the spot. And there's really no sense in making just enough waffles for one. I went ahead and cooked off all the batter and once the extra waffles were cool, packed them into a resealable plastic bag and popped them into the freezer. Now it's a matter of a few minutes in the toaster and it's waffles for breakfast again! In fact, I think I hear them calling my name right now…..
Peanut Butter Waffles
3/4 cup all-purpose flour
3/4 cup graham flour
1/2 teaspoon baking soda
1/4 cup sugar
1/4 teaspoon salt
1 1/3 cups buttermilk
3/4 cup smooth natural peanut butter, at room temperature
2 eggs, separated
Preheat a waffle iron to medium-high heat.
Stir together the all-purpose and graham flours, sugar, baking soda, and salt in a large bowl. In a medium bowl, gently whisk together the buttermilk and peanut butter until smooth and well combined. Add the egg yolks and blend until smooth. Add the wet ingredients to the dry ingredient and stir gently just to mix.
Whip the egg whites with an electric mixer until soft peaks form. Add about one third of the egg whites to the batter and use a rubber spatula to briskly fold them in to lighten the batter, then more gently fold in the remaining egg whites.
Pour a generous 1/2 cup of the batter onto the waffle iron (more or less depending on the size of your iron). Close the waffle iron and cook until lightly browned, 5 to 7 minutes. Continue with the remaining batter.
Serve warm, with butter and maple syrup or a schmear of your favorite jam.
Makes 8 to 10 waffles