Just around the corner, on August 23, is one of the best chef-farmer food events in town each year. This will be the 5th annual Incredible Feast, an outstanding chance to visit with  farmers you see at the weekly markets around Seattle, in a setting that's not quite as frantic as a busy market day! Each of the 30 or so participating farmers showcases one or more of their signature ingredients, cooked up into a delicious treat by the chef they've been partnered with.
This year's Feast will be held at the University District market site, at University Heights (corner of University Way and 50th). Among the participating farmers are Billy's Organic, Rama Farm, Whistling Train, Foraged and Found Edibles, Rock Ridge Orchards and Loki Fish. And the chefs who'll be cooking include John Sundstrom from Lark, Chris Keff from Flying Fish, Renee Erickson from Boat Street Café and Ethan Stowell from Union. More details here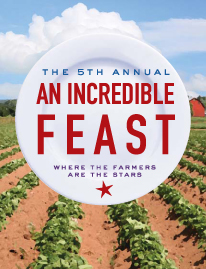 .
Proceeds from the event support the Neighborhood Farmers Market Alliance, which oversees many of the city's best markets. In fact, the University District just received major national recognition as one of the top 10 markets in the countryby Huffington Post (it ranked #3).
I'll be there and hope you might consider joining for the fun, delicious Sunday afternoon of wonderful food, farm-fresh. You can get your tickets here.