I'm not a big dessert person. I won't pretend that I never order it when out for dinner. Key words like "caramel" or "ice cream" or "coconut" will often at least pique my attention. But more often than not I'll just nibble a bit of cheese with my husband after dinner, or simply linger over the last of my wine and skip that final course.
That being said, at the close of a recent dinner at the charming and delightful Cicchetti, I couldn't pass up the Spanish-style chocolate mousse. In large part because of its accoutrements: olive oil, salt and crostini. We've been falling in love with that salt-and-chocolate combination in recent years, but don't recall the two combined with that other happy pair, olive oil and bread. Sounded like an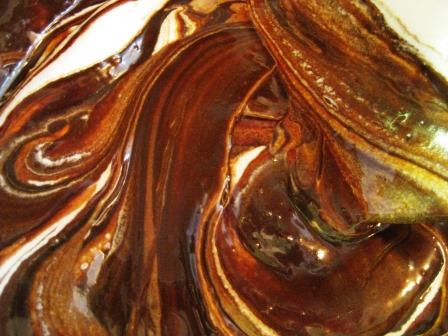 interesting culinary quartet. And it was. Oh, how it was.
I dropped a note to Cicchetti's owner, Susan Kaufman (who has also owned its older sibling Serafina for over two decades). She explained to me that the dish was inspired by something she had on a trip to Barcelona a couple of years ago. At first glance it reminded me of the bread-and-chocolate themes I'd seen before. While spending time with French families during study-abroad programs, I recall a popular after-school snack being a hunk of baguette, torn in half, a morsel of chocolate sandwiched in between and enjoyed. The more elegant version of that is, of course, the beloved pain au chocolat, rich and flaky croissant pastry filled with dark chocolate before baking. And while watching this clever and informative geography lesson, I was reminded of the Dutch habit of topping sliced bread with chocolate for breakfast. Theo Chocolate celebrates the pairing with their Bread & Chocolate bar (using toasted artisan bread and a pinch of salt). Plus I can't help but thinking about a movie I haven't even seen, Bread and Chocolate, 1974 from Italy. Can't quite figure out the context for the name, but it's in my Netflix queue now……
I couldn't get that dessert out of my head! Serafina/Cicchetti pastry chef Harlee Morrow kindly shared the  recipe with me, which I dutifully recreated at home recently. There's little wonder this mousse had such deep character: she begins by making a cream-enriched caramel which is poured over the chopped chocolate to melt it. The results are enchanting and delicious, not too sweet, so the character of the chocolate shines (note: an ideal time to spend that extra few dollars to buy a top-quality chocolate).
At Cichetti the mousse is served in a couple quenelle-like ovals, with a bit of olive oil drizzled over, a sprinkle of salt, and crisp, thin baguette slices alongside. And when I first gave this a test-drive at home I did the same. But there was plenty of mousse left and I had a potluck to attend, so voilá – I decided to serve them finger-food style. I didn't assemble them until just before serving: drizzled a bit of olive oil on the toasted bread (probably would brush it on next time around), topped one end with the mousse and sprinkled with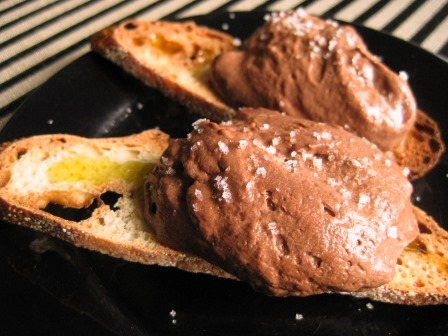 some coarse sea salt. Everyone murmured approval as they tried them.
Toasted bread with chocolate might sound odd if it's a new concept to you. But it's wildly addicting. In fact, the next time I have an otherwise perfect and delightful bowl of chocolate mousse, it'll seem slightly lacking with out it. Its crunch complements the smooth texture of the mousse, the toastiness bringing a nutty character to the pairing. Salt does what it does so well, enlivening the flavor of the chocolate. And olive oil? A touch of richness and acidity that rounds it all out.
Chocolate Mousse, Cichetti-Style
Here's my rendition of that outstanding mousse. At Cicchetti, the olive oil drizzled over is Partanna brand, though Harlee told me that Trampetti brand is another great option (which I've had, it's amazing). Use your best extra-virgin. Any good, slightly coarse sea salt will be great for finishing, Harlee likes to use Himalayan pink sea salt at home. When cutting the baguette slices I like to do so at a steep bias cut, so the slices are extra long. The bit of cream of tartar in the caramel mixture lightens its texture, helping achieve a creamy consistency.
6 ounces bittersweet chocolate, chopped
1/2 cup plus 2 tablespoons sugar
1/8 teaspoon cream of tartar
1/4 cup water
2 eggs
1 2/3 cup heavy cream
Thin baguette slices, lightly toasted
Extra virgin olive oil
Coarse sea salt
Put the chopped chocolate in a large heatproof bowl and set aside.
Stir together the sugar and cream of tartar in a medium, heavy saucepan. Add the water and set the pan over medium heat. Cook, stirring, until the sugar is dissolved. Continue cooking the syrup"without stirring"until it turns a rich mahogany color, 6 to 8 minutes. Take the pan from the heat and immediately, but slowly, pour in 2/3 cup of the cream. The mixture will sputter and bubble for a few moments, then subside. (Be very careful, the caramel will be extremely hot.) Return the pan to the heat and cook over medium heat, stirring gently, until smooth, 1 to 2 minutes.
Pour the caramel mixture over the chocolate, let sit for 10 to 15 seconds, then gently whisk until smooth. Whisk in the eggs, one at a time, whisking well until thoroughly blended. Beat the remaining cream until soft peaks form, then fold the whipped cream into the chocolate mixture until no white streaks remain. Cover the mousse and refrigerate until well chilled, at least 6 hours.
To serve, use 2 large spoons to create ovals of the mousse and set them on individual plates. Drizzle a teaspoon or two of the olive oil over the mousse and sprinkle with a pinch of sea salt. Set the baguette slices alongside and serve.
Makes 8 to 12 servings