It's Mother's Day today, at least back in the United States (the French will celebrate la Fête des Mères in two weeks). So what I did I do to honor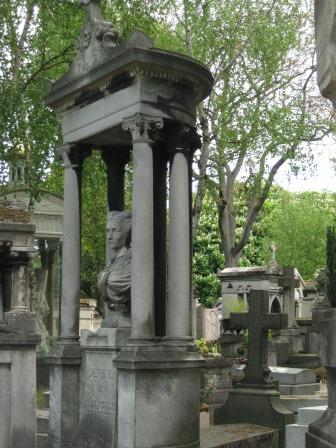 the day in Paris? I took a walk through Père Lachaise cemetery. Not out of some grim impulse to acknowledge the eleventh Mother's Day since my mom passed away. But because it felt like the right kind of soulful environment in which to spend some time, to get away from hustle-bustle in the city. And because it's a place in Paris where we had a most memorable visit the year she came to see me.
I have, in fact, taken most friends and family there who've been in France with me. But that visit to the cemetery with Mom was special not only because I was sharing it with her, but because of when we visited.
There are a couple reasons I recall the timing of her trip so well. I was living and working at the Château du Feÿ down in northern Burgundy, where La Varenne cooking school was based at the time. We were going to be down at the château together on Halloween, a holiday that may have gained some traction in France in the past couple of decades but back then (1989) I don't think it registered even a blip.
Mom being Mom brought the festivities with her. It seemed that half her suitcase was packed with folding black cats and skeleton garlands and pumpkin decorations, not to mention a few bags of Halloween candy (which we distributed among small paper bags and left on peoples' beds around the château).
She  and I must have taken the train the next morning right up to Paris, because I remember clearly that we were there on All Saint's Day,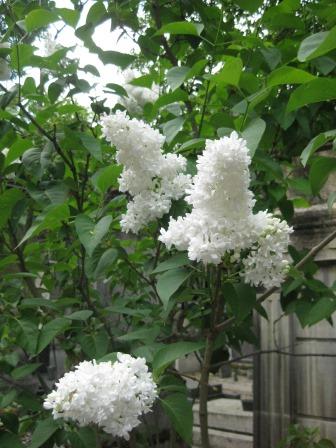 November 1. The more solemn, retrospective counterpoint to our trolling-for-candy-and-dressing-up-as-ghouls Halloween tradition, it's a day to remember and honor those who have passed from this world. Families visit the graves of their kin, and should you be in a largely Christian city of a Western culture like Paris it's a fascinating day to visit a cemetery.
There are always flower shops open near the entrance to the cemeteries, but on November 1 there are extra vendors on the streets as well. Mom and I picked up a bunch of flowers and as we slowly meandered around the 100-acre property, we would—as so inspired—add a flower to those collecting at the foot of someone's grave. Someone like Chopin or Edith Piaf or Marcel Proust. There are always flowers being left on graves throughout the year of course, but on November 1, there are loads and loads of them, and candles, and other mementos being left. It's touching and sentimental, and always fascinating to wander the property and consider the many, many lives represented here from across a couple of centuries. At last count it's apparently about 70,000 graves in all.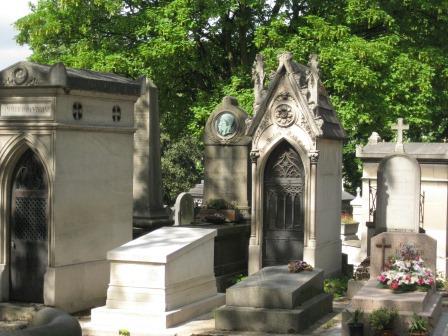 So, that's what I did today, not sad and glum. Sentimental to be sure, but it was nice to walk a path I know I walked with my mom, to remember a glorious time we spent together in France and to honor her memory today. You may not think to yourself, "hey, let's go to a cemetery" all that often while on vacation, but this is one I definitely recommend while you're in Paris.