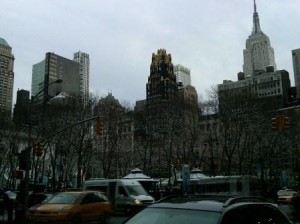 I sit here at my desk, typing away while looking at the now-sunny Seattle sky, seagulls passing, Olympics peaks just beyond view in the distance. A few days ago, I was working on this same laptop from my desk in the 45th floor hotel room I was staying in, midtown Manhattan, a view of countless high-rises, the bright lights of Times Square reflected in their windows. Enchanting. Purely enchanting is that city. Spying the Empire State Building between buildings, or perched above Bryant Park as it is here, is a never-ending treat.  I've warmed up to New York City over the past 15 or so year since my first visit. And had more than a few amazing meals along the way.
The impetus for this trip was a regional conference of the International Association of Culinary Professionals, a very dynamic couple of days that covered territory as broad as culinary apps and digital media, New York food history, food policy, sustainability — a great range of issues that food professionals are dealing with today. We were honored to hear directly from Sam Kass, assistant White House chef and chief food policy advisor. So articulate, thoughtful, certainly diplomatic in his responses to questions (such as how, exactly, Wal-Mart came to be a standard-bearer for healthy food choices). His remarks set the stage for a couple days of presentations and panel discussions that shed light, sparked debate, opened doors and generally gave us culinary colleagues all something to take home and think about in the course of our daily work. Here's a taste of it, from Marion Nestle who was one of the panelists Friday afternoon. I can't say enough about how gatherings like this do worlds for my solo-work-at-home psyche, the perfect complement to the daily grind.
So yes, I learned and engaged and networked. Saw many old friends and made some new ones. Loved every minute of it.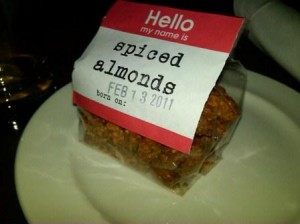 But then again, I ate too.  Not like one pal, who hit 7 restaurants in one day, trying to take in as much as he could. I tried to stick to not more than 3, but with 5+ days in the city it gave me lots of room to play with.
Highlights include my first night in town. I meandered down to the Ace Hotel from Times Square and despite the frenzy of the crowd at The Breslin, quickly grabbed a seat at the upstairs bar for a great supper avec moi même. (I find New York's very accommodating to the solo diner, been able to bypass crowds thanks to a helpful host nodding toward a seat at the bar. Same thing happened last fall, at Northern Spy. I'd walked 20+ blocks to get there, only to find the sidewalk covered with folks waiting for tables; my heart sank, not knowing a good backup plan for that neighborhood, but the hostess seated in moments and had a great meal. Cheers to that!)
Couldn't resist the spiced almonds at The Breslin, the most friendly snack I've ordered in some time. Zippy and addicting. Never had heard of a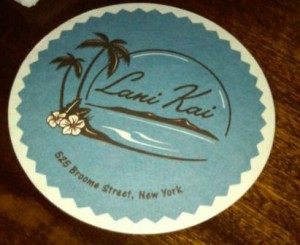 "scrumpet" before, and seems the term's most often applied to a crumpet-scone hybrid, but here it translates as a strip of lamb lightly coated in crumbs and deep fried, 2 long fingers served with a minted vinegar for dipping. Oh so very good, could have had a couple orders of them. Vespers complemented the menu just delightfully, I sat contentedly chatting with the bartender (who grew up on Lopez Island!) and reading As Always, Julia
 despite the dim light…..  A great welcome-to-New-York evening.
So many other great meals. Lunch with a dear friend at Maialino, Danny Meyer's trattoria at Gramercy Park. My garganelli(a handmade penne-like pasta tube) with braised rabbit, green olives and rosemary was simple and sublime. One of my very favorite drinking pals who lives in Brooklyn suggested we meet in SoHo at Lani Kai, a 4-month old bar launched by Julie Reiner (of Flatiron Lounge and Clover Club fame). Tiki done up with contemporary impulses, you will get a lovely pink orchid in your textbook-delicious Mai Tai, and I had a skewer of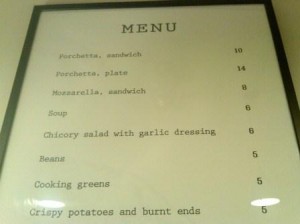 grilled pineapple in my Last Luau (with pineapple juice, light & dark rum, felernum, ginger syrup, lime juice). But I've got a pretty low tolerance for fruity drinks, my second was instead a perfect Manhattan made with rye.
The sustenance that followed the cocktails was simple, informal and so satisfying. We headed over to the Lower East Side to the hole-in-the-wall called Porchetta. Guess what's on the menu? Yep, and not much more than that. Well, they do have some specials you can try out if you want. But you're at a place CALLED porchetta? Why would you order anything else? We both got the porchetta plate, with came with delicious creamy white beans and loads of sauteed broccoli rabe, oh and lots of the rich, well-seasoned porchetta, dotted with nuggets of the crispy skin. Oooooh. Praise to the pig! A side order of crisp potatoes with burnt ends and chicory salad with garlic dressing, not quite necessary but  both amazing. And all for about $40 for both of us. A handful of stools, a couple benches on the sidewalk, though many just take it to go back to their nearby apartments.
Junoon was a great find, open just since December a New York friend clued me in to the restaurant. Upscale Indian with a very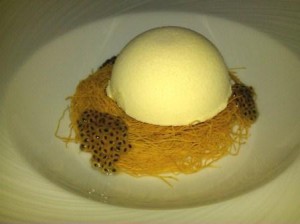 distinct focus on high quality spices (you pass the "spice room" downstairs on the way to the restrooms), our table of six was fully impressed with the meal. And you know how a table full of food professionals can be — not always the easiest crowd to please. We opted for the "5 elements" menu served family style, which covers the territory of key cooking techniques: clay oven, open fire, cast iron, stone and curry. We enjoyed their housemade paneer with mint, kakori kebabof ground lamb spiced with cardamom served with green papaya and spiced yogurt, a roulade of chicken with ginger and cashew, really spicy lamb kolhapuri with coconut and poppy seeds, among others. So many delicious things, but this dessert remains a stand-out, passion fruit bombe on a katafi nest with "coriander basil seeds" which remain a bit of a mystery….. Just outstanding, a perfect finale.
More meals and great food experiences than I can faithfully cover here. But I cannot wrap up this post without telling of my long-overdue first taste of Momofuku Ssäm Bar on Sunday. I took advantage of the sunny but chilly day to meander lazily down to the East Village, opting to dine early when doors opened at 5:00 rather than show up later and risk a long wait. Such a glorious meal it proved to be, I'm just sorry I hadn't made it there any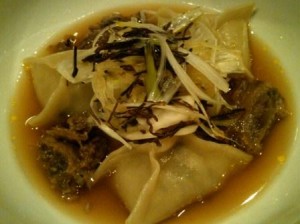 sooner than last week. Loved seeing the ramp brine martini on their cocktail listed, ordered myself one right away. Came as the most unadorned cocktail ever: lowball glass, served up, not a speck of garnish. Not even a piece of that pickled ramp that produced the tasty brine. Looked for all the world like a glass of water. But sure tasted better. Sipped gently at it throughout the meal.
I couldn't resist the special that night, geoduck with a "cucumber-apple gazpacho" and toasted amaranth. The gazpacho seemed to be essentially chilled cucumber juice and a flavorful apple gel, with thinly slivered cucumber tossed with the thin strips of geoduck. So delicious, bright flavors, the nutty crunch of the amaranth a delightful contrast. Next came a steamed bun, though not the signature pork belly version. I'd had one of those when David Chang came through town last year and did an event at Spring Hill restaurant. I instead ordered the crispy pork bun served with basil, avocado and smoked mayo. Oh lordy, serve me up another dozen of them!!
Next came the supremetly satisfying oxtail dumplings in an amazing broth with thinly sliced turnip. And though I was perfectly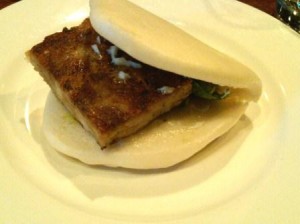 content at this point and could well have asked for the bill, I instead inquired about desserts. So very glad to not have missed the opportunity to try the Seville orange bombe (lots of bombes in New York; gladly not bombs) served with root beer caramel and a splash of soda water. Sounds odd, but I just can't get over how delicious it was. Childhood flavors, root beer, Creamsicle, soda pop, brought together in a decidedly grown-up and polished fashion. By then, I was even more perfectly content. Gathered up my book, secured my hat and gloves, ready to brave again the New York City cold after another memorable meal in this most marvelous city.