I have got to make a point of getting to Vessel sometime in the next week or so. Just got an email reminder that they're celebrating one of the most venerable drinking establishment in the world–Harry's Bar–with signature items from their menu (beef carpaccio was created there, so the legend goes) and the quintessential Harry's libation: the Bellini.
A trip my husband and I took to Italy in 2007 included two major pilgrimages for me. One to the Via Tribunali in Naples (the street after which this Via Tribunali was named) and the other to Harry's Bar in Venice. The trip came PB (pre-blog) but I briefly recapped the excitement of cocktails and pizza on my then e-newsletter.
My very first trip to Venice had been back in 1985. It was an amazing, inspiring, eye-opening couple of months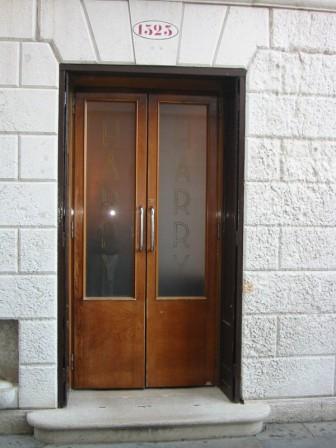 traveling eastward as far as Istanbul after a semester of study-abroad in Dijon, France. My girlfriend and I had a budget in the roughly $10-a-day range, stayed in cheap-o pensiones and spending as little as possible on food and other indulgences. "Quanto costa una camera per sta sera?" I'd ask into the payphone at each subsequent train station, checking affordability of a room from a listing found in the Let's Go Europe book. We got berated by a waiter in some restaurant in Venice, having ordered a pizza that we wanted to share; he made it clear pizza's were NOT to share, instead we had to each order our own.
But budget or no, it didn't keep our Venice visit from being magical. Rich is every single traveler who gets to cross the myriad bridges arched over the canals. Getting lost in the small twisty lanes that dead-end to yet another canal. Squinting your eyes in Piazza San Marco and pretending it's 100 years ago. We watched the sleek, romantic gondolas slip past with a sigh.
That few days did, however, leave me with one lingering desire. One that my husband had heard me repeat a few times over the years when the subject of travel to Venice came up in conversation. My wish was to return some day to the glorious city with two things: a man and a credit card. About 22 years after that first visit, I got my wish. Funny thing is, after all that, we never did invest in the iconic gondola ride. There are better ways–it so happens–to spend one's money in Venice!
On that first trip, Harry's Bar wasn't even on my radar. It didn't register as something to dream longingly about for a future visit. But over the years, I did hear and read about the place, its history, the colorful and iconic characters that passed through that glass-paneled doorway. Though I swear that wasn't the ONLY reason we chose to book a cruise that began and ended in Venice, it sure was a lovely side benefit of the decision. And it meant I got to Harry's twice, once on each end of the trip.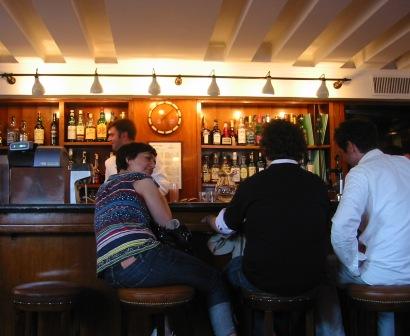 Hear about a place like Harry's Bar for long enough and the image becomes grand, your imagination painting an ever more vivid picture. Lavish decor, sweeping spaces, elegant entryway, shiny and perfect. Alas, winding through Venice, finally coming to the Calle Vallaresso and walking toward its end at the Grand Canal, a small simple door with "Harry's" etched in the glass panel is what greets you. But it's enough. Trust me, it's enough! (I had very much the same impression when I first visited the original Paris location of Le Cordon Bleu cooking school back in 1984. It sounded like such a majestic, important place, I imagined the school to be in a sort of palace with a sweeping drive, grand columns, high doorway into a marbled, polished interior. Instead I was met with a simple blue awning over a nondescript doorway on a somewhat anonymous street. But still my joy at being there, attending an afternoon cooking demonstration and breathing the same air that Julia Child did some decades before: it was priceless.)
So there we were, slipping into one of the dozen or so tables in the bar, actually at Harry's. Just as Ernest Hemingway, Truman Capote, Orson Welles, Peggy Guggenheim and many others had been. I didn't care how simple the decor, unassuming the physical nature of the place. It was a moment to enjoy, feeling generations of characters sitting alongside me.
But I wasn't about to order a Bellini. For one thing, I never much enjoy a fruity drink. And for another, I hate ordering what everyone else is ordering. I tried to squint while sitting in Harry's and imagine I was there 60 years earlier with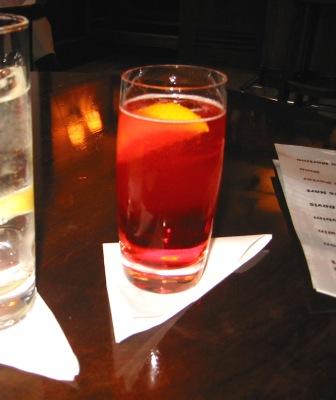 locals and arty expats and nary a tourist in site. But it didn't quite work. Took so much squinting that my eyes were effectively closed. Truth is, by my count a good 75% or more folks come in, order one very expensive Bellini and head off for one of those even more expensive gondola rides. I opted instead for a Negroni. Gin, Campari, sweet vermouth. Italian, though not from Venice. Far more my speed. Had a couple for good measure. And to justify more people-watching and daydreaming and just reveling in being in such a historic watering-hole.
One item marked "done" off the great life list of culinary to-does. Two when you count that pizza in Naples!
Here's to a lifelong pursuit of a delicious life-list fulfillment.
Cheers.