It all started with a simple hankering I had on the way home one afternoon a month or so ago. In the corner of the parking lot of my local grocery is a Tully's. Some handful of years ago they started selling (really quite tasty) soft-serve ice cream, in coffee and vanilla, or a swirl of both if you couldn't decide. Not too big, quality ingredients, particularly tasty cones…it was the perfect snack that I indulged in only now and then. Clearly my last visit was a while ago, because the woman working the counter looked at me funny when I ordered a coffee cone. After a few moments she said, "oh, we only have chocolate and vanilla."
Huh?
I contacted Tully's HQ and found it had been a company wide change last summer, the shift from coffee to chocolate (and chocolate nonfat frozen yogurt at that, geez!). He said they were considering ways to re-introduce coffee ice cream but nothing definite at this point.
Thus began my recent obsession with coffee ice cream. A few days later my husband showed up at the door–knowing of that recent disappointment–with not one but two different coffee ice creams for me. The love. He learned early in our college-days dating how much a weakness I have for ice cream. Still do.
One was a moshi version, balls of coffee ice cream wrapped in a distinctive rice-flour-and-sugar based chewy dough (this version of the dough coffee flavored as well) that envelops the ice cream. I've never cared for moshi and these really didn't hit the spot too well.
What I did love was the Häagen-Dazs he brought. Not just the everyday coffee, but coffee that's part of their new "five" line. These are ice creams made with only five ingredients. All of them share the same four as a base: milk, cream, sugar and egg yolks. Add ginger or mint or cocoa or coffee, and you've got a deliciously pure and simple treat. Yummy. This was a very satisfying bowl of coffee ice cream.
It was right about this time that I read an article in the Times previewing a new line of Starbucks ice creamsbeing rolled out this month. A day later (before I realized they weren't due to be in stores yet),  I was at the customer service counter at Thriftway asking if they were ordering it yet. I jumped the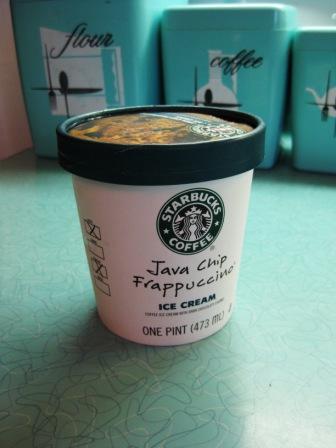 gun, but have since had a chance to taste one of the flavors, Java Chip Frappuccino, coffee ice cream with dark chocolate chunks. Really delicious. The flavor isn't just a single-tone "coffee" element but has some of the deeper complexity you find in a rich cup of coffee. I'll get to the three other flavors in due course: Caramel Macchiato (coffee and vanilla ice creams with swirls of caramel), Mocha Frappuccini (coffee and chocolate ice creams swirled together) and pure-and-simple Coffee (coffee and espresso ice creams swirled together).
So Tully's may have initially let me down with the shift in what comes from their soft-serve dispenser. But thankfully that hankering can now be satisfied by a slew of new indulgences in the world of coffee ice cream.