Julia Child's birthday was on August 15, the towering mentor to generations of food lovers in this country would have been 97 years ol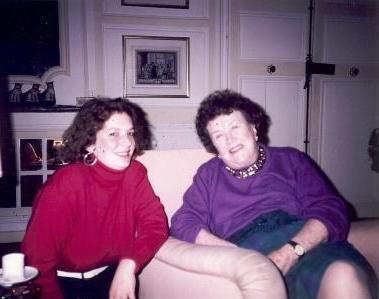 d. Usually it's an annual event that garners plenty of its own attention, with media tributes and themed dinners in countless homes across America.
But this year was a little different. THE movie — Julie & Julia — was released a week prior. An overflowing stockpot of discussion, reflection, praise, and controversy flowed in virtually every outlet from Twitter to Newsweek. And it began a few weeks earlier with the first wave of preview screenings (one of which I attended in Seattle). One of my food writer pals was a surprised participant in the hubbub when ABC News called following a blog post of hers to quote her on the food world's perspectives on the film.
Man. It was all anyone (at least in my circles) could talk about for a few weeks. It took the launch of season three of Mad Men to change the subject (on to retro cocktails and cigarettes!!). And it unfortunately made Julia's birthday this year seem something of an afterthought. I did toast her with a simple dinner of butter-sautéed sole fillets here at home.
I really didn't want to join in the chorus of dissertation on the film, though I will say that I LOVED it and was very impressed with how the two vastly different lives and stories (based on My Life in France and Julie and Julia) were chronicled in such an engaging fashion.
I did, however, want to join those who used the opportunity to celebrate Julia's impact on us by telling a personal tale or two about interacting with the larger-than-life culinary inspiration.
As it happens it was my birthday, the first day that I met Julia. Not only met her, but cooked for her. I was working at the Château du Feÿ in northern Burgundy and Julia was traveling through France, due to drop in for a day to visit her longtime friend, and my boss/mentor, Anne Willan.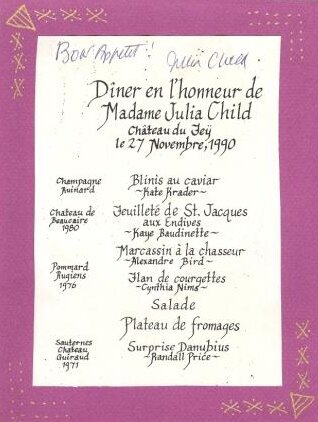 I got wind of this a couple of weeks earlier and figured it would be about the best birthday present possible to be able to spend time with Julia while she was here. But how was I going to squirrel my way into this? (On a later occasion, Leslie Caron came to visit with Anne one afternoon. Ms. Caron was just moving into the neighborhood, setting up an auberge in nearby Villeneuve-Sur-Yonne.  I offered to make them tea so Anne could devote her full attention to her guest; she slyly commented "I don't recall you making me afternoon tea before!" Busted.)
Ends up I didn't need to scheme much to be able to spend time with Julia during her visit. Anne invited five of us La Varenne graduates to put together the dinner that evening. And what a glorious evening it was. I did up some menus for the occasion, which Julia kindly signed for us all. My contribution was, thankfully, not a starring role of the meal, which would have made me too nervous. I drew from a dish I'd created for my "mystery basket" final exam for the Grand Diplôme I earned from the school: flan de courgettes. Blanched thin slices of zucchini lined individual ramekins that were then filled with a rich zucchini custard (I think I spiced it up with saffron and/or cumin).
My La Varenne pals rounded out the menu, as you see here, with delectable treats from blinis with caviar to braised wild boar done up hunter-style. The dessert was truly a show-stopper. Randall went all out with a huge, beautiful "Surprise Danubius" — a riff on Baked Alaska (or perhaps more correctly omelette norvegienne since we were in France!). There were a couple different cake flavors–poppy seed (hinting at time Randall spent cooking in Budapest) and chocolate–with at least 2 ice cream flavors, he recalls perhaps ginger and lavender. All lavishly coated in meringue and browned to a toasty finish. It was spectacular.
I really wish my tired old memory box could recall a slew of specific details about that evening. Alas. But the whole experience was a whirlwind of thrill that I'll never forget. I did later have occasion to spend a few hours with Julia in her Cambridge home, doing an interview for a cover story in Simply Seafood magazine. That was amazing too. If it's possible to have two once-in-a-lifetime experiences with the same person, I feel fortunate to have had just that with Madame Julia Child. Here's to Julia!