Like I needed one more decadent treat to have on my list of favorite vices…. But I found one anyway.
I had an errand to do at Theo Chocolates in Fremont yesterday (honest, I really did). While there, couldn't help reliving a couple of my favorite bites from a previous trip. I'd picked out my PB&J, gianduja, cardamom caramel and lavender-jalapeno caramel to take home in a plain little brown paper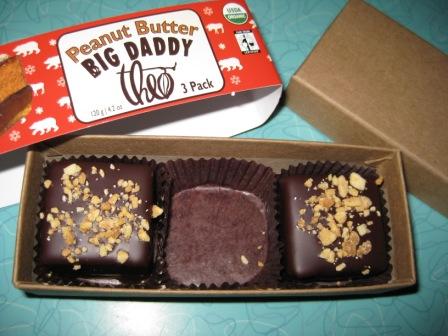 bag.  Just about to pay and my eye spies two boxes of treats I hadn't seen before:  Big Daddy confections that were introduced during the holiday 2008 season. The marshmallow version features a square of the white fluffy confection atop a layer of homemade graham cracker crust and rich caramel, the trio coated in both dark and milk chocolates. I'm not a big marshmallow fan, so I opted for the peanut butter version, with peanut butter praline where the marshmallow would be. There are three individual (generous) pieces in each package. Not individually sealed, however, so there's a distinct risk that you might be compelled to eat more than one. Try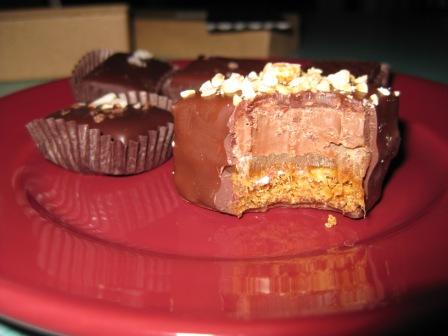 to have friends around when you open the box, to avoid that temptation. I managed to stop at two. Just barely.
Oh, and for your earth-loving peace of mind, know that these Big Daddies are among the organic confections made by Theo. And Fair Trade as well.
The Big Daddy items are not in wide distribution right now, available only at their Fremont shop-and-chocolate-factory and online. Worth a visit, either way. What a delicious indulgence.