There was a time when I really did try to keep up. In years past I was not only covering the local wine scene a bit more directly when I was food editor of Seattle magazine. But I also traveled to Bordeaux, France, with the team from the Washington Wine Commission to translate at the booth for VinExpo (the world's largest wine trade show, or at least it was at the time, early 2000s). I tried to stay on my game by reading up on the new wineries, keeping track of goings-on in the various appellations, flipping through Wine Spectator to see what was considered news-worthy about Washington wines from their perspective.
But the pace of growth in wine making in Washington state has been such that it's nearly impossible to stay on top of all the new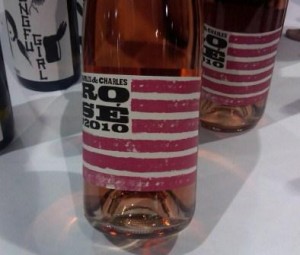 developments going on. The folks at Costco asked me to write a cover story on Washington wine for their magazine in 2005. At the time I wrote of the "dynamic wine-making region [that is] in constant growth and evolution,"  enthusiastically noting that the state had come to be home to 350 wineries. How's this for dynamic? In the six years since I wrote that article, the number of wineries has DOUBLED, now counting over 700. It's astonishing, and exciting, and it keeps us local wine lovers on our toes.
That fact of Washington's dynamism was made even more vivid after this past Sunday's Grand Tasting, the finale of the Taste Washington weekend. There were over 200 wineries pouring that afternoon, and I only stopped by a dozen or two. So much wine, so little time…. But the event serves as a phenomenal means for one-stop-shopping in the research department. Much as I'd love to just prowl favorite producers for tastes of Pepper Bridge, DeLille, Camaraderie, Chinook, Andrew Will, McCrea — I make it a point to sip with a mission: to try wineries that are new to me. And sadly, often when I walk up to a producer I'm not familiar with and ask when their first vintage was released, the answer's 2005. Which just further proves how hard it is to keep up. Forget just the new-new places releasing their first or second vintage. I'm behind enough that the teenagers of the bunch are still new to me. (In fact, more than a few responded "2005" when I posed that question, clearly that was something of a baby boom year for Washington wine.)
Some favorite tastes from this past Sunday include:
♦ Elevation Cellars' Monolith, a really lush and complex Bordeaux-style blend
♦ Trust Cellars' Cabernet Franc, rich colors and really well developed flavors
♦ the Old Vine Cabernet from Smasne Cellars, elegant and so balanced
♦ the just-released Syrah rosé from K Vintners (promise of not only springtime, but summer around the corner)
♦ The Buried Cane's unoaked Chardonnay (for me to call out ANY Chardonnay is unusual….)
♦ Gramercy Cellars' Temperanillo, both soft and lush
♦ Dusted Valley's Stained Tooth Syrah, the essence of why I love syrah (they had toothbrushes on display, playing off the inevitability of purple teeth come end of the afternoon)
And there were a couple surprises along the way. It was fun to chat with the folks at Cartel Wine Group who were, in fact, pouring their first release here at the show. They call themselves "modern-day négociants"; rather than growing or buying grapes and making the wine from fruit to bottle, they instead buy freshly-pressed grape juice and make wine from that. It's a bit of a short-cut, though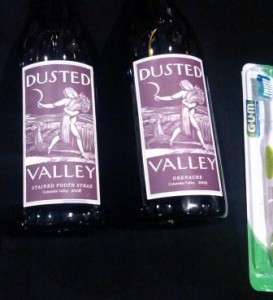 there's plenty of personality to still inject in that blending/aging process. And the bottom line for the customer is affordability: their Seeing Red Cabernet retails for $10 and the Seeing White Chardonnay for $9. They do have a Bordeaux-style blend called The Surveyor that sells for a whopping $13. One of the best $13 bottles of wine I've sampled in some time…… Interestingly, these are non-vintage wine, meaning there's no year listed on the label — leaving them free to blend juices from different years into the same bottle. If the wine's good — keep in mind that much of the best Champagne out there is non-vintage — I'm all for mixing up the years!
As I paused at the Pomum Cellars table, which had been a recommended detour for my day's itinerary, winemaker Javier Alfonso dipped his hand below the table and pulled up a bottle of white wine. One of the bigger surprises of the day was that someone — well, Javier, to be exact — is now making wine with Albariño, a Spanish white wine grape, in Washington. Over the years of attending Taste Washington, one of the most interesting measures of change has been the increased variety of wine grapes being used. At first Sangiovese was quite the departure from Cabernet Sauvignon and Merlot, then there was Temperanillo, Malbec, this year it was fun to see a few Carmenere wines being poured. This will be the year I remember my first taste of Washington Albariño.