We talk about local/regional/seasonal all the time today with regard to what we cook at home, what we choose in restaurants when we eat out. It's a mantra that puts us all in a mindset to make some positive change: supporting local farmers, reducing carbon footprint, consuming more wholesome foods, more awareness of the food's safety. What's not to cheer about on any and all of those counts?
The interesting thought I had recently was that this go-local perspective can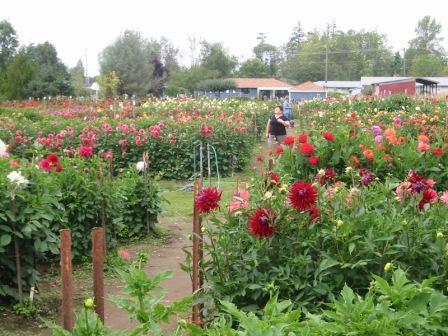 and does easily translate into many other realms. The thought was spurred by a trip my husband and I took to a local dahlia farm over Labor Day weekend. Aching for something different to do with that spare weekend day, we noticed that Connell's Dahlias in east Tacoma had a day or two left in their annual "open house." No hesitation, we hopped in the car and headed south.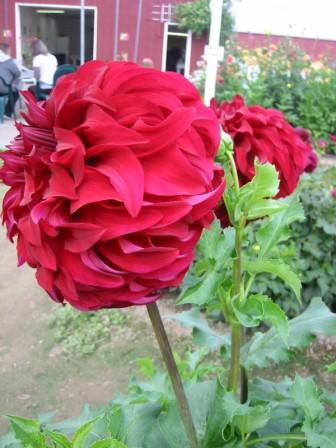 My parents really loved dahlias and we had a number of plants in the front yard of my childhood home in Edmonds, Washington. I didn't inherit any green-thumb tendencies, but do have one dahlia plant that holds its own in my yard. I get a very simple, visceral thrill from going outside with my mother's Japanese garden shears, clipping a few stems and filling a vase with fresh flowers. All that confidence and comfort I have in the kitchen? It's what I lack when I step into the garden, so simple garden joys go a long way for me. (And I think it helps make me sympathetic for those who aren't so confident and comfortable when they step into the kitchen.)
When we approached the address for Connell's it didn't look like much from the street. We drove all the way to Tacoma for this? But in moments I saw the kaleidoscope of color that spread out over the property. Absolutely amazing and so inspiring! I'm a huge fan of the Northwest Flower & Garden Show each February in Seattle, the promise it brings that spring is just around the corner. There are many dahlia vendors there, lots of bags of tubers to choose from, with pretty color photos of the full-bloom flower for enticement.
But nothing compares to walking down countless rows of dahlias in full,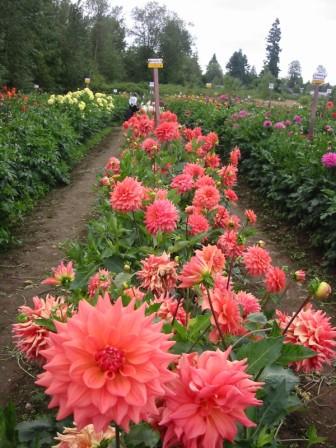 lush bloom. Blooms of every type, spidery or compact, small as your fist or big as your head, of every natural color known to man. I was mesmerized. We picked up a price list and began in one corner, starting our methodical path across the whole property to check out the hundreds of different varieties. Very hard to choose, be we started making check marks next to favorites and later whittled the list down to 6 or 7 picks. As a bonus, ordered a collection of gladiola bulbs as well, and bought a bunch of beautiful royal purple glads to take home that afternoon.
Now I can't wait for my box to arrive in early April for spring planting. Next fall, my vases should be bursting with oranges and purples and deep reds in addition to the snow-white dahlia I have today. And my dinner table can boast not only a home-grown meal of locally raised foods, but a centerpiece of homegrown flowers from a local source as well.