It was the perfect refuge for a hot summer's evening. Eight of us gathered on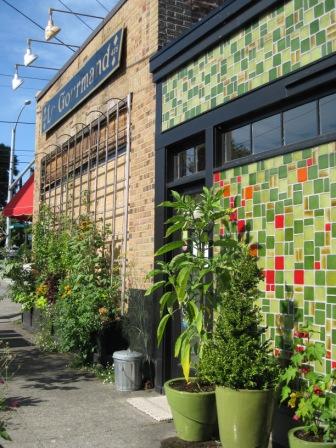 the cool, shaded garden patio of Sambar in Ballard for drinks, some snacks and some wonderful quality time catching up with friends. Few places make me quite so happy, eating and drinking so well in such a lovely, calm, engaging setting.
Sambar is the younger, hip sibling of the beloved Le Gourmand restaurant next door. Chef/owner Bruce Naftaly first opened the doors at Le Gourmand in 1985, helping set the stage for the delicious melding of "eat local" and "fine dining" that was just a twinkle in a few chefs' eyes back then. From day one, Bruce was noting on his menus the sources of ingredients he used, whether it was plums from a backyard tree in the neighborhood or grape
pressings from Chinook winery that he used in a sauce. There are a lot of stars in Seattle's current culinary firmament. But Bruce was among the first to wrench Seattle's fine dining scene out of the Continental motif and into a celebration of local bounty. In fact, one of the earlier articles I wrote while food editor of Seattle Magazine was one for the January 2000 issue, challenged to pick a chef worthy of millennial props. I chose Chef Naftaly.
Bruce and his wife/chef/partner Sara opened Sambar five or six years ago, adjoining Le Gourmand, with a mod, colorful, contemporary decor in contrast to the (then) pretty sort of Monet-style French motif of the elder (since updated to be clean, bright, white, with cool mirrors and artful puppets on the wall). The cocktail menu is outstanding, distinctive, taking best advantage of premium and seasonal ingredients. On this recent visit, with so many of us around the table, we had occasion to sample a number from the current list. I started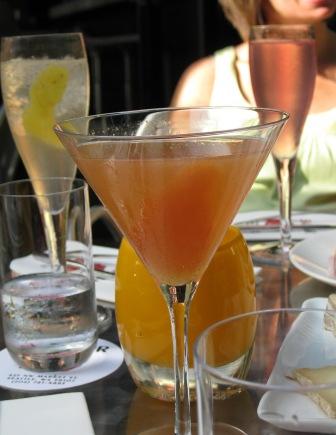 with a cocktail of gin, Dubbonet rouge, grapefruit juice and a touch of cardamom; outstanding, Ravana I think it was called. Others tried La Rose (Hendricks gin, rose syrup, Champagne and rose petals), Celeste (light rum, rosemary, cassis, lemon, Champagne) and the Vercour (Hangar One Citron, yellow Chartreuse, lemon, jasmine blossoms).
We nibbled too, of course. The swiss chard gratin was out of this world, with garlic and a rich cheesy sauce. Mussels simple and perfect, "just like Paris," said one of my friends. Another had passed on sampling the mussels, figuring they were pretty basic and not far from what she could make at home. But we prodded her to give one a try and her eyebrows involuntarily rose while taking in the glorious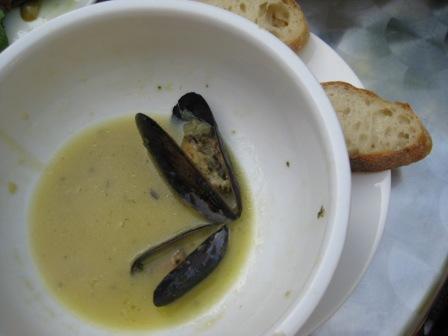 flavors. I waited a bit too long to take a picture, but this tells how much we loved them! Extra bread, please, to sop up those amazing cooking juices. And frites! Can't come to Sambar with out an order (or two, or three) of the great frites.
Couldn't have been a more perfect Friday evening out in Sambar's garden with the gals. Come winter, we may just have to do it again, buoyed against the grey and chill by the color and dynamism Sambar holds inside as well.