Last weekend, in the midst of our mingling and visiting before sitting down to dinner here, a friend pointed out my bottle of cassis from Clear Creek Distillery in Portland, Oregon, noting what an extraordinary example of the traditional black current liqueur it is. Yes, I agreed wholeheartedly. And despite the fact that it was Open That Bottle Night (technically exactly the time to open and serve precious bottles), I wanted to cry out "don't you be touching my Clear Creek cassis!"
I've been visiting Clear Creek for a number of years now, happily following owner Steve McCarthy in the growth and development of his phenomenal spirits and liqueurs. In fact, there are a few special bottles of Clear Creek products on my shelf that I really should be more generous about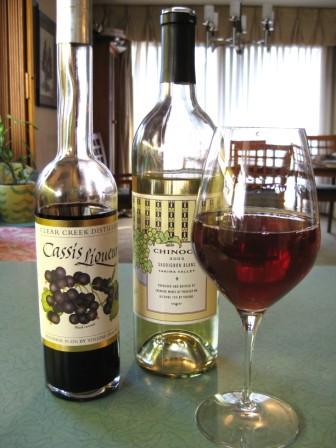 sharing. (After all, I can always buy another bottle when one of them goes dry!) They include a beautiful pear-in-the-bottle pear brandy (in the spirit of poire williams from France) and a unique Douglas Fir liqueur that he concocts through a detailed process that includes a couple trips into the Cascade foothills to capture the most pure essence of the fir.
On one visit with Steve, he offered a sip of what–at the time–was one of his newer products, this amazing cassis.
I have a bit of a sentimental connection to cassis, and its most popular manifestation, the kir. During my college years at University of Puget Sound, I went on the school's inaugural study-abroad program at the University of Dijon. Burgundy is the heartland of cassis, and Dijon is the heart of Burgundy–if there were an official beverage of the Dijon, it would likely be a kir. The blend of cassis and white wine is named after a former mayor of Dijon, though the simple  combination had been enjoyed for many years prior.
So I lifted that small glass of Steve's cassis to my nose and was astonished at its power. The rich, deep purple color; the distinctive fruit (rather than syrupy) aroma; the truly lush presentation it made, transporting me back to Burgundy. Even in France I rarely met a cassis this ideally balanced and deliciously crafted. So I keep the bottle tucked away, for some crazy reason. Wanting to keep the memories and that transportation back to Dijon for safe keeping, perhaps.
But just last night, I pulled the cork from the bottle and took another big sniff. I poured a generous drizzle of cassis into a wine glass. And I had a bottle of Chinook sauvignon blanc chilling in the fridge, which proved itself an ideal choice for a kir. In Burgundy, the traditional wine would not be one of the elegant chardonnay wines from the distinctive wine villages of the region. Instead, the lesser-known aligoté white wine is partner for a classic kir. I tend to prefer a wine that has some tart, citrus elements to contrast the light sweetness of the liqueur. And a wine without heavy oak or other strong elements that would overpower the berry character.
For a kir royale, the slight upgrade to a bubbly version, it's not really the time to pop the cork on a fancy Champagne. Though for a truly regal kir royale, sure, pour a vintage Dom Perignon if you wish. It will be a knockout. Your friends will love you even more.
Otherwise, less expensive and/or domestic sparkling wines can be perfect for a kir royale, of the brut or blanc de noir style. I would like to think that, in keeping with the Burgundian roots, the local crémant de Bourgogne  would be the perfect choice. "Cremant" is a term used in France for regional sparkling wines made in the style of Champagne but not in the region of Champagne. Crémant de Loire and crémant d'Alsace are a couple other delightful examples.
While I studied and worked at La Varenne at Château du Feÿ in northern Burgundy, the "house apéritif" many evenings started with Anne Willan's husband Mark cracking open a bottle of crémant from nearby Caves de Bailly (a very interesting visit, if you're ever in the neighborhood). Guests had their choice of traditional cassis to add to the glass, or other local liqueurs such as one made from pêche de vigne or blackberry. Ahh, la belle vie! An ideal way to start any evening.
Unable to find a reference to the early development of the kir royale, I turned to friend (and one of my favorite sommeliers) Jake Kosseff. He pointed out that it was more likely a barman in England or the United States who concocted the 'royale' version. Someone who, he points out "may well have invented it when every sparkler said 'Champagne' on the label, further complicating things!" So, perhaps it is more sentiment than actual history that leans my sensibilities toward that Burgundian bubbly.
In Anne's wonderful book, From My Chateau Kitchen
, she devotes some time to the cassis made by Madame Milbert (including her recipe), the wife half of the caretaker-couple that kept guard over the chateau and the garden, not to mention those of us who lived and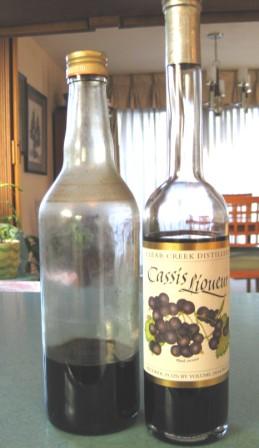 worked there. It was a very cold, grey, misty day when I left the chateau in December of 1991, heading to the airport for my return home after 2 1/2 years of being in France. Though I'd already said my formal farewell to the Milberts the day before, Madame came running out to the car that morning as we slowed to pass through the big iron gate. Through the car window, she handed me a bottle of her homemade cassis. I was overwhelmed. In part, honestly because I was wondering to myself "how the heck am I going to wedge this into my luggage…" But more truly, the gesture of the gift meant the most. And I still have that bottle on my shelf, too. The few fingers' worth left in the bottom of that recycled vodka bottle are just too precious to use up. It's one bottle that I will not be able to replace.
When it comes to the ideal recipe for a kir or kir royale? It's not something I think needs quantifying. Both in France and in the States, I've been served kirs (regular or royale) that range from a gentle dose of cassis for something of a rosé wine effect, up to a deeper mahogany-purple tone that can suggest more cassis-with-wine than the inverse. Ultimately it's a question of how dry or fruit the wine may be, the quality of the cassis, and your own personal taste. It's not the worst thing in the world to experiment a bit, is it? As for those recipes I found online that include a lemon twist or (heaven help me) ice cubes — no thanks. I prefer my kir in the style you'd find in a nondescript country bistro in France: served very simply, without pretention or garnish, in a small balloon glass.