If gelato, below, isn't quite the right gift for the culinarian on your list, perhaps briny treats from the sea will be? I just received the annual reminder from Jon Rowley that homegrown Taylor Shellfish is once again offering holiday packages of oysters fresh from their Puget Sound beds.
Each of the two options  includes Olympias, Kumamotos, Totten Inlet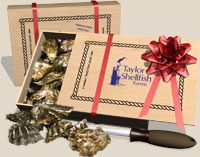 Pacifics and Totten Inlet Virginicas — 6 or 12 of each, your choice ($35 and $64 respectively, plus shipping). Each shipment also includes a shucking knife, shucking guide, oyster profiles and Jon's own "Art of Eating an Oyster" essay.
My father-in-law is nuts about oysters. When they make the trip north from Berkeley each summer, they eat dozens and dozens of halfshell oysters while they're in town (at Steelhead Diner this past summer). So of course, this makes the perfect holiday gift for the in-laws; it will be our third December shipping them this Northwest bounty for Christmas. (I doubt I'm ruining any surprises there, it's becoming a tradition).
So deck those halls with oysters by the dozen!