Seattle-based Dry Soda took the soda category to new levels when they launched in 2005. Not just about quenching thirst in a new way, these beverages were developed with the meal time in mind. With just a touch of sweetness (from pure cane sugar) and non-traditional flavors–kumquat, lavender, rhubarb and lemongrass–the drinks have a culinary flair that can be perfectly at home on even the most elegant dinner table. I still remember what a big splash the sodas made when they were released; in no time restaurant menus featured them alongside other select beverage options on their menu.
So, I was intrigued to hear about two new flavors having just been launched: juniper and vanilla. Which sounded, at first blush, like even edgier choices! Those juniper berries are pretty intense in flavor, almost resin-y and vanilla can quickly become cloying. Dry Soda fan and celebrated Seattle chef Jason Wilson, owner of Crush, collaborated on development of the new flavors and honed the flavors in an elegant fashion.
The juniper soda is very gentle in flavor. In fact, the lingering element is one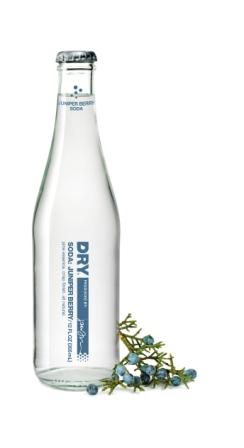 of rather nondescript herbal character and doesn't cry out "juniper," which will make it widely appealing, I imagine. And super adaptable to different types of foods. I can see drinking lots of this one!
That first sip of the vanilla soda was loaded with nostalgia. It tasted, to me, every bit like cream soda–without the overload of sugar. Vanilla is one of those flavors I run hot-and-cold on. I love it in ice cream, of course, and pretty much any sweet setting, but I really can't tolerate vanilla sauce on my scallops or in my salad dressing. In this soda, the vanilla flavor is really well balanced, aromatic, pure. For my own taste, not quite as universally sippable as the juniper is. But that's the nature of my anti-sweet-tooth which will always prefer savory to sweet.
These distinctive sodas are now available across most of the U.S. and Canada. The web site has some great recipes from chefs paired to individual sodas, as well as cocktail recipes using the sodas. Soda for grown-ups, with distinctive, delicious flavors and without the hype and in-your-face marketing. Imagine. What a treat it is.