When my beloved 1992 Jetta was hit with some minor but worthy-of-being-deemed-'totaled' damage a couple of years ago, I got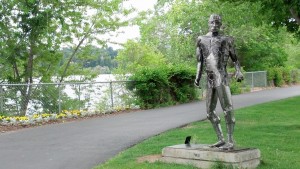 myself a new VW that invariably came with tons more automatic doodads and general smarts than my old car had. Even just getting a cup-holder and no longer hand-cranking the windows up and down was a huge advance. I hadn't quite expected the car to actively nudge me with notes on the dash that it was time for service. So I dutifully took it in to the dealership for a check-up, where the service rep said, "You're in for the 2-year, 20,000 mile service?" "Yeah," I said, "except it's only got 8,000 miles."
Egad. I need to fit some more road time in. I think it'll do both my car and me some good.
It only added a few hundred miles to the odometer, but last week's excursion to Wenatchee was a good step toward that goal. I was invited, along with a few other media, by the folks who grow the new Oronodo Ruby cherry to visit a couple of their orchards, learn a bit more about the fruit and taste it–both freshly picked from the tree and in the hands of a few local chefs–in its element. (Full disclosure: I did some work for the company a couple of years ago, related to flavor profile and serving suggestions, some of which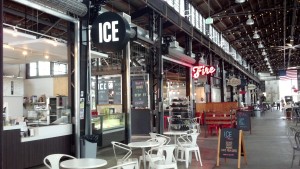 you can see on this page.)
As I've noted before, Eastern Washington isn't a common destination for us, driving over the pass and across those wide swaths of deserty landscape for some reason feels like more work than flying to California for a few days. But that's slowly beginning to change with increased excursions east of the Cascades. I can't recall the last time I was in Wenatchee. When I do head east, I usually hang a right off of I-90 toward Prosser or beyond, rather than taking a left toward Wenatchee. It was great to switch it up this time and reacquaint myself with the "apple capital of the world," which, as it happens, also produces some superlative cherries.
Thanks to tips from friends who frequent the town far more than I, I put Anjou Bakery on my itinerary. Located right on Highway 2 in Cashmere a dozen miles west of Wenatchee, it was an ideal spot for a second breakfast. I'd risen much earlier than needed that morning, intent on hitting the road before the morning commute doubled the time it would take me to get from my West Seattle home past Bellevue. I'd fueled up a bit before leaving and was at the bakery not long after 9:00. Nice spot, a little quirky, some odd limitations (no decaf at all) and I'd have loved some fruit jam with my (pretty decent) croissant, particularly given we're in the heart of fruit-growing country. But it was fun to hear locals catching up after impromptu rendez-vous and clearly this is a stand-out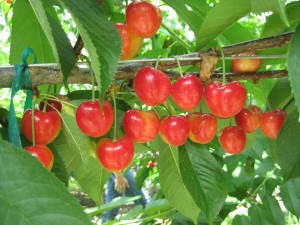 offering in the region.
Others had tipped me off to Pybus Market, a large public market built on the site of an old steel mill, the market celebrating its one year anniversary this summer. A farmers market pops up in the broad space during summer on Wednesdays and Saturdays, neither of which a day I was in town. The permanent anchor stores include a number of food shops (cheese, meat, seafood, produce, nuts), restaurants and other retailers. There's a good clip here from King 5 that gives a quick overview.
It didn't take long to stroll the shops and it was far too soon after that second breakfast to have lunch. Which made me extra happy to find that just steps from the market is the Apple Capital Loop Trail, offering double-duty of killing some time and working off that croissant before lunchtime. With a little advance planning, I'd have loved to do the whole 10-mile loop, but managed to get probably 4 miles covered. That chunk took me from near the market past a number of sculptures in the Art on the Avenues outdoor exhibit scattered around downtown (88 pieces in all) and lead me alongside a lovely low-water-use demonstration garden. I passed friends out for a stroll and dogs fetching tennis balls from the river. Couldn't have asked for a more perfect way to fill an hour or so that day.
I was intrigued by the Fire and Ice establishments back in the market, the former offering wood-fired pizzas, the second housemade gelato. But I grabbed a seat at South ("fresh, modern, Latin food & drink") for a simple, good plate of carnitas. And sadly was pretty full after lunch, so never did indulge in a scoop from Ice.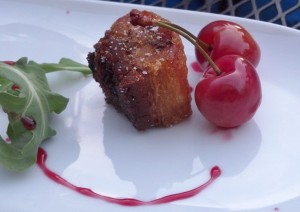 From this point forward I convened with others in the group and the agenda turned pretty much 100 percent to the topic of cherries. Orondo Ruby cherries, to be exact. That evening we returned to Pybus Market for a progressive dinner. I found myself back at South where we started with a great cherry salsa to snack with chips and dab onto tacos (cod and carnitas), and a cherry-muddled cocktail with pisco and lemon juice (I recall it was dubbed the Orondo Martini and may be on their menu as a special for a week or two). Off next to Fire for a simple, perfect platter of house-cured meats (coppa and mole salami) with unadulterated cherries and marcona almonds. Then a surprising and delicious pizza with buckboard bacon, cherries and goat cheese.
Our final indulgences came at Pybus Bistro where we began with a housemade farmers cheese with cherries that were sauteed in brown butter, glazed with sherry and finished with a pinch of fleur de sel. Next? Perfectly cooked pork belly (by my measure that means nicely crisp on the surface to contrast the meltingly rich interior) with pickled whole cherries and arugula. THAT dish I could have every day, thankfully not likely to happen. To cap off the meal with a sweet note: millefeuille with lemon curd, cherries and whipped cream. Lordy. It was an 8-course extravaganza across the three stops, delicious work for me and my crew of colleagues.
The next morning we hit a couple different orchards, particularly striking were those at the namesake town of Orondo. The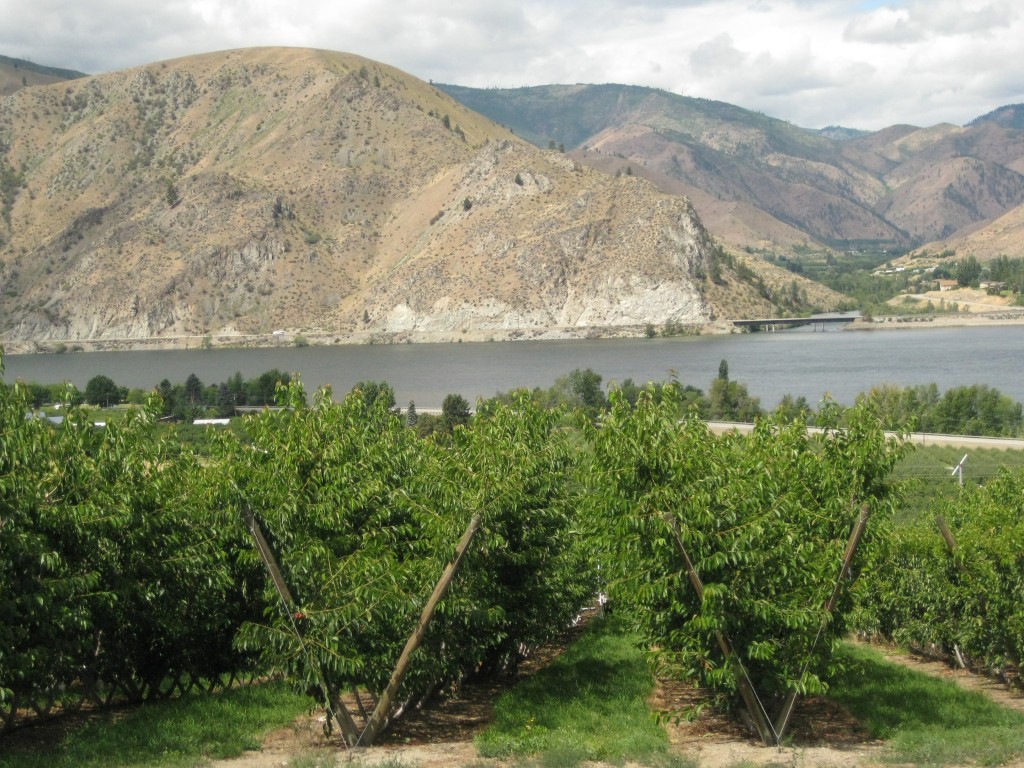 distinctive V-shaped tree formation leads the eye down to the powerful Columbia River with the regional rugged arid landscape beyond. There we met Marcus Griggs, co-owner of G&C Farms, growers of the Orondo Ruby and the one who keenly noticed theoriginal chance seedling that was growing in the midst of his Rainier cherry trees. We were lucky enough to pick some of our own cherries to bring home, cherries so big and plump that they exceeded the size rankings on the sizing gauge pickers use. (I used much of my haul in a batch of rosé sangria with some nectarine, and in a rustic tart, served with some homemade lemon verbena ice cream.)
While nibbling on that croissant earlier the day before, I'd read this item in the Seattle Times, an interesting prelude to a couple days immersed in cherry culture. Our hosts, Bart Clennon (the other owner of G&C Farms) and his daughter Cory Wray who works in the business too, confirmed what a great year it's been, "unbelievably good, about as good as it gets," as Bart put it. So this summer's harvest is generous. But as G&C Farms is the only grower, supplies are still relatively limited. They're available in QFC and Fred Meyer stores in the Pacific Northwest, at select Kroger and Sam's Club stores around the U.S. With luck, they should be available at least into mid July. If you spy some, give the new cherry a try. Sweet but with a touch of acidity character, complex flavor, lovely blush skin and firm, crisp texture…it's a great addition to the line-up of summertime treats to relish.