What a terrible state of affairs: a gin backlog! To clarify, it's a backlog of reflections on gin rather than bottles of the stuff itself. I wish the latter were true too. I've been a fan of gin for a good while now and went through a peak gin phase a few years back while prepping for a panel about gin for the 2007 International Association of Culinary Professionals conference and working on a couple articles on the subject. At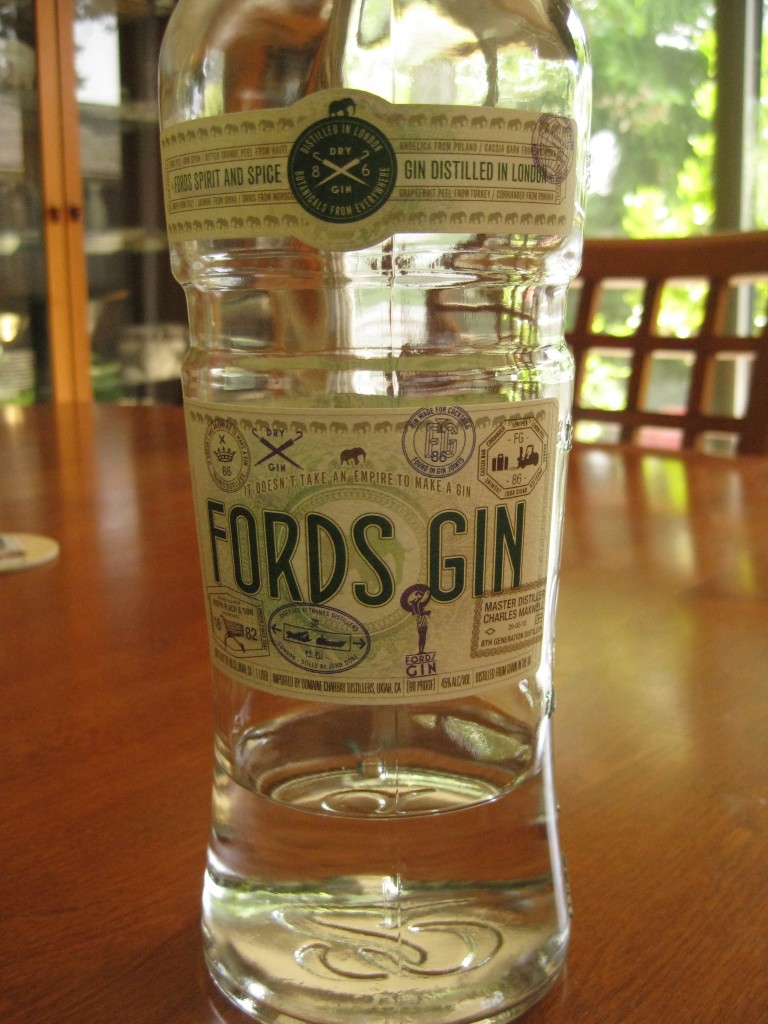 the height, I had as many as 10 different gins in the house, from distilleries near and far, for studious research purposes.
Today that number is a mere 3, but I shan't be complaining.  Among them is one of the gins I've been meaning to chat with you about, and a stellar one at that.
Fords Gin was launched a year and a half ago by Simon Ford in cooperation with 8th generation master distiller Charles Maxwell. I've known Simon for a number of years and he was a speaker on that gin panel I moderated. He also counts as the second bartender I know who has applied years of cocktail-making experience to the creation of a gin that real cocktail aficionados are going to love. (The other is Portlander Ryan Magarian who  partnered with the folks at House Spirits to develop Aviation Gin. In fact I might know something about that "small tiki party" cited as among the beginnings of that collaboration.)
Not only does Simon's tradesman's perspective contribute directly to the quality of what's in a bottle of Fords Gin, it carries out in the bottle itself: ergonomic in design for easy handling, with liquid measure marks along the side (both fluid ounces and liter) and clear ingredient information and tasting notes on the label.
Produced in England, the spirit's aromatics hail from around the world: Italian juniper, Indonesian cassia, Romanian coriander seed and Turkish grapefruit peel among others. The most interesting thing on the ingredient list is the well water from Mendocino, California. Which relates to a nice thinking-green aspect of the business: the gin is distilled in London, shipped bulk to Charbay Distillers in Ukiah, where it is cut with the local water and bottled for shipping. This greatly reduces the gin's carbon footprint relative to shipping filled bottles across the Atlantic.
The gin's "nose," as they say in the biz, I find to be lightly floral, bright but not strong, with nice citrus-savory character from the fruits and juniper. The gin has a lovely long progression on the palate, the citrus remains strong, the floral element less noted in flavor (a plus in my book, I don't care for rosy-lavender-jasmine dominant gin). Bracing and crisp, with a delicious complexity from melded citrus-spice tones.
It may not be a gin that gin-novices will warm to immediately, but it's one of those gins that is among the prizes for gin lovers — one that bears all the best characteristics of gin's potential, producing a layered tasting experience (aroma, flavor, viscosity all shine) that is ultimately among the most balanced I've tasted. Gin this good I'm going to save for a great classic dry martini, maybe the occasional Vesper, but generally simpler cocktails that allow all its character to come through.
The trick about the aforementioned backlog is that Fords is just one of a great many new gins on the market this past couple of years. I used to pride myself on trying to keep up, particularly on domestic gins, but lately development is so robust I can't even keep track of Northwest gins! Case in point: the recent gathering of the Seattle Gin Society for its annual Ginvitational tasting event. Of the "local" table's 8 or 9 gins I was familiar with only about half. Newest among the samples was surely Kur which–right out of the gate–has garnered some wins at recent events. And I can fully understand why, the gin is among the best versions of classic London dry style that I've tasted locally — with a juniper-strong backbone that I adore and some local flair from Washington winter wheat, Braeburn apples and Douglas fir. Well-rounded and balanced, delicious harmony. (One of the key turn-offs for me with gins that miss the mark is competing, unbalanced flavors that taste more like chaos than a chorus.) This is a quick new favorite of mine, which I'll add to a list that includes (at least today) Fords, Aviation, Plymouth, Big Gin, Junipero and Hendricks.
On the British Columbia table the only gin I knew already was one of the other ones on my shelf here at home: Victoria Gin. It's got a bold character that's a bit more floral, though pretty well balanced and a great option to have in the mix. Their distillery makes for a fun visit if exploring the Saanich Peninsula outside of Victoria, as I found on this trip. To my taste, it was by far the best of the gins on among the BC options, though the crowd favorite was Endeavour made on Granville Island in Vancouver (too strong in vanilla flavor for me).
I've come to terms with just not being able to keep up on every new gin that hits stores and bar shelves, but that makes the challenge of trying more like fun, less like work. Which means this interactions happens pretty frequently in bars and restaurants these days:
Server: Can I bring you something to drink?
Me: Can you tell me what gins you have available?
Server: Let me know what gin you're looking for and I'll let you know if we have it. [usually, at which point I ask what's newest and/or local, or just go have a look at the bar shelves myself]
Gold stars to those establishments where either servers can rattle off some brands beyond Tanqueray, Beefeater, Bombay Sapphire (not that there's anything wrong with any of those), or they provide a printed list of gins on hand. It helps those of us on the gin hunt find less-familiar selections to sample. After all, I'm not sure I'll ever quite catch up with them all.