Whidbey Island is one among many beloved destinations for folks in the Puget Sound area, popular for day-trip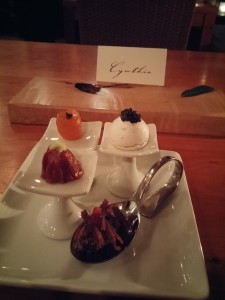 escapes from the city, second homes and get-away weekends with friends. Walking the beaches, visiting lighthouses, biking country roads, kayaking, fishing, whale watching, catching crab….that's what we tend to associate with a trip to Whidbey. And you fuel up on big piles of island-raised steamed mussels, a pint of local beer, maybe some artisan cheese and whatever looks good at the farmers market. You don't imagine tucking a napkin on your lap in advance of being served dishes that seem to belong in a chemist's lab, or nibbling what looks like lipstick but tastes like a fancy Starburst. And this is exactly why dinner at Inn at Langley has come to be such a culinary surprise. You're in a relaxed frame of mind, off the beaten path, in one of the region's quintessential rustic-refined destination resorts…and yet the contemporary flair of the food you're served would be at home in Chicago, San Francisco or any other urban destination for food lovers.
I was back up on Whidbey for a week in February, a little writing retreat to help me focus on wrapping up my latest cookbook (about Pacific Coast oysters, it'll be out in early 2016). When I mentioned to my friend Matt Costello, chef and innkeeper at Inn at Langley, that I'd be back up on the island, he invited me in to check out the latest of what he's creating in that busy open kitchen of his. It was my third or fourth meal since he took over that kitchen and the evolution of his dozen years there has been fun to behold.

The meal began with a quartet of one-bite delicacies, which came on a small raised dish: a little mound of beef tartar surrounded by a cloak of crisp fried beet slices; a whole kumquat filled with a gelled version of an old-fashioned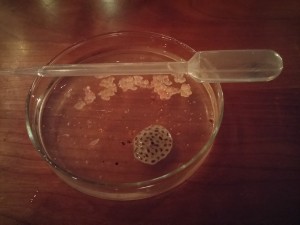 cocktail, complete with a tiny dot of dried cherry on top; a caraway meringue with egg salad hidden inside and osetra on top; and a spoonful of an earthy concoction of wild rice with bresaola.

What followed was another dozen courses that held surprises small and large, all within a context of simply delicious food. Among the most interesting revelations was that the generous cube of foie gras lying on a bed of blanched and lightly candied carrot held in its core a blend of fresh carrot juice and Pineau des Charentes. And by far the most intriguing was the moment servers circled the perimeter of the dining room with scissors in hand, to cut down glass orbs that held course number six. Inside the small terrarium was a "dirt" base of roasted chiles and lentils with kale powder and split peas, earthy and delicious. Layered on top for flavor and texture contrast were garam masala sponge cake, pumpkin seeds, freeze dried mango and tiny leaves of fresh sorrel, whimsical and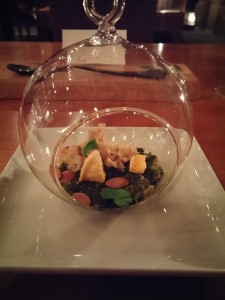 full of flavor.
Within moments of sitting down that evening, my eyes caught a most unexpected item on the menu, listed simply as "gin and tonic experiment." Surprise gin is always fun in my book. This version more so than usual. In front of each diner sat a petri dish with a pipette of liquid perched on the rim. The dish held a transparent gel of tonic on which was sprinkled a powder of dried juniper berries, finger lime cells and basil seeds. It was our job to squeeze out the Hendricks gin from the pipette into the petri dish to marry the distinct elements, enjoying them by the spoonful. I almost wish they handed out lab coats for that course, it would have added extra whim to our momentary collaboration as mad culinary scientists.

There was a different alchemy with the black cod dish, which was served in a big bowl with fresh ginger juice in the bottom. Servers passed through the room with pitchers of warm milk that had been infused with lemon verbena to pour over. The ginger juice immediately interacted with the milk to form an exquisitely silky curd. Pure delight.
The meat course was perhaps the least unexpected of the courses, but held its own in this multi-sensory progression. The elegant flourish here came in the form of clear glass cloche under which the venison and its sides were contained, though hidden from view by a cloud of applewood smoke. As the wisps of smoke curled upwards after the cloche was lifted, the buckwheat grains, chard and hedgehog mushrooms came into view, cloaked in a bitter chocolate-red wine sauce. A divine combination of flavors.
As transition to dessert, we were served a hot beverage in lovely tea cups, an infusion of raw cocoa and chamomile, only lightly sweet and somehow restorative, preparing us for the few courses of dessert to come. The first of them was a refreshing, light combination of apple slices, orange segments on a light cinnamon foam. The next offering was so delicious I spooned it up as if it weren't the 12th of 13 courses: whipped chocolate insta-frozen in liquid nitrogen and served with housemade toffee poprocks.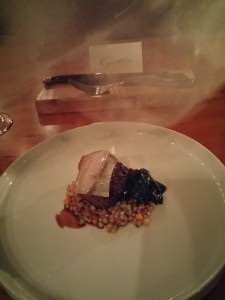 I would have happily slipped back to my bed after that course, but the most whimsical of them all made for quite the grand finale. Called simply "grandma's handbag," it was exactly that. The platter sported a dainty little old-lady purse (real-deal, non-edible), from which was spilled contents you'd expect from an old-lady purse: tissue, a couple coins, some lipstick, a little perfume bottle, a pill…. All these, unlike the purse itself, were edible. The tissue: spun strawberry-flavored sugar; the lipstick was of Starburst-like rose flavored taffy; coins were chocolate, one filled with a eucalyptus cream; in the little bottle was an elixir of apple

I've been dining at Inn at Langley for a couple of decades and while it has always offered refined cuisine in this lovely island resort, it long leaned toward more expected, mainstream fare. In my first cookbook back in 1996, The Northwest Best Places Cookbook, I'd included an Inn at Langley recipe from then-chef Stephen Nogel: a perfectly delicious mussel and corn chowder. But it seems rather hum-drum against the roster of dishes that Matt Costello is serving guests today. He is rooted in locally-sourced, peak-season foods but not restricted by a 100-mile approach. He appreciates elegant food thoughtfully prepared but consciously avoids stuffiness and pretension. He has found inspiration at restaurants such as Arzak in Spain, where he told me he had a "life-changing" dinner last year. But he doesn't go overboard on innovation for its own sake, echoing a quote from Elena Arzak: "remember, we are just a restaurant."

The fact that you can be wandering a sandy beach, biking around the island and checking out Fort Casey State Park by day and slipping into this comfy dining room for such exquisite and innovative food the same evening speaks to the fact that the big urban centers no longer have a monopoly on the country's best dining experiences. Every one of the islands that dot the Puget Sound has charms and attributes that make this part of the world an exquisite place to be. That eating so well ranks so high among those charms is icing on the cake.