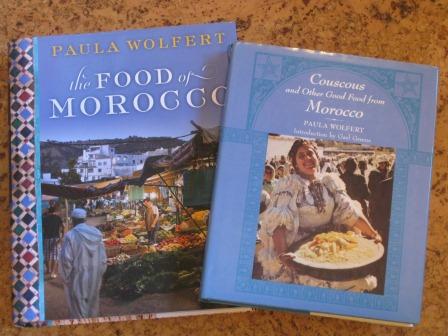 It strikes me as interesting that I have my liberal arts education in Tacoma, Washington to thank for my introduction to North African cuisine. Indirectly, I suppose, but it was a University of Puget Sound winterim study program of a month in Paris that had me exploring the bustling, colorful byways in and around Paris' Rue de la Huchette where there's a convergence of international cuisines, Moroccan among them.  Of course the French food we were having was amazing, but this stuff was exotic! And the big heaping platters of fluffy couscous, steaming bowls of aromatic broth, plates piled high with grilled chicken, lamb, merguez — it came at a value that suited our college-student pocketbooks. We became habitués.
It was an amazing month by all accounts, well beyond just the phenomenal opportunity to engage directly with the language and culture of France. And I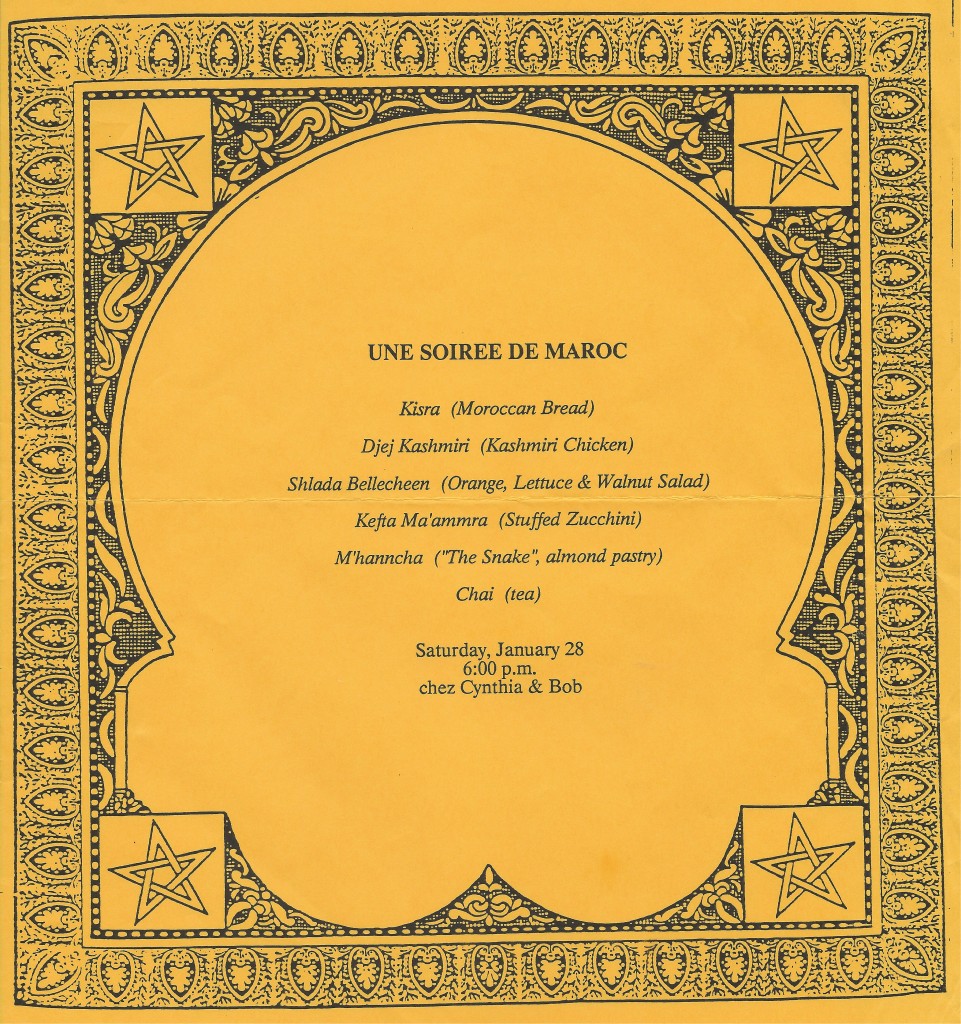 returned the following year for a full semester in France, Dijon to be specific. But it was a quick hour-plus train ride up to Paris and we continued the tradition of pilgrimages to la Huchette and eating our fill. One of the lingering impacts of those experiences is my love of couscous. Back on campus in Tacoma, couscous was a favorite dinner-party motif. Shy of resources for entertaining, we laid tablecloths on the living room floor and sat to eat. We tossed colorful scarves over the lamp shades for a bit of ambiance. We tried to find wine that most closely approximated the Sidi Brahim of which we had drunk so much in Paris!
That Paris initiation prompted one of the first "serious" cookbooks I added to my collection a couple years after that trip. My sister gave me a (signed!) copy of Paula Wolfert's seminal Couscous and Other Good Food from Morocco
, originally published in 1973 I think it was. My sister came to France for a visit during my semester abroad and we'd shared a couple or more dinners in those cramped, busy, sometimes cave-like couscous spots. She knew; she'd been there!
Nearly thirty years after that first Paris trip (wow, seriously? heavens….), I still have yet to set foot in Morocco. But I've had that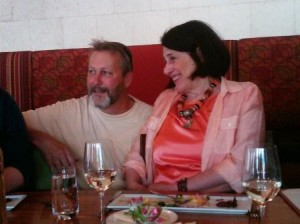 cookbook as a touchstone all these years. And looked to Paula Wolfert as an inspiration and guide in delving into that deliciously foreign cuisine. Those couscous dinners continued well after graduation, the quality of the wine slowly improved, and eventually we got to sit around a real dining room table. And I expanded my repertoire beyond couscous as well! Not sure what year the dinner menu above dates to but it's just one example.
So, all that introduction to set up a more recent memory. That of a lunch this spring with none other than Paula Wolfert. She was doing a couple public events while in the area, but I was lucky enough to join some other writers at a small lunch for her at Trellis restaurant in Kirkland (that's Trellis chef Brian Scheehser alongside Paula in the photo). What a glorious opportunity, a relaxed and casual visit with a legend, a phenomenal meal and a chance to snag a copy of her latest masterpiece: The Food of Morocco
. Paula noted that it did cover some of the territory in her first book, but this one fully updated and embellished with many new recipes and more in-depth studies of various elements of Moroccan cuisine. Not to mention gobs and gobs of beautiful location and food shots. Now my ache for getting to Morocco only increases…..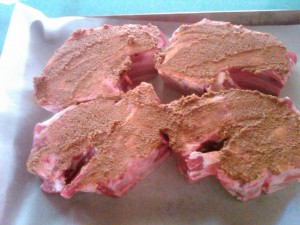 I'd been dying for a chance to dig into the new book and finally had the opportunity with friends coming to dinner this past weekend. I'd paged through the whole book to determine what would be on the menu. I flagged eight pages, which seemed ambitious, but I managed all but one of them. And I went off-agenda with a couple starter snacks — peanuts roasted with ras el hanout and sumac-seasoned crisp chickpeas. Oh, and David Lebovitz's amazing salted butter caramel ice cream (which I embellished with cardamom and black pepper), which will deserve its own post one day soon….
From Paula's new book, dinner Saturday began with a salad duo of Fresh Tomato and Caper Salad along with Grated Cucumber and Oregano Salad, accompanied by Bread with Sesame and Anise Seeds. For the main, we had Slow-Cooked Lamb Shoulder with Browned Almonds, Eggplant Smothered with Chermoula, and Potato Tagine with Olives and Harissa. Then — after generous chat-over-sips-of-wine time in pause mode before dessert — the ice cream with a plate of Semolina Almond Cookies (which, interestingly, uses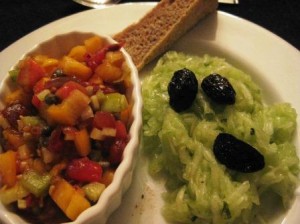 pastry flour and finely ground almond but no semolina itself….).
It was quite the feast. Much of both Friday and Saturday went into the prep and cooking, but I couldn't have been happier. It's always fun to explore new recipes, especially recipes that touch on so many of my favorite flavors. What I particularly loved about the menu was that despite many seasonings making repeat appearances in different recipes–onion, lemon, cumin, garlic, parsley, paprika–each dish had flavor character that was clearly distinct from the others. The eggplant and potato dishes alone could have been dinner. And the bit of leftover potato tagine got only more delicious, it was a particularly tasty lunch on Monday. The aromas of everything cooking was intensely beguiling, especially the seasoning paste that coats the lamb before it goes into the long-braise mode. I'd love to be able to share a whiff of that exotic scent with you here! Alas, you'll have to make it yourself…which I highly recommend. (Side note: Rather than start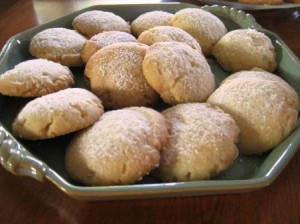 with the whole 5-pound hunk of lamb shoulder called for in the recipe, my butcher had really thick, 1-pound-plus slices from the shoulder which proved great to work with, I think more manageable in the long run.)
I finally scratched that itch to surround myself with the flavors of Morocco again. Next on the agenda, actually getting to Morocco one of these days. Until then, I'll happily content myself with stories and photos from friends lucky enough to make the trek. Have you been? If so, I'd love to hear about your favorite tastes/meals and best memories from the trip!