When I began dreaming up the idea of Gourmet Game Night
, I really wasn't sure exactly how many folks there were out there like me. How many inhabit that cross-section where people who love good food co-mingle with people who love to play board games/cards/dominoes/etc? I had to hope that the potential audience wasn't a tiny one. Response to the book's been more than encouraging, it's gone back for a couple of printings already this year and I've been busy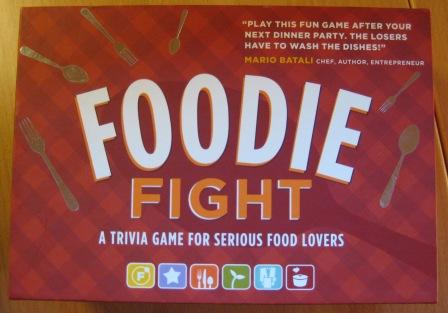 with classes and book signings this fall as folks gear up for the holiday gift-giving season. (Side note, one more signing this weekend, at Kathy Casey Food Studios, I'll be there from 1:00 to 3:00. Not only signing Gourmet Game Night but also selling Zilch dice sets in hand-knit bags!)
So folks who loves to play games can, indeed, indulge in delicious food while they play, not simply relegate themselves to the convenient finger-food  that's often on the menu while playing games.
But gastronomes have more to enjoy at that junction of food and games than the tasty things they're nibbling while they play. There's a growing array of games that feature their favorite subject. Scattered throughout Gourmet Game Night are some of these food-related games that are ideal choices for the foodie in your life. Or yourself, for that matter, you deserve a fun present as much as anyone!!
One of the most popular by far is Foodie Fight
, a really well-done food trivia game that riffs on Trivial Pursuit in a more compact, easy-going fashion. Every player has their own small game board onto which they'll collect tokens for questions correctly answered. Categories include "Foodiesphere" (places/people/cuisines around the world), "Food Stars," "Company's Coming" (wine/food pairing, etiquette, planning), "Lab and Field" (science, nutrition, production), "Dining Out" (chefs, menus, restaurants) and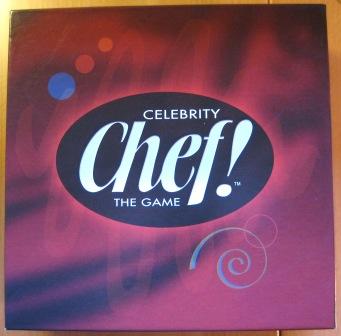 "What's Cooking" (the practical stuff, techniques etc.). I've seen it in game shops, book stores and cookware stores like Sur la Table. A sure bet!
Another is Celebrity Chef! The Game
, which I find to be fun and clever and quite distinct from Foodie Fight. The premise is that players are vying to be the first to become a "celebrity chef." Along the way, players collect tokens for fans, cookbooks, TV shows, product & endorsement and a few other stepping stones toward celebrity status. Categories of questions include "Name that Dish" in which the player's given a list of ingredients and asked to name the dish they combine to make. And "Cook Off," for which the player challenges another player to come up with the most items in the food-related category drawn (such as "ways to cook eggs" or "types of beans"). There are also some true/false or multiple choice categories that include "The Bar," "Chef School" and "Tools & Techniques." Part trivia game, part board game, this is a fun way to test culinary acumen in game form.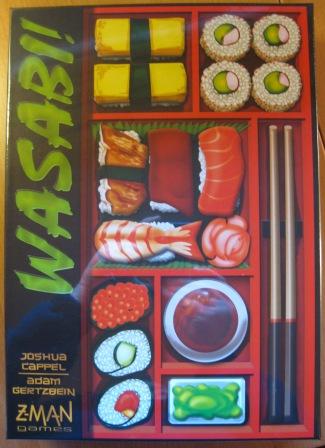 Leaving food trivia behind, Wasabi! appeals to the sushi-lovers out there, a card-based game that turns players into apprentice sushi chefs competing to put together required sushi-roll combos on the faux-bamboo-mat game board. Players collect special cards along the way that either give them special advantages (such as swapping out ingredients to fulfill a sushi roll recipe) or messing with opponents by blocking space on the board. Everyone collects small green wood cubes of wasabi, which contribute points toward their potential win. There are even little red & black bowls in which players collect their wasabi. This game definitely has style and fun graphics, and definitely doesn't require any particular food knowledge to enjoy.
More flash cards than board game are the offerings from SMARTS games
. With various themes that include beer, wine, chocolate, coffee and cocktails (not to mention some non-food topics as well), these card sets feature 4 categories of trivia cards customized to the subject. Chocolate, for instance, has the topics "Indulging" (general chocolate-related questions),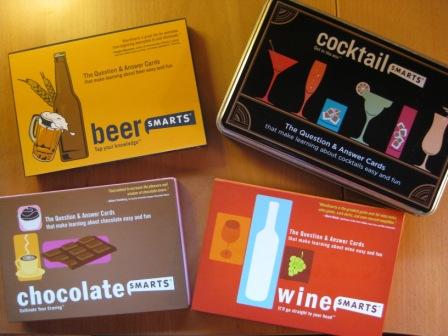 "Cocoa Culture" (historic and cultural perspectives), "Fundamentals" (facts and figures) and "Wild Card" (luck-of-the-draw). While the boxes do have a score card for collecting points for correct answers for official game play, I think these boxes are just as much fun to have on the coffee table during cocktail hour and just doing some free-style trivial challenges with friends.
And let's not forget the kids!! There are a bunch of food-related games available that can indoctrinate the young ones in the culinary world. Slamwich is one such game, in card version. Cards are slice-of-bread shaped with toppings that range from lettuce & tomatoes to gummy worms, plus some special "thief" and "muncher" cards that add unique twists to the play. From their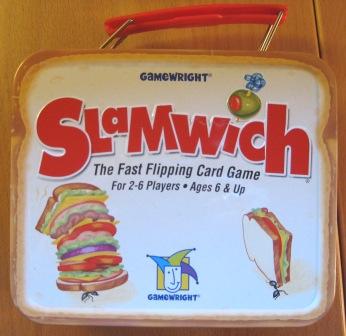 stack of face-down cards, players flip their card upright on the center pile, going around quickly in a circle until certain combos–such as a "Slamwich" which is 2 of the same cards separated by one that's different–and the first player to slam their hand on top of the stack gets to keep all the cards in that stack. Fast, furious, silly, fun. I splurged on the "collector's edition" which comes in this cool metal lunch box.
Last but not least: what food-lover's game collection would be complete without Mr. Bacon's Big Adventure. Brought to you by the wacky folks at Archie McPhee, this simple spin-the-dial-and-move-your-piece game is billed as "a mad dash through meatland on your way to the frying pan." There's a hilarious set of "Alternate Meat Feast Rules" in which players must eat a prescribed item based on where their playing piece lands each turn. It means you have to stock up mightily on pepperoni slices, corn dogs, sliced olive loaf, even tofu and veggie burgers should someone land on the dreaded "Vegan Alley." Land on Bologna Forest? Eat a bologna-wrapped pepperoni stick. How about Gristle Grotto? That'll be a meatball wrapped in olive loaf and dipped in gravy, my meat-loving friend. I just wonder which spots earns someone access to the Alka Seltzer.
Happy holidays one and all!! And here hoping that lots of great food and games will be part of the festivities.