I love this snippet about "How to Forage for Mushrooms" from a not-too-long-ago issue of Esquire magazine. (My husband pulls random pages out for me — this one doesn't happen to have the issue month on it.) Step 1 reads "Find a humid forest." followed by Step 2: "Leave that forest and go to a farmers market or a good grocery store." They then go on to talk about general tips for choosing mushrooms. At the store.
I had to laugh because that was pretty much the advice I had in my cookbook Wild Mushrooms
. I was adamant about not suggesting folks just run off into the woods to grab some mushrooms, instead directing them to mycological societies if they want to learn more about foraging for wild mushrooms. But then again, I'm a nervous Nellie anyway. I didn't grow up hunting mushrooms. I spent some quality time with outstanding and knowledgeable mushroom experts while researching the book: David Arora and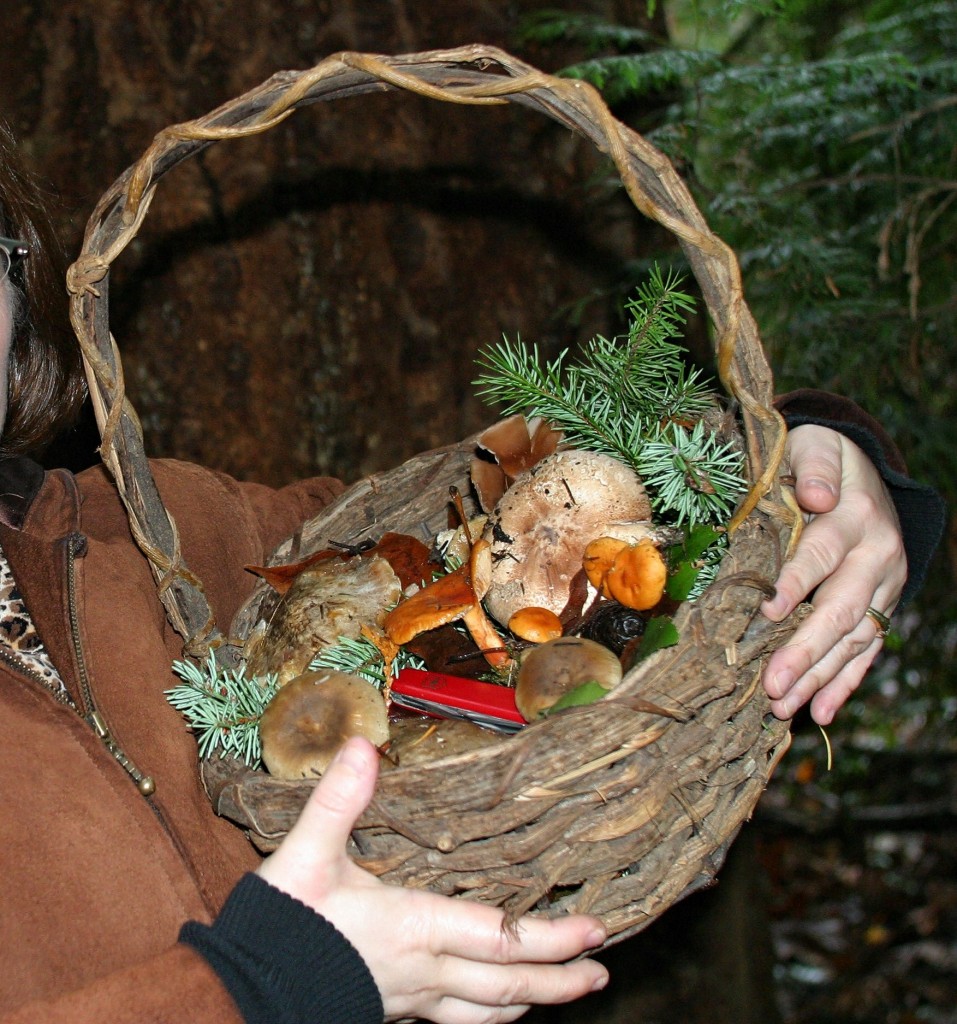 Veronica Williams, among others. (And with Jeremy Faber, but that was well after the book was out, for a Cooking Light article instead.) Still would be intimidated about making any firm claims on wild mushrooms I happened upon in the woods. It's not a skill that's under my skin the way I'd want it to be before making dinner of my quarry. At least not without first showing them to an expert to confirm that, indeed, I don't have anything grim in the collection.
Instead, I leave it to the experts and hit up Jeremy's table at the farmers markets–or other local resources–when mushroom season hits.
I rarely get in spats with potential cookbook-buyers, but it nearly came to that at a book signing I did shortly after the book came out (way, way back in 2004!). She flipped through the book, glanced at the text, saw the lovely watercolor art done by Don Barnett, and asked if this would be a good guide to finding her own mushrooms. No, I explained, it's much more a cookbook with recipes for the wild mushrooms, plus a bit of regional background to help folks understand the Northwest context. I explained how important it is to clearly identify mushrooms harvested in the wild, suggested some resources she could turn to. She just didn't want to hear that, wanted to be able to walk into the forest with my book and (apparently) have something on the dinner table that night. I then just pointed at the sidebar in my book that reads: "CAUTION: This book is not intended in any way to serve as a handbook for wild mushroom foraging." To which she just hurrumped, put the book down, and walked away. That's one loss-of-sale that I was happy about.
But if YOU want to don your hiking boots and head for the hills to gather wild mushrooms, mycological societies really are a great way to go. Not only are there experts on hand at all their events to share their experiences, the groups offer a fun social crowd to hang with and enjoy not only the hunt, but the spoils of your labor! Not uncommon for there to be a camp stove along for a forray, and a few ingredients coming out of a backpack to whip together a snack on the spot. Hard to get much more dining-at-the-source than that. And they almost never make anyone wear a bag over their head to hide "secret" mushrooming grounds any longer. They just teach good harvesting and stewardship habits along the way to make sure there's plenty left for future hauls.
In the Seattle area, the Puget Sound Mycological Society is the go-to group for mushroom lovers. Some others on the west coast include Mycological Society of San Francisco, Oregon Mycological Society, and Vancouver (B.C.) Mycological Society. Or head to the North American Mycological Association site for information on affiliated mushrooms clubs. And happy hunting. Whether that's at the farmers market or out in that humid forest.