Not long after I got to help toast the 21st birthday of Rover's restaurant, it was time to celebrate another birthday. My brother's. He's older than 21, that's all I'm going to say. I crafted a dinner menu around one of his favorite food groups: beer. Make that top-quality, finely crafted beer, the likes of Northwest ales and Guinness. No six-packs-of-Bud for this aficionado.
I braised a big Misty Isle brisket with Pike Brewery Pale Ale, fresh bay leaves, lots of onions and root vegetables (turnips, rutabegas and carrots). Came out pretty deliciously, if I do say so. This is one of those preparations that almost doesn't require a recipe. Doesn't really matter if it's 2 onions or 3, you can nix the root vegetables, you can use red wine or other complimentary liquid (beef broth, a blend of broth and wine, etc.) in place of beer. Season the meat well, brown both sides, then set the meat aside. Cook onions in the same pan (oh, almost forgot, lots of chopped garlic too) until they become partly tender and lightly browned. Return the meat, shift onions over and around the meat, then add a couple bottles of beer and a few lightly torn bay leaves. Cover loosely with foil, braise in the oven at 300 degrees for about 4 hours. Better to cook a bit longer and ensure tenderness than risk a still-tough brisket! I added the root veg in large chunks about halfway through.
But you're here for the cake, I know that. I based my brother's birthday cake on a recipe from The Best Places Northwest Desserts Cookbook
that I wrote. The recipes are all from restaurants, inns, cafes, bakeries, etc. that were in the then-most-recent edition of the Best Places Northwest
 guidebook. It was a really fun project to work on, testing recipes that range from home-style oatmeal cookies to a swellegant Grand Marnier Cake. This recipe, Black Bear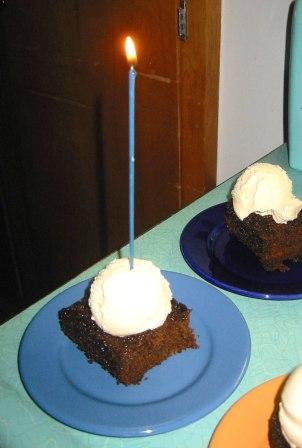 Ginger Cake, came from the Manning Park Resort in Hope, B.C. Their recipe called for Black Bear Ale, from nearby Kamloops. In honor of my brother's love of Guinness, I used it instead. This makes for a deeply flavored, moist, aromatic, delicious cake that (as a bonus) holds up well for a few days, still tender to snack on later in the week. I whipped up a batch of homemade vanilla ice cream as well, working in some Guinness just before tossing it in the freezer. Made for a great partner to this cake (which originally had a caramel sauce for accompaniment).
The terrible irony is that my brother ended up being sick for his own birthday party. But the cake had been made, the brisket braised…not to go to waste surely. We toasted him heartily throughout the evening and even sent a tiny video to wish him well. Happy Birthday, Big Brother!!
Black Bear Ginger Cake, Manning Park Resort, Hope, B.C.
from The Best Places Northwest Cookbook (Sasquatch Books, 2004)
1 cup Black Bear Ale or other dark beer or stout
1 cup molasses
1 1/2 teaspoons baking soda
3 eggs
1/2 cup granulated sugar
1/2 cup packed dark brown sugar
3/4 cup vegetable oil
2 cups all-purpose flour
2 tablespoons powdered ginger
1 1/2 teaspoons baking powder
3/4 teaspoon ground cinnamon
1/4 teaspoon ground cloves
1/4 teaspoon freshly grated or ground nutmeg
1/8 teaspoon ground cardamom (I was out, so used allspice instead)
12 pieces candied ginger, roughly dime-sized
Preheat the oven to 375 degrees F. Lightly butter a 9- by 13-inch baking dish.
Combine the beer and molasses in a medium saucepan over high heat and bring to a boil, stirring occasionally. Take the pan from the heat and sprinkle the baking soda over but do not stir; foam will rise in the pan (will it ever, be prepared!). Set aside to cool for about 15 minutes.
Whisk together the eggs, granulated, sugar, and brown sugar in a medium bowl until well blended. Whisk in the oil. Stir together the flour, powdered ginger, baking powder, cinnamon, cloves, nutmeg and cardamom in a large bowl.
Whisk the beer mixture into the egg mixture, then whisk this into the dry ingredients in 2 batches. Pour the batter into the baking dish and scatter the candied ginger evenly over the top. Bake until the top springs back when gently pressed, 25 to 30 minutes. Transfer to a wire rack to cool.
Makes 12 servings.